China Editorial Taunts Australian Defense Chief for Backing U.S. on Taiwan
The Chinese Communist Party mouthpiece the Global Times had tough words for Australia's Defense Minister this week after he gave the clearest indication yet that Canberra would back the United States in a conflict over Taiwan.
In a Sky News Australia interview that aired on Sunday, Peter Dutton said China had been "very clear about their intent with regard to Taiwan." The U.S. had been equally clear, the defense chief added, suggesting that the ball was in Beijing's court.
"Nobody wants to see conflict, but that really is a question for the Chinese, as to whether, as we've seen in Hong Kong, they make a decision to do something in regard to Taiwan," said Dutton.
In a reference to the 1951 ANZUS security treaty between Australia, New Zealand and the U.S., he added: "If that's the case, what's the Americans' response? We obviously have an alliance with the United States that's been in force now for 70 years, so we need to be realistic about that."
In an editorial published on Monday, the Global Times tabloid called Dutton's remarks "jaw-dropping."
The paper wrote: "Although he didn't put it bluntly, Dutton was actually saying Australia will follow the U.S. in flaring up the Taiwan question."
Neither the U.S. nor Australia have formal diplomatic relations with Taiwan—a democratic island nation of 23.5 million people, which is claimed by China as a province—but successive American administrations have warned against any attempts to resolve differences by non-peaceful means.
Beijing says it reserves the right to use force.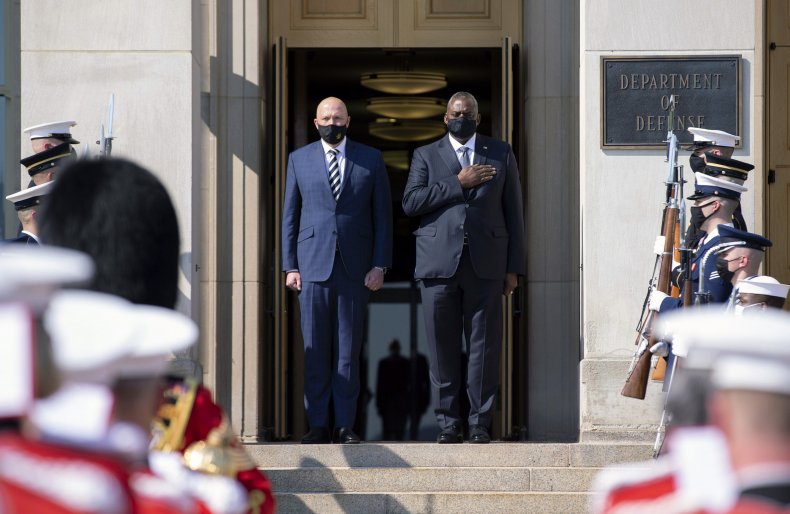 The Global Times said the government of Prime Minister Scott Morrison was now making "real war preparations," citing the AUKUS security pact with the U.S. and U.K. that was announced in September. The editorial also taunted Canberra by quoting analysis that Australia's military was incapable of winning a war with China "and its economy couldn't survive a war with China."
The state-owned tabloid questioned America's credentials as Australia's "best friend," jeering: "But a genuine best friend won't instigate Australia to confront the latter's biggest trading partner and its top export destination, nor will a true best friend attempt to weaponize Australia, encouraging it to become cannon fodder in a military conflict with China."
Asked in the Sky News Australia interview about previous jibes from Chinese propaganda outfits, Dutton said: "I think they make the case for us. I think their comments are counterproductive and immature and, frankly, embarrassing."
He went on: "So, what does Australia want? We want sustained peace in our region; we want that stability. Canberra needed to "make sure that that endures," he said.
AUKUS, which will help Australia gain its first fleet of nuclear-powered submarines, has been welcomed in parts of the region. But Beijing has led opposition to the agreement. In Australia, there are also fears that the pact will fuel an arms race.
Asked whether aligning so closely with the U.S. left Australia vulnerable to China, Dutton said: "I think we made that statement 70 years ago and probably 100 years ago. I mean, we've been with the United States and with the U.K. through every major battle in the 20th century.
"And we have a great obligation over the next century to make sure that we deepen that collaboration, because it is the underpinning of our national security," he added. "There's no sense in us pretending that if we bought 100 subs tomorrow, we could compete with a superpower like China."
Australia and its allies need to "speak with a consistent voice," Dutton said. "And that is we want peace and stability, not coercion, not interference, not bullying in our region. That's a very important, powerful—but it needs to be united—message."