Chinese President Xi Jinping made a surprise visit to the South China Sea Thursday to observe naval exercises and spend time with his country's sailors, according to the state-run media.
Pictures of Xi during the visit showed him wearing military fatigues while aboard ship and eating with members of China's navy. He also stressed that it is "urgent" for China to build a powerful navy.
The naval exercises are being carried out as tensions in the region ratchet up over China's military dominance. During Xi's visit, Bejing announced its intention to stage live fire drills next week in the Taiwan Strait, the area of water separating China from Taiwan.
They will be the first fire drills in the Strait since 2015, and some analysts have suggested that the drills are meant to show Washington that China is firmly in control of the region.
Chinese officials were reportedly unhappy that the U.S. signed the Taiwan Travel Act in March, which will permit high-level government officials to visit the small island nation. China considers Taiwan a province and for decades has insisted that its allies follow a strict "One China" policy that does not recognize Taipei's independence. Congress, however, recently signed the Taiwan Travel Act with unanimous votes in both the House and the Senate.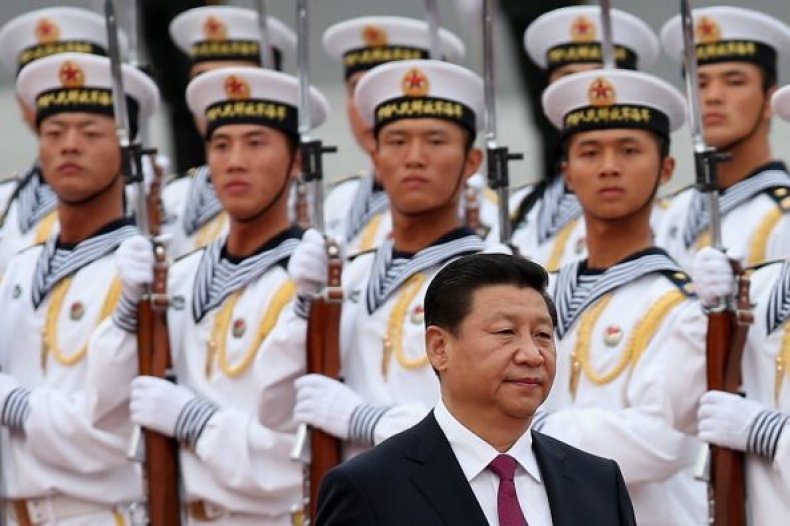 Other military experts suggested that the Chinese exercises were meant to call attention away from the current tensions between the U.S. and Russia over Syria, and that they represent a gesture of support for Moscow on the part of Beijing.
Meanwhile, they could also be a response to exercises conducted by the U.S. military in the disputed South China Sea on Tuesday. The U.S. Navy had flown a small group of military officials from the Philippines to the USS Theodore Roosevelt aircraft carrier as it traversed the South China Sea on its way to the Philippine capital Manila.
China has built a collection of military facilities on small islands around the South China Sea. In 2016, an international court ruled that the "nine-dash line"—a demarcation line China uses to lay claim to parts of the South China Sea—is inconsistent with the international laws on maritime resources. In response, the U.S has maintained a policy of using U.S. Navy vessels and aircraft to patrol the South China Sea in order to assert freedom of navigation rights.
China, Vietnam, the Philippines, Taiwan, Malaysia and Brunei all lay claim to disputed parts of the South China Sea.