U.S. Shows Military Might in China's Backyard As Aircraft Carrier Arrives in Vietnam for First Time Since the War
On Monday, a U.S. aircraft carrier and two other vessels landed in Danang, Vietnam— marking the largest U.S. military presence in the country since the end of the Vietnam War.
The presence of the USS Carl Vinson, a U.S. Navy supercarrier, highlights the growing alliance between the U.S. and its erstwhile foe, and it could rattle the regional superpower China. The show of U.S. naval power in Vietnam will demonstrate to China that Washington and Hanoi are looking to expand their military cooperation in the South China Sea, experts say.
"The USS Carl Vinson aircraft carrier is the epitome of modern naval power," Carlyle Thayer, emeritus professor at the Australian Defence Force Academy and an expert on the South China Sea, wrote in a policy briefing in late February. "The message the USS Carl Vinson sends is that the U.S. will maintain its naval presence in the South China Sea and that Vietnam supports the presence of the U.S. Navy as long as it contributes to regional peace and stability."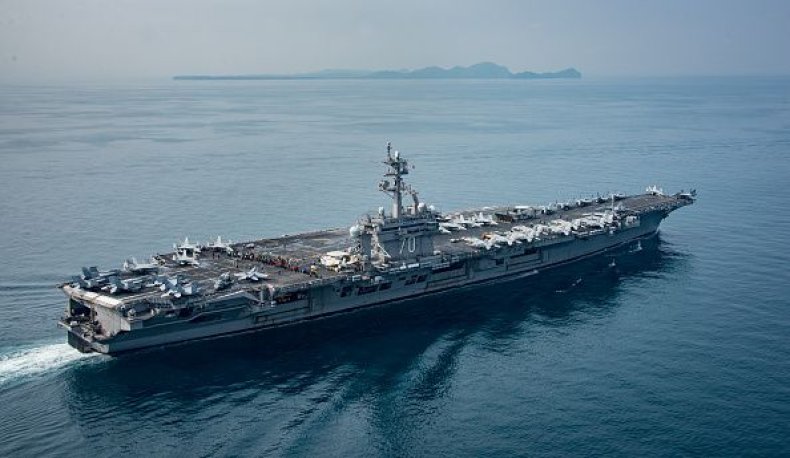 In July 2016, an international court ruled that the so-called "nine-dash line"—a demarcation line China uses to lay claim to parts of the South China Sea—is inconsistent with international laws governing maritime resources. In response, the administration of former President Barack Obama launched a policy of using U.S. Navy vessels and aircraft to patrol the South China Sea and assert freedom of navigation rights.
The Trump administration has been quietly increasing the number of U.S. patrols in the South China Sea, but China has failed to respond as negatively to the patrols as it did during the Obama era. Instead, Chinese ships generally trail the U.S. vessels in an effort to assert Beijing's sovereignty in the waters.
The U.S. and Vietnam first announced in January that the USS Carl Vinson would be making a stop in Vietnam, and Hanoi's diplomats have been working to calm their Chinese counterparts ever since. Some Vietnamese officials are concerned that China could respond to the U.S. visit by maintaining its own presence in Vietnamese waters.
The USS Carl Vinson has a crew of around 6,700 people and is often described as a floating city. Destroyers and other vessels generally accompany the aircraft carrier, providing additional protection. The ships will be stationed in Vietnam for five days.