China Flies Nuclear-Capable Bombers Into Taiwan's Air Defense Zone Amid Escalating Tensions
Taiwan's defense ministry reported that Chinese military airplanes—including nuclear-capable bombers—flew into the nation's air defense identification zone on Sunday.
China claims Taiwan under its "one country, two systems" policy, but democratically run Taiwan functions independently of the mainland and tensions have been high for decades. However they have increased over the past year as Taiwan has complained about repeated incursions of its airspace by Chinese military planes.
On Sunday, Taiwan's air force scrambled against 19 Chinese military aircraft, Reuters first reported. Taiwan's defense ministry said that the incursion included 10 J-16 and four Su-30 fighters. Additionally, China sent four H-6 bombers, which can transport nuclear weapons, as well as an anti-submarine aircraft.
Taiwan also readied its missile defense systems in case of an attack, the defense ministry said, according to Reuters.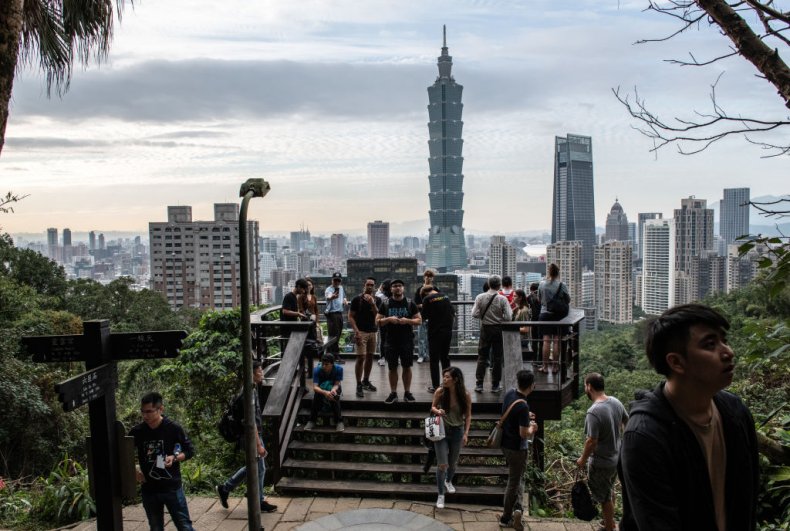 Last week, Taiwan's defense ministry presented a stark picture of the Chinese military threat in an annual report. It said that China could potentially "paralyze" Taiwan's defense capabilities through "soft and hard electronic attacks."
In June, China launched a similar mission involving 28 military planes. That marked the largest such incursion by the Chinese of Taiwan's air space reported to date. China routinely carries out smaller flyovers to retaliate against signs of international support for Taiwan's independence.
Although it's unclear what specifically led to China's Sunday incursion, it came after European lawmakers expressed solidarity with Taiwan. Lithuania announced plans to deepen ties with Taiwan and open a diplomatic office there later this year. China responded with displeasure, demanding the European nation recall its ambassador. The Chinese government said it recalled its ambassador from Lithuania as well.
In response, 62 lawmakers in the European Parliament representing 20 countries signed a letter in support of Lithuania.
"We write to express our solidarity and our support for Lithuania against the threats, intimidation and bullying behavior targeted at the Lithuanian people by the government of the People's Republic of China," they wrote.
"The Chinese government's aggressive actions towards Lithuania are symptomatic of its broader refusal to abide by norms, values and standards of the international rules-based order," the lawmakers continued.
The Global Times, an English-language tabloid published by the Chinese Communist Party, published an opinion article on Sunday slamming the European posturing on Taiwan.
"Lithuania is seeking to develop relations with Taiwan island in a way that breaks the one-China principle," the article said. "But European side has in turn said China conducted 'coercive' diplomacy. This is clearly rogue political logic. Some Europeans cannot tell the right from the wrong. This is because they have put self-interest at their center."
Last month, the U.S. military also sent a warship and a U.S. Coast Guard cutter to sail through the Taiwan Strait in a show of support against China's aggressive behavior. Newsweek reached out to the State Department for comment on the latest Chinese incursion but did not immediately receive a response.