China Warplanes Set New Record for Intrusions in Taiwan's Air Defense Zone
China has set a new annual record for military flights around Taiwan, buzzing the island's air force radars with nearly 400 planes since the start of the year.
In January, Taiwanese defense officials said they had tracked around 380 People's Liberation Army aircraft inside the island's air defense identification zone (ADIZ) throughout 2020. Faced with what its Defense Ministry described as the most serious escalation since the Taiwan Strait missile crisis of the mid-1990s, the country began releasing daily intrusion figures last September.
On Sunday, the Chinese military matched last year's tally of "gray-zone" activity with four and a half months of the year to spare. Despite a period of relative calm between May and July, there have been renewed spikes in PLA activity around Taiwan this month, accompanied by the return of striker fighters and heavy bombers to the island's ADIZ.
As of August 17, PLA Air Force and Naval Air Force warplanes had flown a yearly high of 393 sorties into Taiwan's air defense zone in 2021, according to publicly available Defense Ministry data. On Tuesday, 11 Chinese military aircraft—some in formation—flew into the skies south of the island in order to conduct what a PLA spokesperson termed "live-fire assault" drills—an apparent warning to both Taipei and Washington in light of their warming ties.
"In 2021 to date, PLA aircraft activity in the skies around Taiwan has surpassed last year's total figure," Taiwan's Defense Ministry spokesperson Shih Shun-wen told Newsweek in a brief statement, adding that the department was aware of, and able to respond to, all relevant military movements.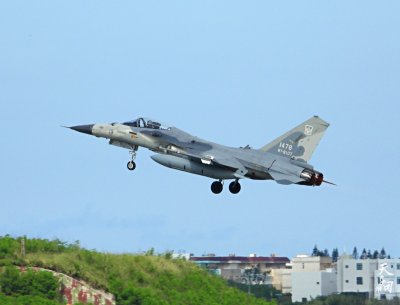 The scale of China's gray-zone warfare against democratic Taiwan can be seen not only in the sum of PLA planes crossing into the ADIZ, but also in the number of days such intrusions occur throughout the year.
According to Taiwan's government-backed Institute for National Defense and Security Research (INDSR), Chinese warplanes violated Taiwan's ADIZ on 91 days between January 1 and November 30 last year. At the time of publication, however, that count stood at 132 days in 2021, with nearly 20 weeks left in the year.
The PLA also has continued to set new daily intrusion records this year, dispatching increasingly large fleets of aircraft into Taiwan's ADIZ in January, March, April and June. The most violations in a single day currently stands at 28 sorties, reported on June 15 during President Joe Biden's rallying visit to Europe.
Access Denied
The near-daily PLA operations most frequently feature slow-moving support aircraft, such as Shaanxi Y-8 variants of an anti-submarine warfare, electronic warfare or intelligence-gathering nature. Taiwan's air force was given new instructions not to intercept support planes with fighter jets—they are tracked with surface-to-air missiles and sent radio warnings instead.
Taiwan's defense data shows most of the incursions taking place in the southwest corner of its ADIZ. This is no coincidence, according to Taipei-based security analyst Su Tzu-yun.
China's military operations south of the island serve two purposes, said Su, who is a research fellow at INDSR. They put political pressure on Taipei for perceived gains in the U.S.-Taiwan relations, and they improve the PLA's anti-access and area denial (A2/AD) capabilities in the Bashi Channel, at the mouth of the South China Sea.
When a PLA fleet compromising warships, fighter jets, nuclear-capable bombers and support aircraft conducted drills southwest and southeast of Taiwan on Tuesday, it was the first such integrated exercise to cover both the South China Sea and the Philippine Sea, he noted.
"Militarily, China treats the South China Sea as part of its internal waters. That is to say, blockading the sea's northern access point is part of its new A2/AD strategy to stop U.S. forces in Okinawa from reaching the South China Sea," Su said.