A fleet of fast-moving warplanes from China buzzed Taiwan's air force radars on Thursday—the first fighter jet intrusions near the island for two months.
The frequency of Beijing's flights near its democratic neighbor has declined since spring, when Taiwan's Defense Ministry logged record-breaking figures.
The highest monthly tally was in April, when 107 People's Liberation Army warplanes, including nuclear-capable heavy bombers, flew into Taiwan's air defense identification zone (ADIZ). In July, the Chinese military flew only 17 sorties near Taiwan, none involving fast-moving fighter aircraft.
Taiwan's Republic of China Air Force issued radio warnings to approaching PLA warplanes beginning at 7:47 a.m. local time on Thursday, according to air traffic monitors.
Its Ministry of National Defense said it had detected four J-16 strike fighters and three slow-moving support aircraft throughout the day. Still, it marked only the third day of PLA incursions in August, thanks to typhoons and tropical storms.
The return of PLA fighter jets to Taiwan's ADIZ comes as Taipei finds itself in the middle of a diplomatic row between Beijing and Lithuania.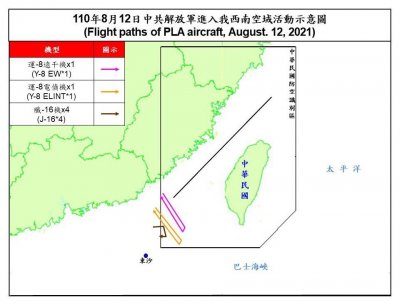 Analysts have noted the Chinese government's tendency to pressure Taiwan militarily as a way of signaling its displeasure—not only at the Taiwanese government, but at countries perceived to be developing closer ties with the island that Beijing claims as one of its provinces.
China recalled its ambassador to Lithuania on Tuesday and demanded the Baltic state withdraw its envoy from Beijing over the planned opening of a de facto Taiwanese embassy in Vilnius. A statement by the Chinese Foreign Ministry said the Lithuanian government had disregarded repeated diplomatic protests against the move.
Vilnius has defended its decision, which it does not see as a violation of the "one China" policy. Plans are in motion to establish a reciprocal Lithuanian office in Taipei later this year, both governments have confirmed.
Before Thursday's minor escalation in Taiwan's self-declared ADIZ—a type of airspace that is not regulated under international law—Beijing had deployed only slow-moving electronic warfare or intelligence-gathering aircraft in low single digits for eight weeks. The last fighter jets of any kind near Taiwan were detected on June 17.
The downward trend has continued since May—likely thanks to the Biden administration's engagement with Beijing. The only outlier was the record intrusion of 28 PLA aircraft on June 15, when President Joe Biden toured Europe and rallied allies to rebuke China for its actions, including its activities in the Taiwan Strait.