China Warplane Violations Near Taiwan Double, Data Shows
The number of Chinese warplanes buzzing Taiwan's air defense radars reached an all-time high in April, more than doubling the total sorties reported in the previous two months, government records show.
Publicly available data released by Taiwan's Ministry of National Defense since last September also shows an increased fighter aircraft presence in the island nation's self-declared air defense identification zone (ADIZ).
Analysis of the People's Liberation Army's incursions into Taiwan's defensive airspace in 2020 showed China had dispatched an estimated total of 380 mostly slow-moving aircraft. The figure marked a serious escalation in cross-strait military tensions not seen since 1996, amid the Third Taiwan Strait Crisis.
The Chinese air force is now on course to blast past that number, having exceeded a quarter of last year's aggregate in April alone—already a record-setting month that witnessed the largest single-day warplane incursion.
April's 107 ADIZ violations is double the figures for March and February and higher than the previous record of 81 in January. In fact, the first quarter of this year—283 sorties—already accounts for 75 percent of 2020's total.
Taiwan's defense ministry records also paint an increasingly hostile picture of Beijing's intentions. The PLA Air Force tasked 62 J-10 and J-16 fighter jets with ADIZ operations last month, compared to a total of 71 between January and March. Taipei has also detected 18 nuclear-capable H-6K heavy bombers near the island since the start of the year.
China, which has an ADIZ of its own, dismisses Taiwan's defense zone and claims not to recognize the Taiwan Strait median line, which Taipei says has acted as a buffer against military clashes for decades.
Some observers also have tried to invalidate Taiwan's ADIZ because of its exaggerated extension into China's eastern Fujian province. Taiwan's defense ministry, however, does not publicize PLA movements on the Chinese side of the median line.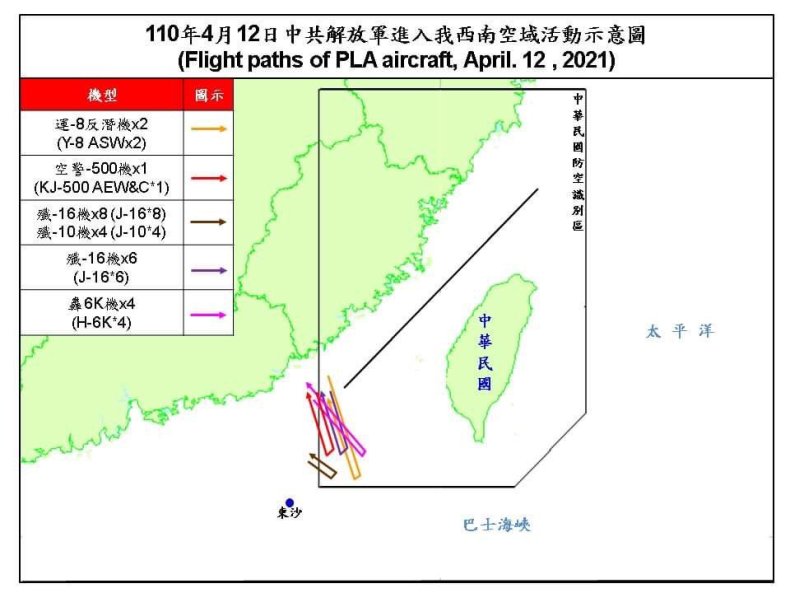 Analysts who have spoken to Newsweek in the past months have noted Beijing's tendency to wield hard power for political signaling, often directed at Taiwan or the U.S.—the island's biggest arms supplier.
However, the near-daily warplane incursions, the majority of which happen in the southwest corner of the ADIZ in the Bashi Channel, also serve several strategic purposes for the Chinese military, according to Su Tzu-yun, a fellow at Taiwan's government-backed Institute for National Defense and Security Research.
The Bashi Channel is a "strategic underwater corridor" linking the South China Sea to the Western Pacific, Su says. It allows the PLA to train in submarine detection as well as anti-access and area denial tactics—widely regarded as China's chief strategy to blockade U.S. forces seeking to intervene in a Taiwan Strait contingency.
Conversely, the Bashi Channel and Miyako Strait are two of the few international waterways Chinese naval forces can use to reach the Pacific. Both are major chokepoints in the island chain strategy.
The PLA Air Force maneuvers around Taiwan have been classified as part of China's "gray-zone warfare," which describes all measures against the island and its population short of war. It includes coordinated disinformation campaigns and attempts to coerce and blunt the spirit of Taiwan's public through psychological warfare, which many experts view as a more pressing concern when compared with the threat from conventional weapons across the strait.
Despite having never governed Taiwan, the Chinese government claims the island proper and its outlying islets as part of its territory. Beijing says the Republic of China—Taiwan's official name—ceased to exist after the Chinese Civil War and the founding of the People's Republic of China on the mainland.
The island democracy has seen a steep rise in the population's self-identification as Taiwanese rather than Chinese, resulting in repeated backing for President Tsai Ing-wen.
Her government was elected on a mandate of maintaining the Taiwan Strait status quo while expanding Taipei's international space, but she is often branded as seeking to declare formal independence and is frequently the subject of Beijing's saber-rattling.
Tsai has been described as a technocrat who emphasizes national security. Defense officials in her cabinet have recently overseen the first phase of the island's annual Han Kuang military exercises. Phase two—involving live-fire drills—is scheduled from July 12 to 16.