China Warplanes Simulated Attack on U.S. Aircraft Carrier, Defense Analysts Say
A fleet of Chinese warplanes likely simulated an attack on a U.S. aircraft carrier group when a record 25 fighter jets and nuclear-capable bombers triggered Taiwan's air defense radars this week, analysts said on Tuesday.
The military operation coincided with the Theodore Roosevelt Carrier Strike Group's (CSG) presence north of the Philippines, and came in the hours after Secretary of State Antony Blinken reaffirmed Washington's "serious commitment" to Taiwan and its self-defense.
Beijing's use of its People's Liberation Army to intimidate democratic Taiwan became a matter of public record last September when the island's defense ministry began logging aircraft intrusions into its self-declared air defense identification zone (ADIZ).
The near-daily flights concentrated around the southwest of the ADIZ—near the Bashi Channel and the entrance to the South China Sea—escalated further on Monday when 14 J-16 fighters and four H-6K heavy bombers were among 25 PLA aircraft to breach the zone between Taiwan proper and its outlying Pratas Island, also called Dongsha.
The operation, which was the largest single-day incursion since records began, marked the 10th consecutive day of Chinese aircraft forays into the ADIZ, and brought the April total to 76 aircraft at the time of publication. Taiwan's Ministry of National Defense reported PLA warplane sorties numbering 81, 40 and 54 for full months between January and March.
The PLA has placed further emphasis on "actual combat training" and sees the Bashi Channel as a crucial strategic location granting access to the Western Pacific, where it can then launch an attack on the U.S. mainland, said Chieh Chung, a research fellow at the Association of Strategic Foresight in Taipei.
Chieh told Taiwan's government-funded Central News Agency (CNA) that it was there "only natural" for Chinese military operations to increase in frequency off southwest Taiwan.
Public ship-tracking data put the Theodore Roosevelt CSG north of the Philippine island of Luzon on Monday, he noted, theorizing that the PLA Air Force likely took the opportunity to make a run on the aircraft carrier in a "simulated attack." The data also shows the Makin Island Amphibious Ready Group further in the South China Sea, where the U.S. Navy assets had conducted joint exercises over the weekend.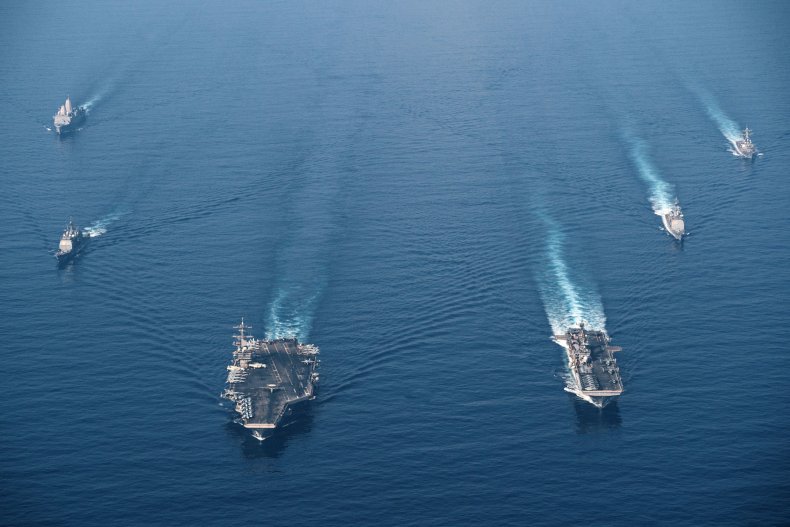 His analysis was shared by Su Tzu-yun, a senior fellow at Taiwan's defense ministry-backed Institute for National Defense and Security Research. Su, who pointed to each J-16's 15-ton anti-ship missile payload, said the PLA operation was "aimed at the U.S. carrier strike group."
The Financial Times reported similar simulated attacks In January, when the Chinese military sent a total of 28 warplanes toward Taiwan on the weekend of President Joe Biden's inauguration.
Su, who advises Taiwan's defense ministry, has identified a pattern to the PLA air operations around Taiwan—they tend to spike amid perceived improvements to U.S.-Taiwan relations, he says.
These could include remarks by Secretary Blinken on NBC's Meet the Press on Sunday Washington time, when he said a hypothetical Chinese invasion of Taiwan "would be a serious mistake."
China's state media, meanwhile, has linked Monday's PLA operation to the State Department's new guidelines for interactions between U.S. and Taiwan officials. The revised protocol builds on the Trump administration's loosening of restrictions, and will allow Taipei representatives to visit federal buildings, reports say.