Chinese Aircraft Carrier Conducts Combat Drills Near Taiwan as Tensions Escalate
A Chinese aircraft carrier group—accompanied by the country's latest large destroyer—is conducting combat drills "in the seas near Taiwan" as part of a blue-water training exercise, China's navy said on Monday.
Liaoning, the People's Liberation Army Navy's first combat-ready carrier, was escorted by five warships as it left the East China Sea and transited the Miyako Strait into the Western Pacific on Saturday, according to a statement made by Japan's defense ministry the following day.
The carrier group's "routine" far-sea drill was organized according to the military's annual work plan, said PLA Navy spokesperson Gao Xiucheng. The purpose was to evaluate the group's training, as well as to "increase its capability to safeguard national sovereignty, security and development interests," the official added.
Similar blue-water naval exercises would now be conducted on a "regular basis," according to the Chinese navy's plans, Gao noted.
Both Taipei and Tokyo said they were monitoring the situation following a PLA Navy statement late on Monday, when Taiwan's defense ministry also reported incursions into its air defense identification zone by 10 Chinese warplanes, including fighter jets and anti-submarine aircraft.
Communist Party newspaper Global Times said the Liaoning task group's combat exercise came on the heels of U.S. Navy destroyer USS Mustin's navigation operation in the East China Sea on Saturday.
It also followed the Theodore Roosevelt Carrier Strike Group's return to the South China Sea via the Malacca Strait on Sunday—a deployment the U.S. Pacific Fleet announced on Monday.
The state-owned tabloid described the U.S. Navy operations as "pointed provocations near China," but said Liaoning's combat drill was "a coincidence which will take place more and more often in the future as China's aircraft carrier program advances."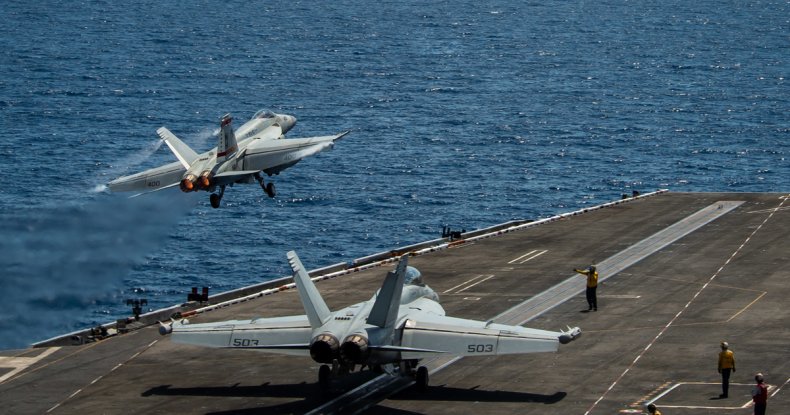 The PLA Navy exercise in the Pacific is notable for the first reported inclusion of Type 055 destroyer Nanchang, said the newspaper, which added the warship—commissioned last January—was to become the primary escort for Chinese carrier groups in the future.
A second Type 055 large destroyer, Lhasa, was commissioned last month, with six more awaiting formal service, reports say.
The nationalistic Global Times, which carries some of Beijing most hard-line views, said the Liaoning task group's exercise was not targeted at any specific country, but noted it was "aimed ... against Taiwan secessionists."
The phrase is a reference to members of Taiwan's ruling Democratic Progressive Party, which advocates for self-determination and is wary of its economy's over-reliance on the Chinese market.
Su Tzu-yun, a senior defense analyst based in Taipei, told Newsweek in a recent interview that PLA operations near Taiwan mostly served political rather than military purposes. The near-daily warplane incursions, he said, would often spike in response to any improvements in U.S.-Taiwan relations.
He told Taiwan's Central News Agency on Monday that the Liaoning carrier group was unlikely to deploy to the South China Sea, where the Theodore Roosevelt Carrier Strike Group is conducting its own strike exercises.
The Chinese warships would probably linger in the Philippine Sea, said Su, who is with the Institute for National Defense and Security Research.
The PLA's message, Su says, is: "You come to my home; I'll go to your home."
Liaoning is one of China's two operational aircraft carriers, the other being its indigenous sister vessel Shandong, which entered into service in December 2019.
Shandong, whose homeport of Sanya is located in the southern Chinese island province of Hainan, is yet to deploy in 2021.