Chinese Warplanes Continue Sorties Near Taiwan During Lunar New Year
Chinese fighter jets and spy planes have continued their near-daily missions near Taiwan in 2021, already triggering its air defense alarms on 39 days this year.
The People's Liberation Army, which experts say aims to exhaust Taipei's vastly outnumbered fighting force, broke a decades-long record in 2020 by flying more than 380 warplane sorties into Taiwan's air defense identification zone (ADIZ), according to the island's national security think tank.
In its year-end report, the government-funded Institute for National Defense and Security Research (INDSR) said the PLA activity—the most frequent since the Taiwan Strait Crisis in 1996—occurred over 91 days between last January and November.
But China's military is set to break that record in 2021, having already flown 98 sorties into Taiwan's ADIZ since the turn of the year, according to Newsweek's analysis of publicly available data.
The Chinese warplane missions, which are conducted mostly by surveillance aircraft, have continued through the ongoing Lunar New Year holidays, with PLA Air Force pilots breaking for just two days, according to Taiwan's Ministry of National Defense.
PLA aircraft have "harassed" Taiwan for 11 days this month and flew two reconnaissance planes into its southwestern ADIZ on Wednesday, said the ministry, which began tallying incursions in the island's ADIZ last September before providing details in English starting November.
The Chinese Communist Party, which claims ownership of Taiwan despite having never governed it, says its air force missions are now "routine" and help China "safeguard sovereignty."
Taiwan issues radio warnings but also feels compelled to dispatch interceptor jets each time a Chinese warplane is detected in its ADIZ—a widely used type of airspace that is not regulated under any international law.
Defense analysts have likened Beijing's "grey-zone" military operations to psychological warfare, which aims to probe Taiwan's defense response, and tax its armed forces and their aging equipment.
Taiwan's air force suffered a number of notable losses last year, including the as yet unresolved crash of an F-16 in November. Its pilot, Colonel Chiang Cheng-chih, remains missing.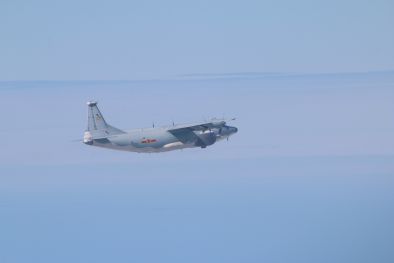 President Tsai Ing-wen grounded her entire fleet of F-16s for inspection—roughly 150 aircraft—after the incident, with the flights resuming a month later.
Last October, Taiwan's defense minister, Yan De-fa, also revealed the fiscal consequences of deterring PLA warplanes in the island's defensive airspace. He told lawmakers that it was costing the air force an average of 1 million New Taiwan dollars ($35,700) for every hour spent in the sky.
Su Tzu-yun, a senior security analyst at INDSR in Taipei, told Newsweek earlier this month that PLA warplane activity in the Taiwan Strait was likely to continue at pace in 2021.
The regular flights provide training opportunities for the Chinese military, said Su, but they also serve the purpose of political messaging, directed either at the government of self-ruled Taiwan or the United States—Taipei's biggest supplier of defensive arms.
Military posturing in the region has peaked in recent weeks, with the PLA flying more than two dozen warplanes toward Taiwan on the first weekend of President Joe Biden's inauguration.
The U.S., meanwhile, deployed a naval strike group led by aircraft carrier USS Theodore Roosevelt to the contested South China Sea, where it was later joined by USS Nimitz for a rare dual carrier exercise.
China, whose military operations near Taiwan have escalated during the Tsai administration, was testing Biden's resolve over Beijing's claims over the democratic island, analysts said.
But the president's response so far, including the appointment of several experienced China experts to key positions, suggests Washington will be keeping a close eye on China's intentions in the Taiwan Strait, which will remain a flashpoint in the coming decade.