A fleet of Chinese warships have entered the South China Sea as the People's Liberation Army plans a new live-fire exercise following the recent arrival of the aircraft carrier USS Theodore Roosevelt.
A no-go zone issued by China's Maritime Safety Administration on Tuesday prohibited access to the Gulf of Tonkin, west of Leizhou Peninsula, which is part of southern Guangdong province.
The exercise is to begin Wednesday and last through January 30, the government notice said, six hours before China's state broadcaster CCTV released footage of Type 071 amphibious transport docks Wuzhishan, Changbaishan and Kunlunshan in the region.
USS Theodore Roosevelt and vessels comprising its carrier strike group caused a stir in China when they transited the Bashi Channel south of Taiwan and entered the South China Sea on Saturday. Both Chinese and U.S. warplane activity was seen in the region as the carrier strike group carried out its deployment.
"After sailing through these waters throughout my 30-year career, it's great to be in the South China Sea again, conducting routine operations, promoting freedom of the seas, and reassuring allies and partners," Rear Admiral Doug Verissimo said in a statement released by USS Theodore Roosevelt.

The carrier strike group's arrival coincided with the unusually heavy deployment of Chinese warplanes to Taiwan's southwestern air defense identification zone (ADIZ). On Saturday and Sunday respectively, 13 and 15 PLA aircraft buzzed Taiwan's defense radars.
Between Saturday and Tuesday, the Chinese air force flew a combined 33 sorties into Taiwan's ADIZ, a type of airspace that is widely used but not regulated under international law.
Chinese warplane activity near Taiwan sends as a strong political message but also has practical military benefits for Beijing, Taipei-based defense analyst Hung Tzu-chieh told Newsweek.
"The aircraft carrier's deployment to the South China Sea was used as suitable motive for the Chinese military to carry out combat simulations. It allowed them to train and extend their reach," said Hung, who researches the Chinese military for the government-funded Institute of National Defense and Security Research, Taiwan's first defense and security think tank.
PLA air force activity has gradually escalated since Taiwanese President Tsai Ing-wen was first elected to office in 2016. Last year, amid warming ties with the previous administration of Donald Trump, ADIZ incursions reached a level not seen for three decades.
"In the beginning, there was genuine worry when the PLA began frequently intruding in Taiwan's southwestern ADIZ, but it's now a near-daily occurrence," Hung added.
In his latest report for INDSR, Hung said Chinese military aircraft had flown sorties into Taiwan's ADIZ on all but four days in January so far.
"That the PLA will be operating in Taiwan's southwestern ADIZ is something of a given now," he said. "China has expanded its reach. This can only benefit its military."
According to Hung's analysis, however, the dramatic PLA incursions over the weekend may also be part of Beijing's attempts to force the Biden administration into high-level talks. Manufactured military tensions could be used as a "bargaining chip" to bring the U.S. to the table for de-escalation talks, he theorized.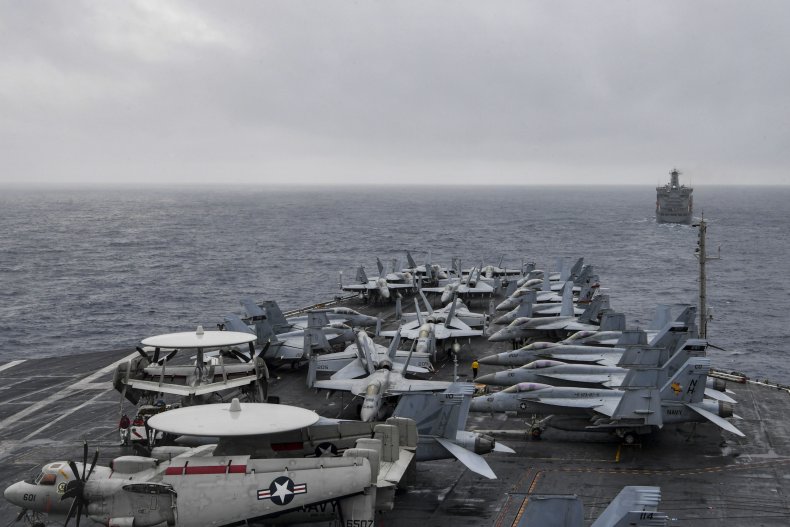 The majority of Chinese warplanes seen near Taiwan are of a reconnaissance or electronic warfare variant, but the 28 aircraft that flew beelines into the ADIZ on the weekend included eight H-6K heavy bombers, eight J-16 stealth fighters and six J-10 strike aircraft.
The inclusion of more combat-oriented fighter jets was noteworthy, Hung said, but so was the PLA's decision to intrude in Taiwan's ADIZ rather than the more sensitive Taiwan Strait median line, which it had crossed on numerous occasions last year, and which may have caused more alarm.
President Joe Biden's administration has so far been measured in its response to China and its support for Taiwan. Arguably the only headlining move has been the invitation of Taiwan's de facto ambassador in Washington, Hsiao Bi-khim, to his inauguration last week.
While viewed as a symbolic step forward for U.S.-Taiwan relations, the Chinese military's behavior over the weekend could be considered an unusual overreaction, perhaps pertaining to other motives, Hung concluded.
Unexpectedly to some, the Chinese warplane incursions on Saturday and Sunday drew a swift response from the Biden administration. A statement reaffirming the U.S.'s "rock-solid" commitment to Taiwan called on China to ceased military pressure and engage in meaningful dialogue with Taiwanese officials.
China retorted through its foreign ministry on Monday, with spokesperson Zhao Lijian describing the presence of USS Theodore Roosevelt in the South China Sea as American "muscle flexing."
Cross-strait talks between Beijing and Taipei have been virtually non-existent during the Tsai administration.
China blames the breakdown in relations on Taiwan's ruling Democratic Progressive Party (DPP), which it says has refused to recognize Beijing's "one-China principle," as well as the nebulous and disputed "1992 Consensus," which allows for conflicting interpretations of who owns China.
Repeating an often used phrase, Zhao said the DPP was pursuing "Taiwan independence" by colluding with "external forces"—a term generally applied to the United States.
The Tsai administration insists it seeks not to declare independence, but to maintain the "status quo" in the Taiwan Strait. Taipei says it remains open to cross-strait dialogue, but only if there are no preconditions for talks.