A new chapter in U.S.-China relations under President Joe Biden got off to a bumpy start on Wednesday when his administration criticized Beijing's sanctioning of former Trump officials and Chinese state media outlets issued a string of warnings about the country's "bottom line."
Discussing the future relationship between Washington and Beijing on inauguration day, China's foreign ministry appeared to go to great pains to separate the new U.S. administration from the old, which Chinese officials have blamed for leading America down a path of hostility over the past four years.
Minutes after Biden was sworn in as the 46th president of the United States, China announced a raft of sanctions against 28 officials who worked under former President Donald Trump. Chief among the list of "anti-China politicians" was Secretary Mike Pompeo, a vocal critic of China's ruling Communist Party whose most recent clashes with Beijing involve Hong Kong, Xinjiang and Taiwan.
The sanctions, which prohibit the U.S. officials from traveling to and doing business in mainland China, Hong Kong and Macau, were punishment for their efforts in "interfering in China's domestic affairs" and "undermining China-U.S. relations," according to a statement put out by the foreign ministry.
Analysts cited by Chinese state media outlets said the late countermeasures were meant to set a "bottom line" in already strained bilateral ties. They would also serve as a warning to Biden's cabinet not to follow the path set by Trump.
The Biden administration, however, responded quickly on Wednesday by condemning Beijing's sanctions. National Security Council spokesperson Emily Horne told Reuters the move was "unproductive and cynical."
"Imposing these sanctions on inauguration day is seemingly an attempt to play to partisan divides," Horne was quoted as saying.
"Americans of both parties should criticize this unproductive and cynical move. President Biden looks forward to working with leaders in both parties to position America to out-compete China," she added.
Officially cautious
Horne's statement seemed to speak to a now widely acknowledged bipartisan view on China and its characterization among cross-party lawmakers as the U.S.'s main strategic threat going forward.
President Biden's top cabinet nominees—Antony Blinken at the State Department, Lloyd Austin at the Pentagon and Janet Yellen at the Treasury—have all expressed views describing Beijing as posing a serious challenge to the security and economic stability of America and its allies.
Taken at their core, their concerns appeared to be aligned with those of the former administration, yet China has not acknowledged—at least not publicly—that Biden's Democratic administration, while likely to seek common ground, will find many of the Chinese leadership's policies irreconcilable with its own.
Asked Wednesday about President Biden's own unequivocal denouncement of Beijing's treatment of Uyghur Muslims in the northwestern region of Xinjiang, China's foreign ministry spokesperson Hua Chunying dodged the question, again turning her focus to the previous administration and especially Secretary of State Pompeo.
Hua, who described Pompeo as a "doomed clown," suggested the former State Department head and other "anti-communist" politicians in Washington had misled America about Xinjiang, leading to "fundamental mistakes in its strategic perception of China."
China hoped the Biden administration would make "rational and accurate decisions on Xinjiang and other important issues," she added.
Hua gave a similar response when quizzed about Secretary of State-designate Blinken, who in his confirmation hearing Tuesday said he had "no doubt" about the "greatest challenge" China posed to U.S. interests. Blinken also expressed agreement with the Trump administration's toughened stance on China, as well as its classification of human rights violations in Xinjiang as "genocide."
Hua did not respond directly to Blinken's remarks, saying only that she hoped the U.S. would "adopt a correct perspective" on China.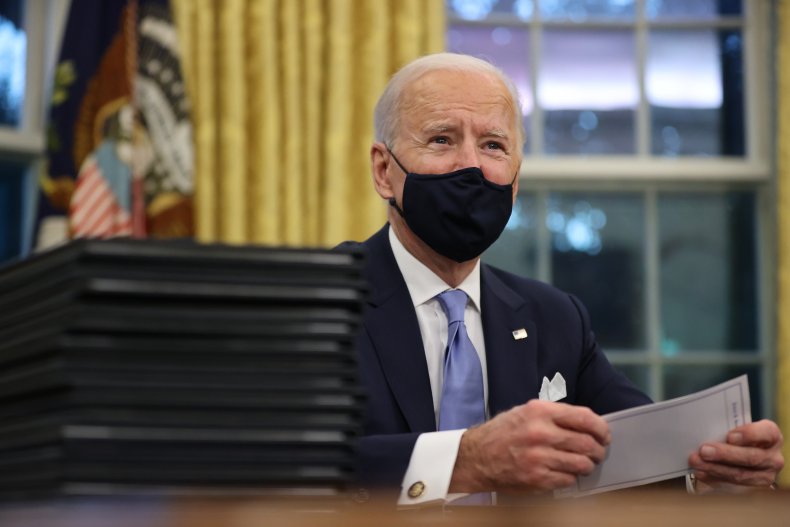 A similarly cautious approach—seen among Chinese commentators as the government's way of leaving room for Biden to mend relations—was taken by Beijing's Taiwan Affairs Council. Spokesperson Zhu Fenglian supported the sanctions against the former U.S. officials, among them Trump's national security adviser Robert O'Brien and his deputy Matthew Pottinger.
Keith Krach and Alex Azar, two cabinet-level officials who visited Taiwan last year, also made the list, as did Kelly Craft, the former ambassador to the United Nations whose visit to Taipei this month was called off at the last minute.
The public in Taiwan, who had become so accustomed to vocal support from the Trump administration, found their confidence in the more moderate President Biden suddenly restored when it was announced that Hsiao Bi-khim—the island nation's de facto ambassador to the U.S.—had been invited to the inauguration on Wednesday.
As the U.S. switched diplomatic ties to recognize Beijing in 1979, Washington and Taipei began maintaining an unofficial relationship the same year.
Hsiao's appearance made her the first Taiwanese government representative to be formally invited to a U.S. presidential inauguration in four decades, Taiwan's foreign ministry spokesperson Joanne Ou told Newsweek in a statement on Thursday.
The move has been described by Taiwan observers as a significant step forward for bilateral ties, especially as it was initiated by the Joint Congressional Committee on Inaugural Ceremonies.
However, Zhu, of the Taiwan Affairs Office, directed the blame at Taiwan's ruling Democratic Progressive Party (DPP) during remarks made to press on Thursday. The DPP, she said, was seeking "secession" from China, and stressed Beijing's opposition to "any form of official exchange" between Washington and its Taiwanese counterpart.
Unofficially bullish
While officials have so far refrained from directly airing China's grievances against the Biden administration, the same tactic was only partially embraced by Beijing's state-affiliated media outlets.
In a string of articles and editorials published by nationalist Communist Party tabloid Global Times on Wednesday and Thursday, local commentators warned President Biden to be wary of China's "boundaries and rules."
The new U.S. president needed to be "responsible and brave" in order to right the policy wrongs of the last government, said one of the pieces. Biden should also view the recent reciprocal sanctions as Beijing's drawing of a "red line" on the future of U.S.-China relations, or risk going the way of the former Soviet Union, the party newspaper added in another.
Blinken and other cabinet picks, the state-owned tabloid said, only expressed concerns about China in order to "maximize support for their nominations." Their words would not necessarily translate into tougher policies on China, the paper predicted.