Janet Yellen Receives Support From All Eight Living Ex-Treasury Secretaries
All eight former living U.S. treasury secretaries signed a letter on Tuesday willing the Senate to promptly confirm the appointment of Janet Yellen, nominated by President-elect Joe Biden, to the position.
The Senate Finance Committee commenced Yellen's confirmation hearing at 10 a.m. today. Because the hearing will occur before Biden's inauguration Wednesday, Yellen is appearing before a Republican-majority panel under committee chairman Chuck Grassley of Iowa.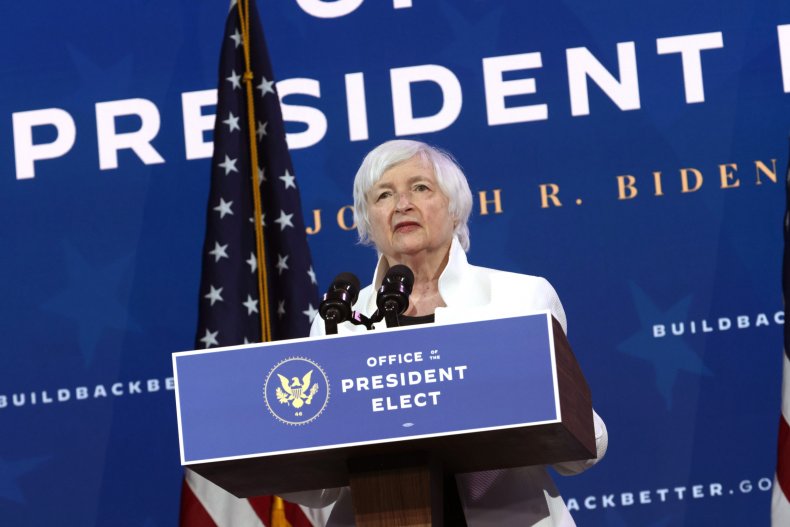 The committee is likely to question Yellen about how she plans to administrate Biden's $1.9 trillion COVID-19 relief package, which will include measures such as another round of stimulus checks and federal funding to accelerate the vaccine rollout.
Responding to a question from Grassley this morning, Yellen said that her core focus will be "on the needs of America's workers, those living in cities and rural areas and to make sure that we have a competitive economy that offers good jobs and good wages." She added that the biggest "bang for buck" will be federal investment in public health to move beyond the pandemic and avoid permanent "scarring" on the U.S. economy.
Yellen has expressed her belief in robust support from the government to boost small businesses and help reopen the economy, which some Republicans differ on. However, committee members noted in the hearing opening that Yellen's nomination has received bipartisan support.
"All of those secretaries don't just come together by osmosis. They believe deeply in the challenge to this country, and they all believe Janet Yellen is up to the job," said ranking committee member Ron Wyden of Oregon.
Yellen said in her opening remarks, "Economists don't always agree, but there is a consensus now that without further action we risk a longer, more painful recession. The benefits will far outweigh the costs."
The former secretaries also emphasized the global role the Treasury Department plays, noting that the secretary is a symbol of the U.S. who can "drive international cooperation to solve vexing global issues."
Grassley said in the opening that he's against other countries "trying to tap into the U.S. tax base."
Yellen has expressed her support for working with allies in an international system, and emphasized in her opening remarks the importance of the U.S. competing in a global economy.
"China is clearly our most important strategic competitor," Yellen said in response to Wyden. "We need to take on Chinese abusive, unfair and illegal practices. China is undercutting American companies...These practices, including China's low labor and environmental standards, are practices that we're prepared to use the full array of tools to address."
She added that if confirmed, she would work to oppose foreign attempts to artificially manipulate currency values to gain advantages on the global financial stage.
Yellen would replace Trump appointee Steven Mnuchin, and the two have discussed the transition. Yellen will need congressional support to re-approve the use of $455 billion in federal funds destined for relief programs, which Mnuchin allowed to expire at the end of last year.
Yellen has received criticism for making millions of dollars in speaking fees at corporations and Wall Street firms, some of which lobby the Treasury Department.
Yellen would be the first woman to hold the post, and she previously served as chair of the Council of Economic Advisers and chair of the Federal of Reserve.