Ted Lieu Says Mnuchin 'Failed the American People' With Stimulus Bill
Representative Ted Lieu (D-CA) has accused U.S. Treasury Secretary Steven Mnuchin of misleading Congress during stimulus package negotiations about what President Donald Trump wanted for the deal.
Trump has branded the $900 billion package haggled over for months by both parties as a "disgrace." In a video, he said it should have gone further than the $600 in direct payments to eligible adults, and that $2,000 should have been offered instead.
Trump's pledge for bigger checks has the backing of prominent figures on both sides of the aisle, including Speaker Nancy Pelosi and Senator Lindsey Graham.
In a Twitter thread, Lieu said that Trump's unhappiness with the deal showed that Mnuchin was not even representing the president's position during the bipartisan haggling that went on for several months, and that Trump should wield his veto.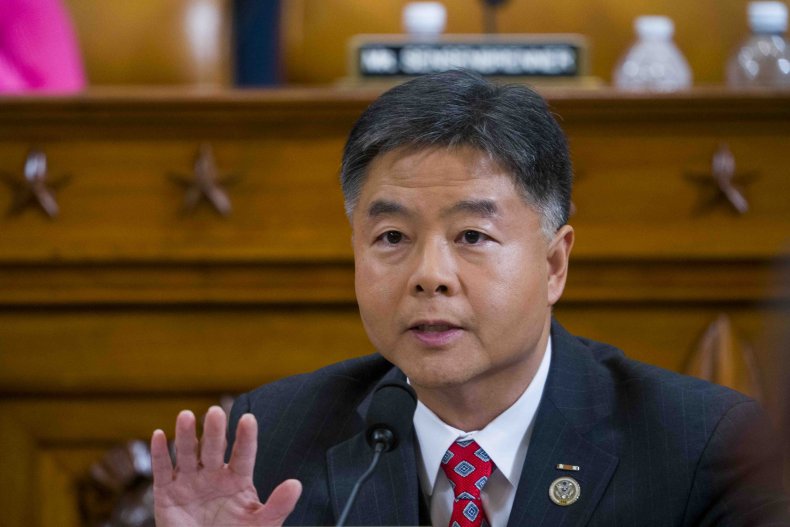 On Tuesday, Lieu tweeted: "Were you just making stuff up during the Covid relief negotiations? If you weren't speaking for @realDonaldTrump, then who were you speaking for?"
"Why did you oppose $2000 stimulus checks if @POTUS was for it? Why were we even negotiating with you?" he added.
Mnuchin was central to the legislation. Between December 14 and December 20, he took part in 190 calls about the package with Trump, Treasury staff members and congressional leaders.
When the deal was approved by Congress, Mnuchin praised Trump and its passage, telling CNBC it was a "great birthday present for me."
But Lieu begged to differ, tagging Mnuchin in a follow-up tweet and saying: "You failed the American people. You hid that @realDonaldTrump wanted $2000 stimulus checks. You are not the President. You cannot substitute your own views."
"Your job is to negotiate on behalf of @POTUS, not mislead Congress about Trump's views," he added.
With that tweet he shared New York Times article that said former administration officials believed Trump was reacting to the narrative that he had been sidelined from the negotiations and he was appealing to his base by calling for higher direct payments.
Trump should veto the bill, Lieu said, tagging the president in a separate tweet which said: "Don't sign the Covid relief bill. Veto it with the message that you will only sign a Covid relief bill with $2000 stimulus checks.
"I guarantee you the House will then immediately pass a Covid relief bill with $2000 stimulus checks," he added. Newsweek has contacted the Treasury for comment.