Taipei Says Joe Biden Backs Taiwan As Blinken Warns China Invasion 'Grievous Mistake'
The incoming administration of Joe Biden backs Taiwan. So says the country's foreign ministry, just hours after the president-elect's pick for secretary of state warned that a Chinese invasion of the island would be a "grievous mistake."
State Department veteran Antony Blinken, 58, made the remarks on Tuesday as members of the Senate Committee on Foreign Relations quizzed him about the immediate future of American foreign policy under Biden.
Asked by several senators about Beijing's emergence as a security threat this past decade, Blinken said President Trump was right in "taking a tougher approach to China," although he disagreed with his methods. He also suggested areas where Washington and Beijing could cooperate.
Blinken, however, said there was "no doubt" that China posed the greatest challenge to U.S. interests. This followed remarks by ranking member and New Jersey Democrat Bob Menendez, who said Beijing was America's most significant national security and economic challenge, one the U.S. should "confront" and "compete" with in order to be successful.
Speaking in favor of tougher actions against Beijing was GOP Senator Lindsey Graham of South Carolina, while Texas Republican Ted Cruz called for more support for Taiwan, describing China as the "single greatest geopolitical threat facing the United States for the next century."
On issues related to China and the ruling Communist Party, a cross-party consensus was apparent as Blinken agreed with the Trump administration's designation of widely reported human rights violations in Xinjiang as "genocide."
"The forcing of men, women and children into concentration camps; trying to, in effect, re-educate them to be adherents to the ideology of the Chinese Communist Party—all of that speaks to an effort to commit genocide," Blinken said.
President-elect Biden had described events in Xinjiang, where human rights groups say over a million Uyghur Muslims have been detained against their will, as genocide in a statement put out by his campaign last August. The phraseology is significant as it implies a crime under international law.
When asked by Senator Graham about America's policy to "guarantee Taiwanese democracy," Biden's pick for State Department chief said the U.S. needed to ensure Taipei could defend itself and "deter aggression."
He described Taiwan as a "model democracy" and "technological powerhouse" while praising its so far successful containment of COVID-19.
Quizzed on the prospect of Beijing using military force against Taiwan, Blinken said simply: "That would be a grievous mistake on their part."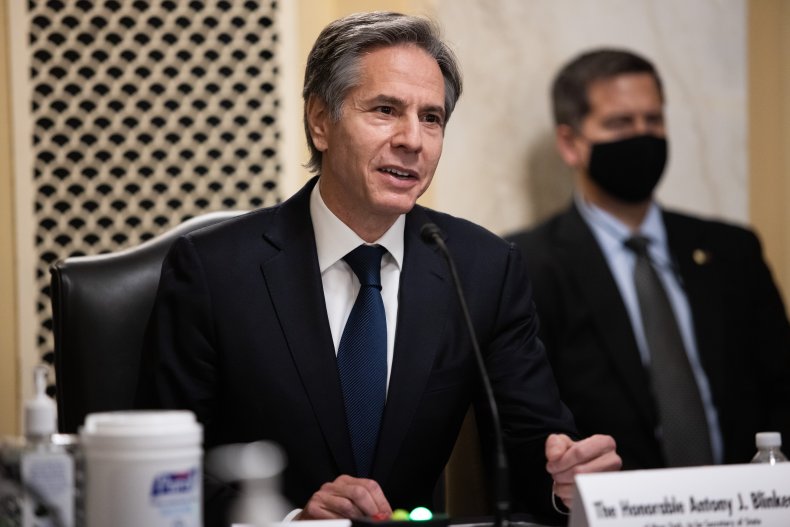 Graham described U.S. measures against China for its crackdown on Hong Kong's pro-democracy movement as having "fallen short." He said Washington needed to "send a stronger message."
Many of Graham's sentiments were echoed by Senator Cruz, who backed Taiwan and said he supported the Trump administration's lifting of communication restrictions between U.S. and Taiwanese officials as part of the Taiwan Assurance Act.
Cruz wrote the profile for Taiwan's President Tsai Ing-wen when she appeared on the Time list of 100 most influential people last September.
Making several mentions of Taiwan during his confirmation hearing, Blinken revealed he had received Tsai at the State Department when she was still a party candidate for president in 2015. He has also spoken to her on a number of occasions since her election to Taiwan's highest office, he added.
Blinken said he intended to see through the review process, started by outgoing Secretary of State Mike Pompeo, on State Department guidelines governing relations with Taiwan.
In a brief analysis of the Chinese Communist Party earlier in the hearing, Blinken told Utah's GOP Senator Mitt Romney that Beijing was no longer hiding its ambitions of becoming the world's leading country and the setter of global norms and standards.
Since the rise of Xi Jinping as party chairman and Chinese president in the last decade, China has become "much more assertive," Blinken said, before emphasizing the importance of Taiwan's defense capabilities.
The U.S.'s "strong and long-standing bipartisan commitment to Taiwan" would "endure" in a Biden administration, Blinken added.
President-elect Biden has reiterated calls for the U.S. to work with allies around the world, especially in Asia to counter China's rising influence. Analysts say he has followed through with the nominations of Blinken and regional experts including Jake Sullivan, Kurt Campbell and, reportedly, Ely Ratner.
Blinken's comments were met positively by Taiwan's government. His supportive remarks "show the Biden administration's pro-Taiwan position," Ministry of Foreign Affairs spokesperson Joanne Ou told Newsweek on Wednesday Taipei time.
China, meanwhile, reacted seemingly with frustration at Blinken's hearing, with Beijing's foreign ministry spokesperson Hua Chunying voicing opposition to American interference in its "domestic affairs," citing Taiwan, Hong Kong and Xinjiang.
Hua said Washington needed to "focus on cooperation" and "manage differences" in order to return U.S.-China relations "to the right path."
She replied "of course" when asked whether she would miss Secretary Pompeo, who has been one of China's most vocal critics during his more than two years in the State Department.