Joe Biden Officially Sworn In as 46th President of the United States
Using a Bible that has been in his family for 128 years, Joe Biden was sworn in as the nation's 46th president on Wednesday and vowed to "preserve, protect and defend the Constitution."
His inauguration came after the oath of office was taken by Vice President Kamala Harris, who was sworn in as the first woman, and the first Black American and South Asian American, to serve in the position. Meanwhile, Biden, at 78, is the oldest president to assume the office.
"This is America's day, this is democracy's day. A day of history and hope, of renewal and resolve," Biden said in his first remarks as president. "Today we celebrate the triumph not of a candidate but of a cause."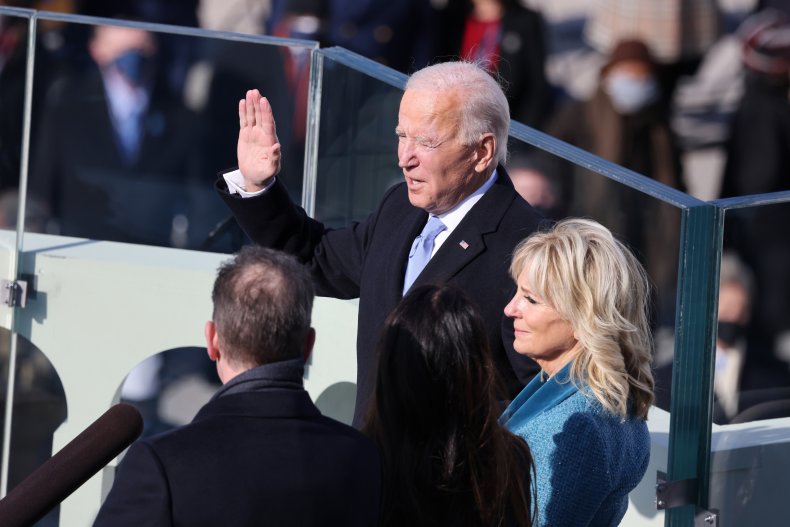 Biden continued his speech by recognizing the difficulties that lie ahead for his administration and focusing on his desire to unify the country.
"Few people in our nation's history have been more challenged or found a time more challenging or difficult than the time we're in now," Biden said, before acknowledging the harrowing toll of the coronavirus pandemic.
"To overcome these challenges, to restore the soul and secure the future of America, requires so much more than words and requires the most elusive of all things in a democracy—unity," he added.
In his first acts as president, Biden is expected to overturn a number of the policies put in place by the Trump administration. Among those actions will be reversing the so-called Muslim ban as well as halting border wall construction and announcing significant immigration reform. Biden has also vowed to rejoin the Paris climate agreement and to issue a national order encouraging Americans to wear a face covering for the first 100 days of his administration.
"We'll press forward with speed and urgency, for we have much to do in this winter of peril—and significant possibilities. Much to repair, much to restore, much to heal, much to build and much to gain," he said.
The presidential inauguration featured performances from Lady Gaga, Garth Brooks and Jennifer Lopez, as well as remarks from Democratic Senator Amy Klobuchar.
Former President Donald Trump did not attend the ceremony. In his speech, Biden appealed directly to Trump supporters and promised to be a president for all Americans.
"We must meet this moment as the United States of America. If we do that, I guarantee you we will not fail," Biden said. "I promise you I will fight as hard for those who did not support me as for those who did."