At least 11 Chinese warplanes were present in the skies around Taiwan on Monday, moving in a pincer formation in the east, south and west as a U.S. diplomat made a notable appearance on the island as part of a delegation led by the president of Palau.
The People's Liberation Army sent eight fighter jets and two reconnaissance planes into Taiwan's southwest air defense identification zone (ADIZ), the Taiwanese government reported. Two additional spy planes were logged by Japan's Ministry of Defense as one of them performed maneuvers east of Taiwan.
Viewed together, the flight paths published by Taipei and Tokyo appear to show the PLA projecting its presence on three sides of democratic Taiwan, which Beijing claims as part of its territory.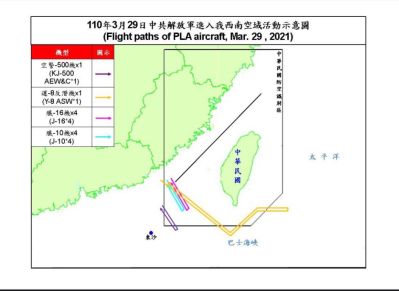 Shih Shun-wen, spokesperson for Taiwan's Ministry of National Defense, told reporters at a press conference Tuesday that the armed forces were fully aware of all aircraft and vessel activity around the island, and that they would respond accordingly.
He did not comment on what is being viewed as yet another escalation of military tensions across the Taiwan Strait, which is just 80 miles wide at its narrowest.
Local analysts, however, have pointed to precedent suggesting that China's ramping up of air force exercises near Taiwan was, at least in part, a political message for Taipei and Washington.
Chieh Chung, a research fellow at the Association of Strategic Foresight, told the government-funded Central News Agency in Taipei that Monday's PLA activity—the seventeenth day in March Chinese aircraft had entered the ADIZ—was Beijing's way of putting pressure on the island and "expressing its dissatisfaction" at warming ties between the U.S. and Taiwan.
The incursions coincided with the arrival in Taipei of Palau's President Surangel Whipps Jr. to promote a "travel bubble" between the two countries. Among his delegation was U.S. Ambassador to Palau John Hennessey-Niland, who became the first serving American representative to visit Taiwan since formal diplomatic relations ended more than four decades ago.
Similarly, 20 PLA aircraft were sent into Taiwan's ADIZ after Taipei and Washington signed a coast guard cooperation agreement on Friday. It was the largest intruding warplane fleet in recent memory.
Palau, which remains one of Taiwan's 15 formal diplomatic allies, has stuck with Taipei despite Beijing's attempts to make it change sides, President Whipps told reporters on Monday.
He described China's "carrot and stick" approach to diplomacy as "counter-productive," citing previous attempts to persuade the Palauan government by sending more than 100,000 Chinese tourists to the Pacific islands every year. However, Palau was then "banned" after it became clear it had no intention of switching allegiance, Whipps revealed.
"You don't beat your wife to make them love you," Whipps said. "If you give me carrots, don't tell me that I cannot see other persons or I cannot talk to that other person, because we all believe in peace and prosperity for everybody."
Responding to questions about Ambassador Hennessey-Niland's presence in his delegation, Whipps said it showed the close partnership between Palau and the U.S. in many areas, including public health and security.
"As a small nation, we can easily be infiltrated. We depend on our partners to protect us and give us security, so I appreciate him joining us and demonstrating that friendship and commitment that we have," the president added.
Chinese foreign ministry spokesperson Zhao Lijian expressed Beijing's opposition to the ambassador's presence in Taipei during a regular press briefing on Monday.
The issue of Taiwan "is highly sensitive," Zhao said, adding that the U.S. "must stop all official interactions with Taiwan."
As U.S.-Taiwan relations improved during the Trump administration, Taipei experienced military coercion from China not seen for several decades. In 2020, Taiwan's aging air force flew 1,000 extra hours deterring PLA aircraft, said a government report released earlier this month.
Lawmakers on the island nation have sounded concern at the high toll exacted on Taiwan's pilots, aircraft and defense budget.
On Monday, Taiwan's Deputy Defence Minister Chang Che-ping told legislators at a defense committee hearing that the air force was no longer scrambling jets to intercept every PLA incursion into the country's ADIZ. Lower-threat aircraft were now being tracked with land-based missiles instead.