President Tsai Ing-wen said her citizens could have "confidence" in Taiwan's security while describing support from senior Biden officials during a national address before the Lunar New Year break.
The U.S.-Taiwan relationship has continued to strengthen since President Joe Biden took office, Tsai said on Tuesday. The transition of power in Washington had not affected bilateral ties—as some had feared.
Washington's support for Taiwan topped the list of announcements Tsai made from the Presidential Office in Taipei, following the convening of her National Security Council ahead of the Lunar New Year holidays beginning Thursday.
The Taiwanese leader emphasized supportive remarks made not only by key Biden officials like recently appointed Secretary of Defense Lloyd Austin, but also State Department head Antony Blinken, who welcomed then-presidential candidate Tsai to Foggy Bottom in 2015.
Austin and Blinken are among several Biden administration officials who, during their Senate confirmation hearings, backed U.S. commitments to help democratic Taiwan strengthen its defenses as the island nation faces growing hostility from its cross-strait neighbor, China.
In the three weeks since Biden's inauguration, U.S. military aircraft and Navy warships have operated in and around the Taiwan Strait, which sits at the mouth of the contested South China Sea.
On Thursday, the busy waters, where China has vast maritime claims, hosted two aircraft carrier strike groups, led by USS Theodore Roosevelt and USS Nimitz. The warships conducted dual-carrier operations "intended to maintain U.S. readiness and combat-credible forces to reassure allies and partners and preserve peace in the region," according to a statement carried by the U.S. Seventh Fleet.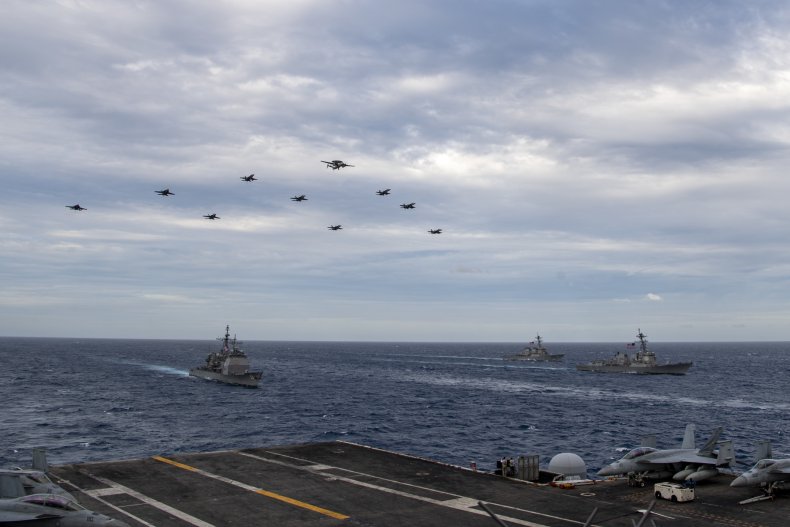 The presence of U.S. military aircraft and vessels indicates the "very clear position" America takes when the status quo of Indo-Pacific security is challenged, said President Tsai.
"I ask my fellow citizens to maintain confidence in Taiwan's security," Tsai added, saying peace and stability in the Taiwan Strait had been elevated from a cross-strait matter to one of regional—and even global—concern.
Tsai said she had instructed her national security team to remain in close contact with the new U.S. administration, Congress, Democrats and Republicans, as well as various civilian groups. This was necessary in order to effectively respond to dynamic circumstances and to deepen bilateral ties, especially for dialogue on trade and strategy, she added.
"The Biden administration's statement right out of the gate that the United States' commitment to Taiwan is 'rock-solid' combined with other signs of continuity in U.S. policy are good reasons for President Tsai to strike an optimistic tone," said Margaret Lewis, law professor at Seton Hall University and now a resident of Taipei.
"The United States and Taiwan have long had a robust unofficial relationship, but it became noticeably more robust during the Trump administration," Lewis told Newsweek.
She added: "While I expect the overall strong tenor of the U.S.-Taiwan relationship to continue, the Biden administration will likely take a less splashy approach, especially early on. For example, I would be surprised if we saw a high-profile cabinet visit in the first several months of the term."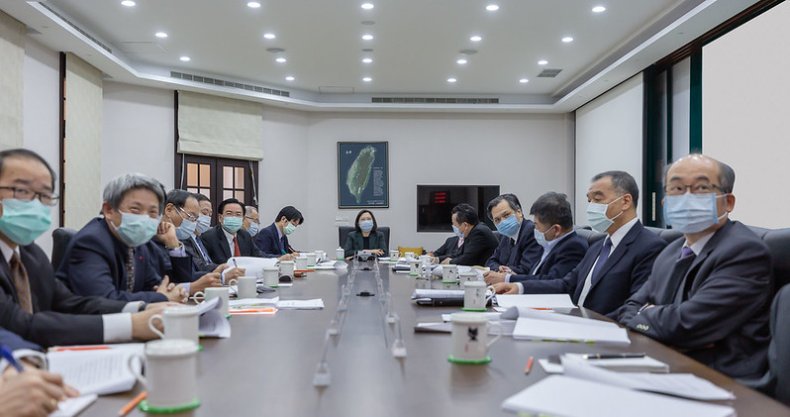 Tsai's presidency has been marked by the notable absence of dialogue between her government and its Chinese counterpart. As Taipei's relationship with Washington warmed following her first election to office in 2016, cross-strait relations experienced a sharp decline.
Chinese warplanes now buzz Taiwan's air defense radars on a near-daily basis, while the Taiwan Affairs Office—the Communist Party organ meant to facilitate cross-strait ties—now regularly warns of "unification" in more strident tones during its fortnightly press conferences.
Beijing's officials categorize Tsai and her Democratic Progressive Party (DPP) as "pro-independence" or seeking "secession" from China. The DPP, however, runs on a policy of maintaining the Taiwan Strait status quo.
In the Chinese foreign ministry's most recent pronouncements on Taiwan, it said Tsai's refusal to adhere to its "one-China principle" and the tacit "1992 Consensus" was to blame for the breakdown in cross-strait relations.
During her address, Tsai noted her government's consistent position: Taiwan is prepared to engage in meaningful dialogue "on the principles of parity and dignity."
"We will neither bow to pressure nor act rashly when we have support," she said.
Tsai added: "I would like to stress that Taiwan is not solely responsible for cross-strait peace—China holds the key, too. History has shown that threatening rhetoric and military intimidation do not help cross-strait relations."
China has "unilaterally" cut channels of communication and obstructed cross-strait exchanges since Tsai's first term, Taipei's Mainland Affairs Council told Newsweek.
"The Chinese Communist Party's 'one-China principle' and its '1992 Consensus' do not leave any room for the Republic of China to exist," a spokesperson said.
The statement continued: "According to a council survey conducted on November 12, 2020, the majority—74.4 percent—of Taiwanese citizens polled did not approve of the 'one-China principle' and its '1992 Consensus' as a political framework for cross-strait exchange."
More than 90 percent of respondents also rejected China's "one country, two systems" model of governance currently used for the semi-autonomous cities of Hong Kong and Macau, the council said.
Jessica Drun, a non-resident fellow at the Virginia-based Project 2049 Institute, said she saw no possibility of Taiwan and China resuming cross-strait dialogue during the remainder of Tsai's term.
Drun added: "Beijing has made clear that its precondition for official cross-strait dialogue is acknowledgment of the '1992 Consensus' and its associated 'One China.'
"However, it is always worth stressing that the onus of deteriorating cross-strait relations is on China, which unilaterally suspended official communication mechanisms and has ramped up pressure campaigns against Taiwan."
The disputed "1992 Consensus," which emerged during talks between Chinese officials and representatives of Taiwan's then-ruling Kuomintang (KMT) party, allows each side its own interpretation of "one China."
"I'm not convinced of its long-term viability," Drun said, "especially given its inherent contradictions, which are becoming more apparent as both the CCP and the KMT move to clarify its contours. A lot will hinge on who the next KMT party chair will be and what position he or she takes on the party's cross-strait policy."
Lewis, with Seton Hall Law, said: "While I am not optimistic for the swift resumption of high-level talks between Taipei and Beijing, I am hopeful that there can be an uptick in engagement across the strait."