U.S. Navy Warship Transits Taiwan Strait for First Time under Joe Biden
A U.S. Navy warship sailed through the narrow waterway between China and Taiwan on Thursday local time, the first such operation since Democratic President Joe Biden's inauguration two weeks ago.
The "routine Taiwan Strait transit" was conducted by Arleigh Burke-class guided-missile destroyer USS John S. McCain "in accordance with international law," the U.S. Seventh Fleet said in a statement released online.
"The ship's transit through the Taiwan Strait demonstrates the U.S. commitment to a free and open Indo-Pacific. The United States military will continue to fly, sail and operate anywhere international law allows," it continued.
USS John S. McCain's last operation in the channel—just 80 miles wide at its narrowest point—was on New Year's Eve, when it made the journey with USS Curtis Wilbur under the watchful eyes of observers in Beijing and Taipei.
Last year, during the administration of former President Donald Trump, American warships conducted 13 freedom of navigation operations in the Taiwan Strait. Similar deployments, including to the contested South China Sea, were the U.S.'s way of pushing back against maritime claims in the Pacific, the Navy has said.
Analysts say the latest move displays the Biden administration's commitment to security in the region in the face of increasingly bullish rhetoric and actions by China.
On Biden's first weekend as president, the Chinese military flew 28 warplanes—mostly heavy bombers and fighter jets—into the Taiwan Strait as an aircraft carrier strike group led by USS Theodore Roosevelt sailed into the South China Sea, where Beijing lays claim to nearly all of the islands and reefs.
Last month, during a discussion with CSIS's China Power Project director Bonnie Glaser, Taiwanese foreign minister Joseph Wu said the Navy's freedom of navigation operations were "a show of American determination to make a presence in this region."
"That kind of presence is being noticed not just by Taiwan, but also by other countries," he told Glaser. "We appreciate that very much."
The presence of USS John S. McCain was the new administration's way of telling Taiwan that the U.S. "has not forgotten and still has a vested interest in what's happening in this part of the world," UC Irvine PhD candidate Lev Nachman told Newsweek.
Recent naval deployments to the region and U.S.-Taiwan trade talks scheduled for Friday all show what Biden's initial foreign policy agenda is likely to be in the complex trilateral relationship between Washington, Taipei and Beijing, said Nachman, currently a visiting scholar at National Taiwan University in Taipei.
USS John S. McCain's passage between Taiwan and China came a day after State Department spokesperson Ned Price said the U.S. had not changed its support of a "one-China" policy, which is markedly different from Beijing's own one-China principle.
During a regular press conference, Chinese foreign ministry spokesperson Wang Wenbin said China was closely monitoring the U.S. warship and would remain on "high alert."
China was "ready to respond to all forms of threats and provocations," he added while calling on the U.S. to make more "constructive" contributions to regional stability instead.
The warship transit showed that the U.S. was "suspicious" of China, Professor Yeh-chung Lu told Newsweek.
Lu, who teaches diplomacy at National Chengchi University in Taiwan's capital, said "deep distrust" between the U.S. and China led to Thursday's naval operation.
Joe Biden has taken a "very positive view" of the Taiwan Strait, Lu said of the president's first two weeks in the White House.
"The Biden administration is trying to maintain the status quo, which is obviously in the interest of the United States and Taiwan," he added, citing key cabinet appointments including Blinken, national security adviser Jake Sullivan, veteran Asia expert Kurt Campbell, Defense Secretary Lloyd Austin, as well as Kathleen Hicks, who Biden has nominated to be Austin's deputy in the Pentagon.
"Throughout the confirmation hearings," Lu said, "we can obviously see that the Biden administration is not backing down as Beijing had hoped."
The new administration has promised some "strategic reviews" of the U.S.' current China policies, but Beijing "needs to modify its own behavior," said Lu. "Especially its very aggressive or hawkish actions against the United States. This is definitely not welcome in Washington."
He called recent speeches by Communist Party Politburo member Yang Jiechi and Chinese President Xi Jinping "very unproductive." The aim of these hardline positions, however, was for "domestic consumption," the professor added.
The Chinese Communist Party marks its centennial this July, and its chairman is preparing for a leadership contest in 2022. Lu believes Xi understands there is a bipartisan view in Washington of China's strategic threat, but the Chinese leader is using it for "domestic political mobilization."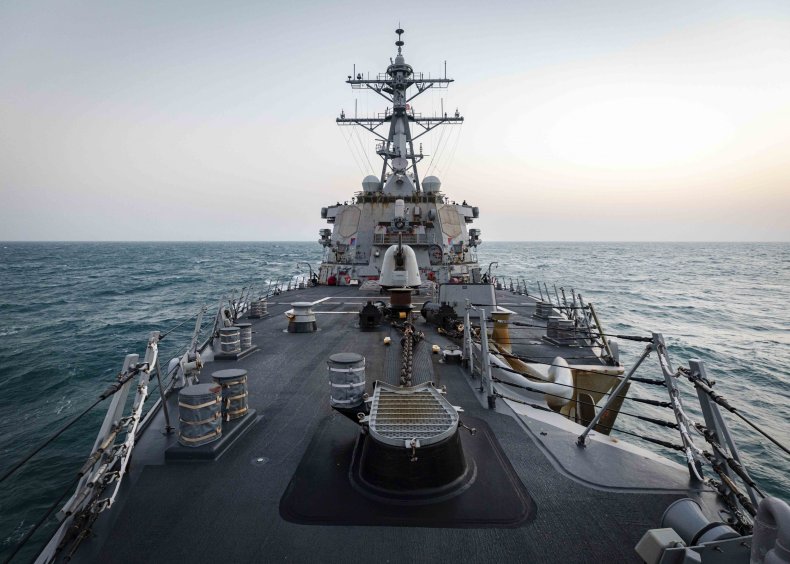 As Xi is seeking a third term, hot-button issues like the status of Taiwan, which China claims is a rogue province, are likely to remain a flashpoint in the coming months.
Taiwan's Mainland Affairs Council, which handles communication with Beijing, said cross-strait dialog has been virtually non-existent since President Tsai Ing-wen took office in 2016.
It actively contacts its Chinese counterpart, the Taiwan Affairs Office, in order to notify Beijing of emergencies, a spokesperson told Newsweek. But the Communist Party has "unilaterally cut systematic channels of communication" while insisting on its one-China principle and the vague and disputed "1992 Consensus" as preconditions for talks.
"I do see this as a bit problematic," said NCCU's Lu. The onus is on Beijing to first relax its preconditions for dialog, but "miscalculations [in the Taiwan Strait] could quite easily happen."
The State Department, which has called U.S. support for Taiwan "rock solid," has encouraged the restoration of "meaningful dialog" between Taipei and Beijing. In the absence of formal communication with China, the Taiwanese government could reach out to its Chinese counterpart with Washington's help.
"There seems to be a rising possibility for a clash of nationalism across the Taiwan Strait," said Lu, adding: "Yang Jiechi complained about the U.S. putting stumbling blocks before people-to-people exchange. Beijing is doing the same thing to cross-strait relations. This is not healthy."
Last week, the Taiwan Affairs Office said China would never renounce the use of force against Taiwan in order to achieve "unification" with the island, which has governed itself for 70 years.