Taiwan Distrusts Trump, But Think Country Would Benefit Less From Biden: Poll
Nearly 60 percent of Taiwanese polled in a recent survey said they distrusted Donald Trump, but a majority of respondents believed his re-election would benefit Taiwan more than a Joe Biden victory.
The U.S. incumbent president was also the public's top pick to win the upcoming elections: 49.1 percent backed him, while just 23.7 percent thought the Democratic candidate could limit Trump's White House stay to just one term.
September polling done by Taiwanese news site Formosa and current affairs magazine Global Views Monthly focused heavily on President Tsai Ing-wen's plans to ease rules on beef and pork imports from the United States, but also included staple questions on cross-strait tensions.
Formosa surveyed 1,070 individuals over the age of 20—Taiwan's legal voting age—using computer-assisted telephone interviewing between September 23 and 24. Global Views Monthly had a sample size of 1,102, conducted using identical methodology between September 17 and 20.
Cross-strait conflict
In the event of all-out war between Taiwan and China, only 22.3 percent of Global Views Monthly's respondents hoped for U.S. intervention. A majority—54.2 percent—would opt for peace talks with Beijing.
Of those polled between the ages of 20 and 29, more than half were supportive of the Tsai administration's weapons purchases from the U.S. Viewed as a whole, however, only 39.1 percent of the public felt it was necessary for Taiwan to further equip itself with U.S. arms, with 51.6 percent of the opinion that the funds would be better spent on national infrastructure.
At the same time, in spite of the public's lukewarm reaction to national defense expenditure, 57.5 percent believed the U.S. was most likely to help Taiwan in case of a military conflict in the Taiwan Strait, followed by Japan at 45.9 percent, Global Views Monthly reports.
Trust in Trump
In last month's Formosa poll, figures showed that just 25.2 percent of Taiwan's public had trust in President Trump, up 10 percentage points from February 2017. But an overwhelming 59.2 percent said they distrusted him, and a further 15.5 percent said they were not sure.
Despite apparent reservations about the president's overall trustworthiness, 53 percent of respondents to the Global Views Monthly poll believed a Trump re-election would benefit the country. Only 16.4 percent thought a Biden presidency would be advantageous to Taiwan.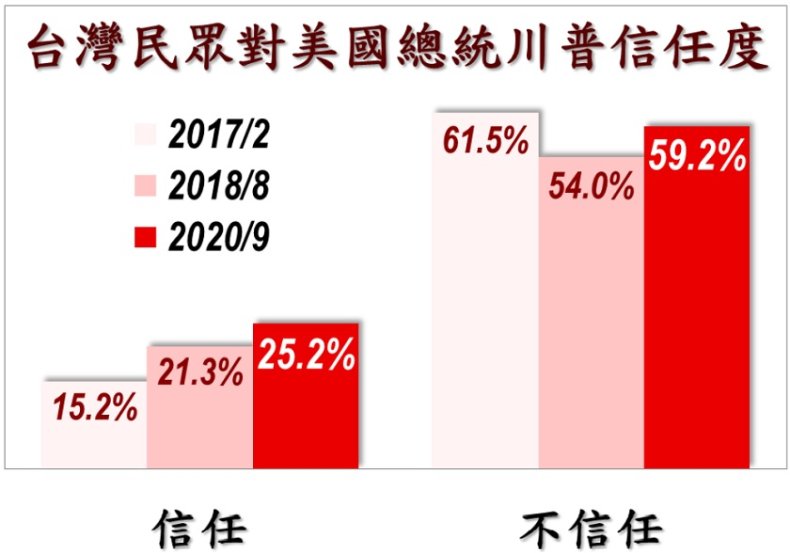 Lev Nachman, a UC Irvine political science Ph.D candidate and visiting scholar at the Department of Sociology, National Taiwan University, told Newsweek that the polling suggests the average Taiwanese has a clearer understanding of the nuances in U.S.–Taiwan relations than expected.
"Overall, Taiwanese people understand that Trump may not be the most trustworthy, but his re-election would benefit Taiwan," he said. "The Trump administration has been good to Taiwan, which is generally a bipartisan issue in the United States."
Tsai recently appeared on Time's list of the 100 Most Influential People of 2020, with an endorsement penned by Republican Senator for Texas Ted Cruz.
Nachman added: "The impression of Biden is that he was soft on China under Obama, but 2020 is a different time, and Biden's camp has updated policies.
"The November elections won't be swapping out a pro-Taiwan president for one who isn't pro-Taiwan. It's swapping out one pro-Taiwan president for another pro-Taiwan president."
But he also noted that a Biden victory would mean unchartered territory for Washington and Taipei, with Taiwan having never had a Democratic Progressive Party leader while a Democrat has sat in the Oval Office for a substantial amount of time.
"We've never had a Democrat president while there's been a DPP leader in Taiwan. It's always been either DPP and Republican or KMT (Kuomintang) and Democrat," Nachman added.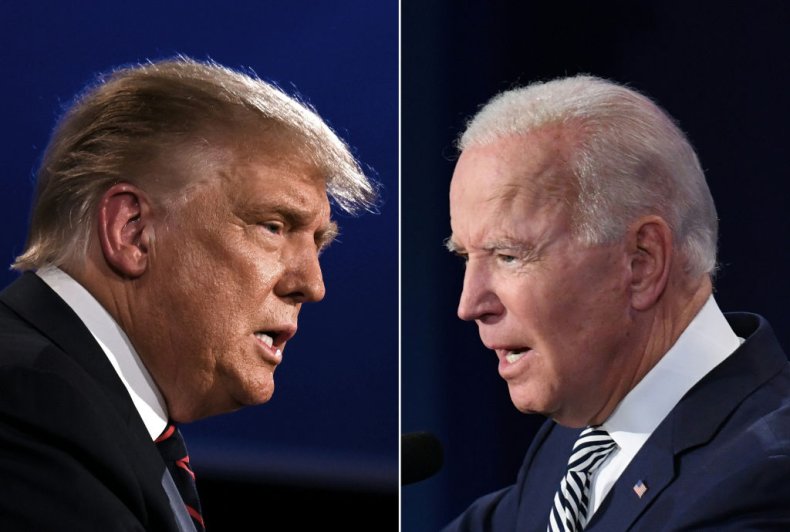 Concerns over U.S. imports
A key issue in the September surveys was the imminent arrival of more U.S. pork and beef products into Taiwan.
On August 28, Tsai walked back her party's zero-tolerance policy on the leanness-enhancing drug ractopamine in imported pork products, instead instructing officials to set new acceptable levels based on scientific evidence and international standards.
With her new directives all but certain to pass given the DPP's legislative majority, Taiwan will also begin allowing imports of beef from cattle over 30 months old.
Despite recent assurances from Health Minister Chen Shih-chung that more funds would be put towards the testing of ractopamine residue in imported meat, the Global Views Monthly poll found that a majority felt Tsai's pork policy was too big a concession to make in order to broker a trade deal with the U.S.
When asked whether a free trade agreement with the United States was enough to allow the importation of pork containing ractopamine, 57.8 percent responded no, while only 36.1 percent said yes.
Similarly, 55.4 percent of respondents to the Formosa survey said food safety was their top concern when it came to beef and pork imports, and only 9 percent feared it would have a negative impact on Taiwan's own meat industry.
"Cashing in her popularity chips"
Coming off the back of a record-setting re-election victory in January, as well as a surge in popularity thanks to Taiwan's effective handling of the coronavirus pandemic, Tsai's approval ratings have dipped, including a 6.6-point drop to 58.8 percent immediately following the announcement of her new import plans.
"Tsai Ing-wen is cashing in her popularity chips," Nachman told Newsweek, with much resting on any mitigating policies between now and January.