Taiwan To Begin 24/7 Simulation of Chinese Invasion
Taiwan's largest annual military exercise will begin in earnest this week, with the country using sophisticated software to simulate a full-scale enemy invasion and gauge its reaction to a worst-case scenario lasting eight days.
The first phase of the 37th Han Kuang exercise, which will begin with computer-assisted war games, is scheduled to run 24 hours a day from April 23 to 30, Taiwan's defense ministry confirmed earlier this month.
The exercise will envision the "most severe of enemy threats," mocking up "all possible scenarios" and taking into account the adversary's intent, according to officials who briefed media outlets on the war games beginning this Friday. It was unclear whether potential intervention by the U.S. or others will be modeled.
The computer-aided exercise is expected to simulate an attack by the People's Liberation Army on Taiwan proper, as well as its major outlying islands of Penghu, Kinmen and Matsu. The goal, according to reports from Taipei, will be to repel a Chinese invasion for a full week.
In his media briefing about the Han Kuang exercise, Ministry of National Defense spokesperson Alan Shih said phase one would be used to evaluate Taiwan's armed forces and assess evidence of their actual combat capabilities.
The week-long simulation of a full-scale PLA invasion—done using the Joint Theater Level Simulation system—is the longest in Han Kuang's history since the inaugural exercise in 1984. It comes amid escalating military intimidation from China, whose officials have threatened war and reiterated Beijing's potential to use force to seize the island.
Taiwanese Defense Minister Chiu Kuo-cheng told reporters on Monday the computer-assisted war games were extended from five to eight days in order to allow additional time for after-action reviews.
At a legislative hearing last month, Chiu said Taiwanese troops would fight an invasion fleet for as many days as it took.
Much of the media spotlight, however, will be on the second phase—five days of live-fire drills in locations including Taiwan's urban environments and its many beaches along the western coastline.
The country's army, air force, navy and coast guard are scheduled to take part in large-scale anti-landing exercises and the simulated defense of air bases, as well as other key infrastructure.
Between July 12 and 16, Taiwanese fighter jets will also practice landing on highways in a scenario that envisions critical damage to airstrips, according to the defense ministry's current outline.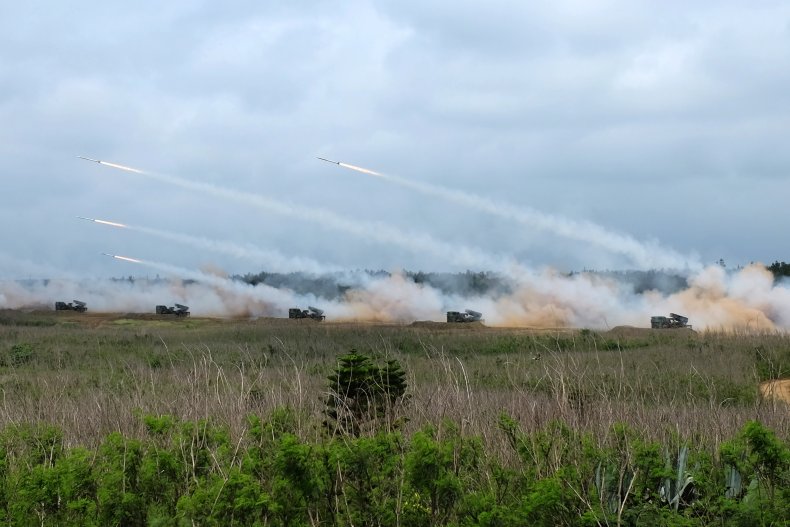 This year's Han Kuang exercise has been noted for its inclusion of some 8,000 reserve forces—roughly eight times that of last year's event, which was trimmed down due to the coronavirus pandemic.
Taiwan's oft-maligned reserves have been singled out for reform and modernization in recent years on the back of internal reviews and expert advice from Washington.
Last October, Taiwan's former defense minister, Yan De-fa, told lawmakers President Tsai Ing-wen would be able to mobilize roughly 445,000 troops if PLA forces crossed the Taiwan Strait. The number includes 185,000 active service personnel and about 260,000 reserves.
Representatives from "friendly" nations are expected to take part in this year's Han Kuang exercises, according to defense officials. The U.S. will be represented by its de facto embassy on the island, the American Institute in Taiwan.