China's Army Tanks Take Part in Mock Invasion of Taiwan
Chinese army tank and infantry units took part in a recent urban warfare exercise which has been described as a mock invasion of Taiwan.
The footage aired by China's state broadcaster CCTV last week included rare images of the Type 96A main battle tank in action during the war game in Hangzhou, capital of Zhejiang Province in east China.
People's Liberation Army units of the 72nd Group Army, based in Huzhou, Zhejiang, took part in the street battle exercise, which attempted to simulate urban conditions China's invading forces might encounter following a successful landing on Taiwan.
Along with the 73rd Group Army stationed in Nanjing, Jiangsu, the 72nd has been described by Taiwanese military analysts as the PLA's main invasion force. Both are part of China's Eastern Theater Command.
According to the documentary, the invading "red" force of 230 soldiers and 30 tanks was tasked with capturing an urban city block defended by a "blue" team comprising 70 soldiers and six tanks.
Despite being outnumbered, the smaller force had advantages including higher ground and defensive fortifications, the report said.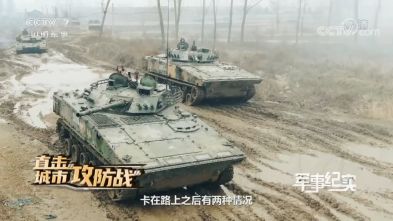 Type 96A main tanks and ZBD-04 infantry fighting vehicles took part in the war game, overcoming landmines and other obstacles to seize the town in under three hours.
The drill concluded with a "resounding victory" for the invading red army against the unnamed "enemy," according to the CCTV report.
China's Tencent news service described the "alley warfare" exercise as a "warning," meant to be considered a strong message alongside the PLA's recent beach assault exercises in the South China Sea. Reports on the other side of the Taiwan Strait said the documentary was another PLA attempt at psychological warfare.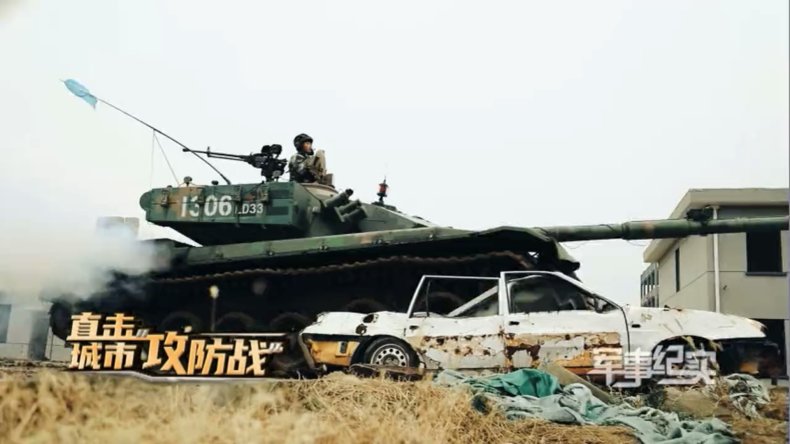 "Taiwan's military intelligence is aware of all Chinese troop deployments and mobilizations," General Alan Shih, Taiwan's defense ministry spokesperson, told Taipei's TVBS news station on Sunday, three days after the CCTV footage aired.
"The Chinese Communist Party has never scaled back its verbal and military threats. Taiwan's military will continue to improve its defense capabilities," he added.
On Monday, military analyst Hector Kang told Taiwanese broadcaster Sanlih that PLA cross-strait drills typically included red teams representing China and blue teams representing Taiwan.
However, he said conducting urban warfare on the streets of Taiwan would be meaningless, as it would only occur following the collapse of Taiwan's air force and navy—the island's two main invasion-repelling forces.
Analysis this year of Taiwan's military strength has suggested Taipei has just over 1,000 older main battle tanks.
In comparison, the People's Liberation Army, which outnumbers Taiwan's armed forces 10 to one and has a budget 15 times larger, has 3,500 main tanks.
The Taiwanese government has stressed it is determined to defend itself, procuring military equipment and arms from the United States at an increasing rate during the presidency of Donald Trump.
When she was re-elected to a second term in January, President Tsai Ing-wen told the BBC that invading Taiwan would be "very costly" for China.