A Chinese spy plane was likely on an anti-submarine mission when Taiwan's radars detected the aircraft flying at an altitude of just 100 feet above the sea this week, an analyst has told Newsweek.
Taiwan's defense ministry has been recording the Chinese military's near-daily warplane sorties into the island's self-declared air defense identification zone (ADIZ) since last September.
It reported two People's Liberation Army Y-8 reconnaissance planes in the defensive airspace on Monday, without revealing further details about aircraft model, speed or altitude.
However, military enthusiasts monitoring the aeronautical emergency frequency 121.5 MHz intercepted a radio warning issued by the Republic of China Air Force at 9:47 a.m. local time.
In the recording, acquired by Newsweek, the radio operater dispatches a standard alert, directing it at a Chinese aircraft operating at 30 meters—or just below 100 feet.
The unusual low-altitude flight has led to 48 hours of speculation among newspapers in Taipei, some of which cited experts who believed the PLA was stress-testing Taiwan's radar system in order to find blind spots. Others suggested the aircraft may not have been a plane at all—rather a helicopter or drone.
According to Su Tzu-yun, a security analyst with the Institute for National Defense and Security Research in Taipei, the most likely PLA asset was a Y-8 maritime patrol aircraft tasked on an anti-submarine warfare (ASW) mission.
"The Y-8 ASW variant can operate at around 30 meters," Su said, adding that the aircraft's inverse synthetic-aperture radar (ISAR) can detect shallow water targets about 30 meters below the surface. The plane also is equipped with a magnetic anomaly detector (MAD), which protrudes from the aft fuselage.
Public records show Taiwan has its southernmost radar atop Pingtung County's Dahan Mountain, which peaks at nearly 1,700 meters (5,570 feet). The station is capable of detecting aircraft—including those operating at low altitudes—in Taiwan's ADIZ, said Su.
It was therefore unlikely that the spy plane was trying to fly below Taiwan's radar or test its response, he concluded.
Given the lack of publicly available information about Monday's PLA overflight, Su said there was a possibility that the aircraft could have been a low-flying jet fighter conducting an anti-ship exercise. However, he said there was "no evidence" to suggest it was a helicopter.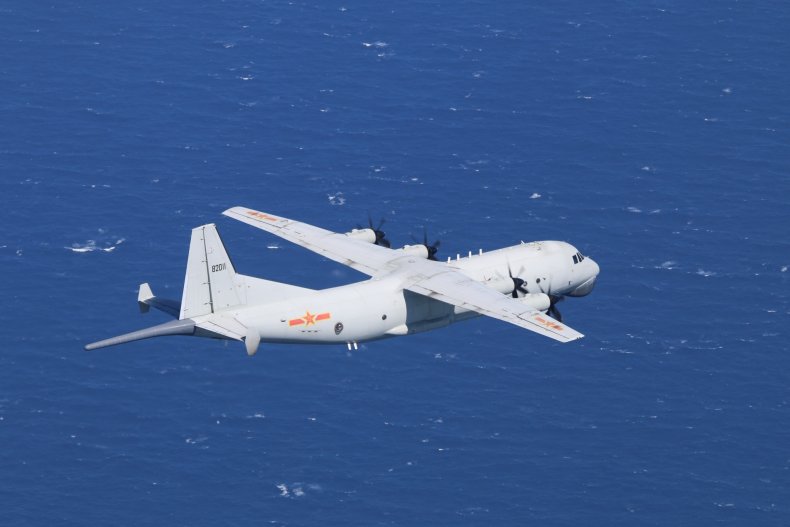 Reports last week said Taiwan's defense ministry was preparing a procurement proposal for a new long-range radar station, to be installed in the mountains south of the island, where air bases are routinely responding to China's ADIZ violations.
Su said the new radar, which reports suggest could be purchased as early as next year, is expected to be sharper and farther-reaching. It will produce more intelligence for Taipei to share with its allies, he noted.
Chinese military warplanes flew into Taiwan's ADIZ in record numbers in April, making a combined 102 sorties as of Monday—the highest total since public records began.
Earlier this month, the PLA Air Force also set a single-day record by flying 25 aircraft toward Taiwan. The tally now stands at 275 sorties since the start of the year, while Chinese planes made a total of 380 ADIZ forays in the whole of 2020.