President Joe Biden concludes his eight-day visit to Europe having secured unprecedented commitments that may have dented China's hopes of driving a wedge between the U.S. and its European allies.
"America is back at the table," Biden declared at the close of the Group of Seven meetings in England on Sunday. It was the first of three agenda-setting summits in as many days to feature firm rebukes of the Chinese government's domestic and foreign policies.
The G7 communique pushed Beijing to cooperate in the next phase of the World Health Organization's efforts to trace the origins of COVID-19 amid renewed interest in the Wuhan "lab leak" theory.
The leaders criticized China's "non-market" trade policies, its human rights violations in Xinjiang as well as its erosion of democratic rights in Hong Kong. The string of charges—representing some of Washington's most pressing concerns—also included continued peace and stability in the Taiwan Strait for the first time.
The G7 pledged 870 million coronavirus vaccine doses and announced plans to promote its own ambitious infrastructure projects across the developing world. It was a not-so-subtle nod to China's Belt and Road Initiative, the country's foreign policy centerpiece under Xi Jinping.
China's response was swift. On Monday, its embassy in London accused the G7 of interfering in China's internal affairs while building an anti-China "clique" to suppress its development.
But the series of fiery statements both before and after the communique was unable to deter Biden from rallying leaders at NATO and the European Union at successive summits in Brussels.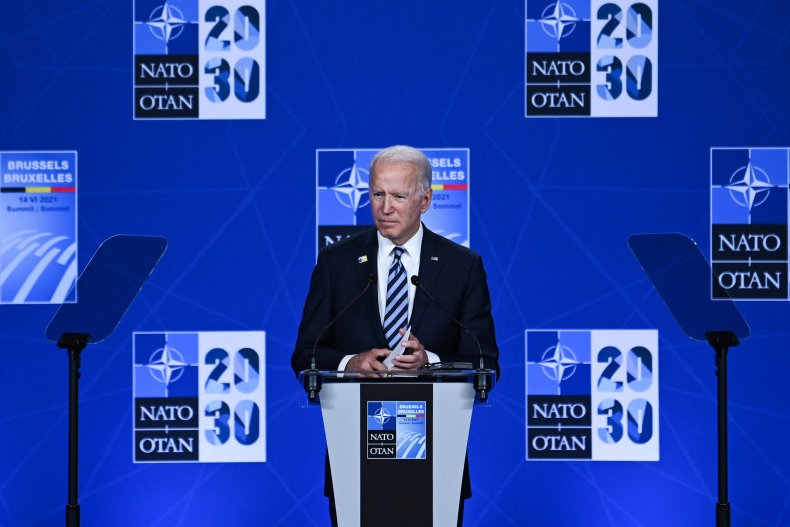 The NATO joint statement on Monday mentioned China 10 times and described it as presenting "systemic challenges to the rules-based international order." The security alliance raised further concerns about China's growing nuclear arsenal, opaque military modernization, lack of transparency and disinformation campaigns.
The wide-ranging censure of Beijing, characterized by the apparent return of American leadership, led the Chinese foreign ministry to describe the U.S. as "very sick" and needing "medication" the following day. But then came the third, and for China perhaps the most crucial, round of talks at the EU.
The U.S.-EU statement that followed on Tuesday again included sharp disapproval of China's human rights violations and economic coercion. Like the G7 communique, there were explicit mentions of the East and South China seas, as well as the Taiwan Strait.
The back-to-back statements all mentioned cooperation with China in areas such as climate and nuclear non-proliferation, but there appeared to be few other topics on which Western governments and Beijing could see eye to eye. The unmistakable rejection of China's behavior seemed to signify a win for Biden over Beijing's divide-and-rule approach to split the U.S. and Europe.
Analysts have noted the unprecedented alignment of U.S. and European leaders on key issues—at least on paper—despite reported hesitance from major players including German Chancellor Angela Merkel, French President Emmanuel Macron and Italian Prime Minister Mario Draghi.
China watchers may have predicted a different trajectory for U.S.-Europe relations following the last-minute agreement of the EU-China Comprehensive Agreement on Investment (CAI) last December—after China's Xi reportedly intervened personally to approve the necessary concessions.
CAI was described as a Chinese foreign policy coup, which raised alarms with both the Trump administration and incoming Biden officials, who wanted an opportunity to consult with EU leaders.
However, other observers have pointed to existing cracks in China's relationship with the EU—some self-inflicted—well before President Biden departed for his first foreign trip last week.
On March 22, the EU joined the U.S., U.K. and Canada in imposing coordinated sanctions on Chinese officials responsible for serious rights abuses against Uyghurs in Xinjiang. China retaliated on the same day, sanctioning 10 European lawmakers, two parliamentary bodies and two think tanks.
On May 19, the European Parliament voted to suspend "any considerations" of CAI, including discussions on its ratification. The EU has said it will not resume work on CAI until China lifts its sanctions, which is conditioned upon the EU doing the same, resulting in an ongoing impasse.
There were and continue to be other signs that European leaders are committing to the Biden administration's tougher stance on Beijing.
In spite of their reluctance to appear overtly aggressive toward China during Biden's summits in Europe, Merkel's government had already announced plans in March to send a German warship to the South China Sea for the first time in nearly two decades. Marcon's France, meanwhile, has already sent military assets to Asia, including for historic exercises in Japan with U.S., Japanese and Australian troops.
On Tuesday, the Belgian parliament voted to recognize "crimes against humanity" and the "serious risk of genocide" in Xinjiang, where United Nations experts and rights groups say the Chinese government is guilty of mass detention, forced labor and forced sterilization, among other crimes. On Monday, the Czech Senate voted unanimously to declare Beijing's policies in Xinjiang genocide, joining the governments of the U.S., U.K., Canada, the Netherlands and Lithuania.
Despite China's apparent reversal of fortunes in Europe, analysts argue that central questions remain over what concrete outcomes will result from the commitments secured by Biden as he returns stateside.