China has dismissed the United States as "very sick" and needing "medication" after President Joe Biden rallied allies at the G7 and NATO summits this week and officially elevated Beijing in the West's security calculus.
"Gone are the days when one country or a group of countries dictated the world," Chinese Foreign Ministry spokesperson Zhao Lijian said at a daily press briefing on Tuesday.
Zhao accused the G7 of "distorting facts" after the three-day summit in England concluded on Sunday with a communique that rapped China multiple times for its policies in Xinjiang and Hong Kong, as well as for its trade practices and technological standards.
The document also made a historic mention of peace and stability in the Taiwan Strait, a topic of immensely high sensitivity to the Chinese leadership.
The communique seeks to "wantonly smear China and blatantly interfere in its internal affairs," said Zhao, who expressed Beijing's "firm opposition" to the joint statement by "a handful of countries."
"The United States is sick, very sick," Zhao said in China's harshest criticism of the Biden administration to date. "The Group of Seven should take America's pulse and prescribe medication."
Zhao's remarks about a "sick" Washington were cut from the English-language readout released by CGTN, the international arm of China's state broadcaster CCTV.
His words echoed those in a fiery response published by the Chinese Embassy in London on Monday. A spokesperson for the office chided the G7's attempt to build an anti-China "clique," which it said was "intentionally sowing confrontation and division."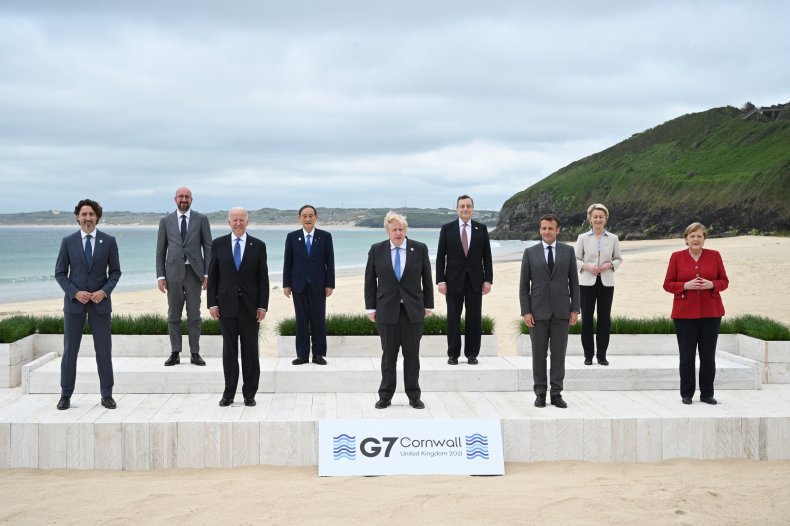 The Chinese government also dismissed Biden's summit with NATO leaders, of which the communique on Monday included 10 mentions of China—described as presenting "systemic challenges to the rules-based international order and to areas relevant to Alliance security."
Biden's declaration of U.S. commitment to NATO resulted in firm statements aimed at Russia, while leaders also raised concerns about China's "coercive policies," its growing nuclear arsenal and the "opaque" nature of its military modernization ambitions.
"We see coercive behavior, for instance in the South China Sea, and we also know that China does not share our values," NATO Secretary General Jens Stoltenberg said in Brussels. "We need to respond together as an alliance," he added.
On Tuesday, the Chinese Mission to the European Union accused NATO of "Cold War mentality" and playing "bloc politics."
"We will follow very closely NATO's strategic adjustment and its policy adjustment towards China," said a statement on its website. "China will not present 'systemic challenges' to anyone, but we will not sit by and do nothing if 'systemic challenges' come closer to us."