China Says Talks With U.S. 'Candid and Helpful,' Despite Fierce Criticism
China has described recent talks with Deputy Secretary of State Wendy Sherman as "profound, candid and helpful," despite giving the senior Biden official a critical earful in a performative display that has been met with praise among its citizens.
Sherman's last-minute visit to Tianjin on Sunday and Monday made her the highest-ranking Biden administration diplomat to set foot in China so far. It is unclear whether Washington had expected Beijing's fierce criticism, but the trip appeared to serve the crucial purpose of maintaining high-level communication at a time of severely strained relations between the two countries.
Her talks with Xie Feng, a foreign ministry official for U.S. affairs, were followed by no fewer than six official statements and an additional two declarations after her brief meeting with Minister of Foreign Affairs Wang Yi. All eight notices offered stern rebukes of U.S. attempts to shape China's behavior.
"During the talks, China faced head-on the existing problems in the bilateral relationship, expounded on China's attitude and position on developing relations with the U.S. in a candid manner, expressed its unequivocal opposition to U.S. interference in China's internal affairs and harming of China's interests, and made clear that the U.S. must change course and correct its mistakes," China's Foreign Ministry spokesperson Zhao Lijian said at a regular press conference on Monday.
Xie also warned the U.S. of so-called "red line" issues including Taiwan, Xinjiang, Hong Kong and the South China Sea, Zhao said, after Sherman raised the Biden administration's consistent concerns over tensions in the Taiwan Strait, human rights abuses against Uyghurs in Xinjiang, the crackdown on democratic freedoms in Hong Kong and China's attempts to change the status quo in the East and South China seas.
The Chinese official notably told state-owned media outlets afterward that he had handed Sherman two lists of top U.S. "wrongdoings," as well as urgent demands, which included the lifting of sanctions on Chinese officials and entities, and the removal of the extradition request for Huawei CFO Meng Wanzhou.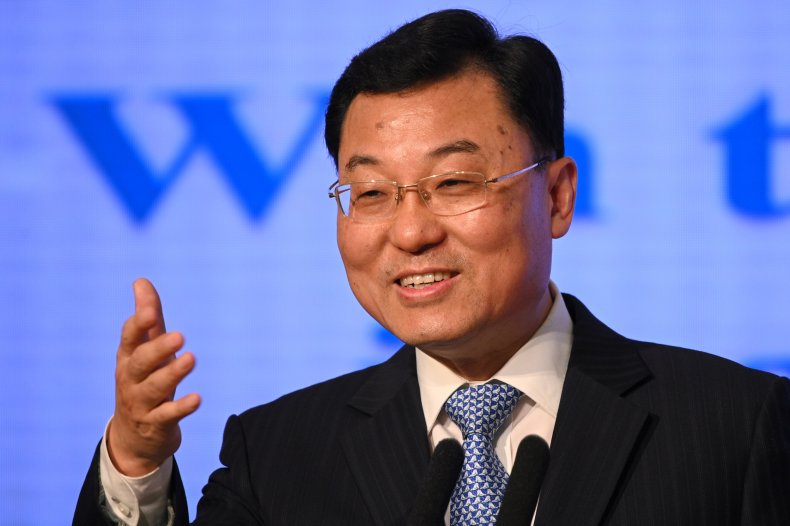 The critical approach appeared to be well-received among the Chinese public, with local media outlets praising Xie in particular, who they said had been propelled to stardom overnight, mirroring the achievements of foreign affairs chief Yang Jiechi following his fiery dialogue with Secretary of State Anthony Blinken in Alaska in March.
The hostile atmosphere notwithstanding, the practical purpose of Sherman's visit seemed to have been accomplished. Zhao said officials from both camps "had an in-depth exchange of views on a wide range of issues relating to their respective and mutual interests."
The U.S. sought China's cooperation and support on climate change, Iran and the issue of North Korea's nuclear arms development, among other topics, the government spokesperson noted.
"On the whole, the talks were profound, candid and helpful for the two sides to gain a better understanding of each other's position and seek healthy development of China-U.S. relations going forward," Zhao added.
This would have aligned with clear signals released by the Biden administration, which has stressed its desire to maintain high-level dialogue, if not direct lines of communications between President Joe Biden and Xi Jinping, in order to avoid miscalculations and potential accidents with far-reaching consequences.
Zhao echoed this view on Tuesday, saying: "We can say that the two sides had deep and thorough conversations and enhanced mutual understanding."
He added: "Differences and somewhat tense encounters are commonplace in diplomacy. Both sides believe that the meeting and talks are candid, in-depth and constructive. Both agree on the utmost importance of maintaining communication between China and the U.S., and the need for more frank and sincere dialogue."
Following her Tianjin trip, Sherman tweeted: "Open communication—even when we disagree—is critical to diplomacy. We will continue to press the PRC to respect international norms and its international obligations."
Also on Monday, State Department spokesperson Ned Price said Sherman and China's Foreign Minister Wang "had a frank and open discussion about a range of issues, demonstrating the importance of maintaining open lines of communication between our two countries."
"They discussed ways to set terms for responsible management of the U.S-China relationship," Price said.
In an interview with The Associated Press on Monday, Sherman remarked: "We will see whether, in fact, there's follow-up and we are able to move another step. There's no way to know in the early stages of building this relationship whether we will get to all the places that we hoped for."