China Sends Warplanes Near Taiwan During Suspected Weapons Tests Around Island
The Chinese military conducted combined exercises around southern Taiwan in what it said was a direct response to "collusion and provocation" by Washington and Taipei, a People's Liberation Army spokesperson said on Tuesday.
Shi Yi, a spokesperson for the PLA's Eastern Theater Command, said Chinese forces took part in "live-fire assault" drills, among other training activities, in the seas and skies off southwest and southeast Taiwan.
Warships, anti-submarine aircraft and fighter jets were deployed together, according to Shi, who said the exercise evaluated the command's ability to conduct joint operations.
"Recently, frequent collusion and provocation by the U.S. and Taiwan have ... seriously violated China's sovereignty and undermined peace and stability in the Taiwan Strait," Shi said.
"The exercise was a necessary action in light of the current security situation in the Taiwan Strait and the need to safeguard national sovereignty," he added. "It was a solemn response to interference by foreign forces and provocations by 'Taiwan independence' forces," Shi said.
Taiwan's Defense Ministry said it had detected 11 Chinese military aircraft in the island's air defense identification zone. A so-called ADIZ is a widely used airspace classification that is not regulated by international law.
Among the PLA warplanes to cross the southwest corner of the ADIZ—in the 132nd day of violations this year—were six J-16 fighter aircraft, two nuclear-capable H-6K heavy bombers and three support aircraft.
No military aircraft were reported in the ADIZ southeast of Taiwan.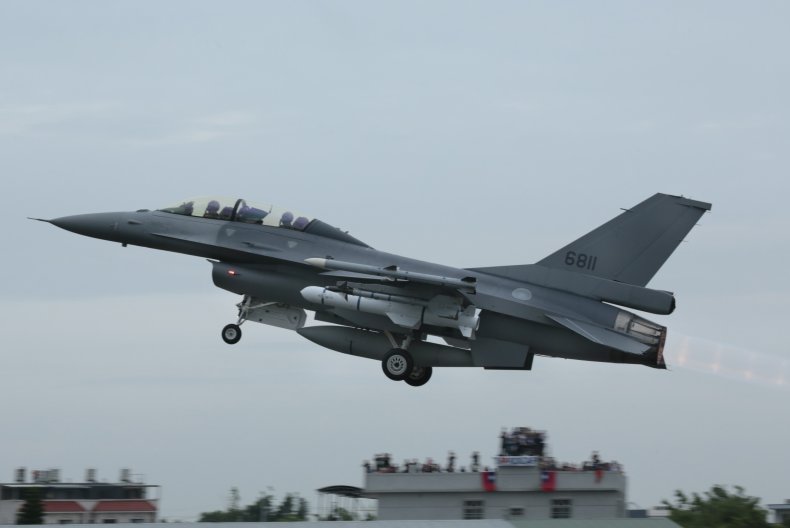 The large-scale intrusion coincided with separate weapons tests scheduled to take place off the southwestern and southeastern coasts of Taiwan on Tuesday.
The former, announced by Taiwan's navy, was planned for 4.5 hours each on August 17 and 18, with the target area "no-go zone" marked for a maximum height of 29,000 feet—likely a missile test.
The second test was the last of four 90-minute sessions announced by the National Chung-Shan Institute of Science and Technology, Taiwan's state-owned weapons developer, between August 12, 13, 16 and 17.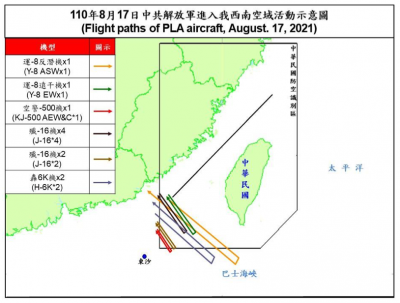 Reached by Newsweek on Tuesday, Taiwan's Defense Ministry spokesperson Shih Shun-wen offered no comment as to whether PLA warplanes conducted overflight operations above the designated target area.
Taiwan's armed forces are ready to respond "in every respect" to activity in the seas and skies around the island, Shih said.
The PLA's Eastern Theater Command oversees the 71st to 73rd Group Armies—the Chinese military's so-called "Taiwan invasion force."
Its statement did not specify which recent engagements between Taipei and Washington had irked Beijing.
Last week, representatives from both countries held their inaugural meeting as part of the newly agreed U.S.-Taiwan Coast Guard Working Group.
On August 5, the Biden administration formally notified Congress of its intention to sell 40 M109A6 "Paladin" self-propelled howitzers to Taipei in a deal worth $750 million.