China Military's Taiwan Invasion Force Conducts Amphibious Beach Assault Drills
A People's Liberation Army (PLA) brigade stationed in southeast China conducted a day of intense live-fire exercises and amphibious beach landings, the country's state broadcaster announced this past week.
The armored division of the PLA's 73rd Group Army, which is believed to be China's main invasion force in a presumed plan to attack Taiwan, expended several thousand rounds of ordnance during drills held on May 12, Chinese state broadcaster CCTV said on Monday.
Footage published online showed a number of Type 05 amphibious fighting vehicles being driven into the sea during the exercise, which is said to have lasted eight hours and involved a number of new recruits.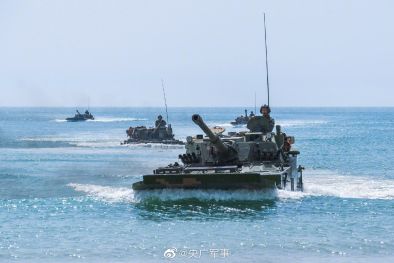 CCTV's report said drivers were asked to navigate through an obstacle course—made with buoys—before the assault vehicles reached their destination and lined up to fire at targets 6,500 feet away.
The video shows the amphibious vehicles, which also carry anti-tank missiles, unloading shells from their 105 millimeter guns toward a marked mountainside.
The 73rd Group Army, which is stationed in Xiamen in Fujian province, is believed to have conducted the combat training off Dongshan County in the Taiwan Strait, according to satellite images circulated on Chinese social media sites.
Pictures of the drill were also released by the state-owned China National Radio as early as May 15. However, none of the images showed Chinese marines storming beaches.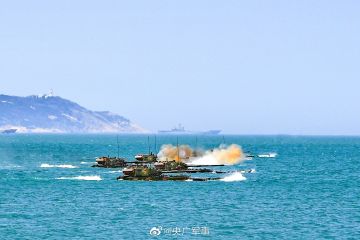 The 73rd Group Army comprises two motorized infantry divisions, an armored brigade, air defense brigade, missile regiment, artillery regiment and engineer regiment.
According to military analysts, the formation remains at priority combat readiness due to its positioning across from democratic Taiwan, which the Chinese government claims is part of its territory.
The army's training activities, especially frequent beach landing exercises, have led observers to conclude that it would spearhead an invasion attempt during a Taiwan Strait contingency.
Around the same time as the amphibious assault drills, PLA forces with China's South Sea Fleet staged their own two-day drill in the South China Sea, where they dropped bombs and launched missiles at a floating target in the sea. The resource-rich sea has seen a number of run-ins between U.S. and Chinese naval forces in recent weeks.
In December 2020, tanks and infantry units of the 72nd Group Army, based in Huzhou, Zhejiang province, conducted an urban warfare exercise widely believed to be part of a mock invasion of Taiwan.
Images showed Type 96A main tanks and ZBD-04 infantry fighting vehicles rolling down the streets of an abandoned town during the simulation, which Chinese media outlets called a "warning" to Taipei.