China Shows Off Army, Navy Landing Capabilities After U.S. Senators Visit Taiwan
The Chinese military released footage of an amphibious transport and beach landing exercise in the seas across from Taiwan a day after three U.S. senators made a highly watched visit to Taipei on the back of a U.S. Air Force freighter.
The People's Liberation Army (PLA) drill took place at an unspecified time and place off the coast of Fujian province in southeastern China, according to separate reports published Monday by the PLA's Eastern Theater Command and China's state broadcaster CCTV.
Images showed PLA Army vehicles and troops loading into PLA Navy amphibious landing craft, before being offloaded in the Taiwan Strait and navigating themselves back to a designated beach.
The training mission involved the 72nd Group Army, usually stationed in Huzhou, Zhejiang, which transported amphibious fighting vehicles and supplies to an imaginary beachhead, according to the reports.
PLA Army elements that took part in the final "beach assault" had to navigate "complicated condition at sea," said CCTV, which carried images of armored vehicles reversing into the docks of Chinese amphibious warfare vessels.
Type 072A landing ship Taihangshan and Type 072III landing ship Putuoshan—both of the PLA's East Sea Fleet—took part in the long-distance transport exercise, the pictures showed.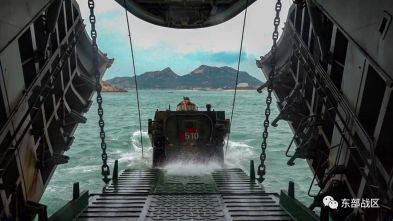 While the exercise may have taken place days or even weeks before, China's decision to publish the images on Monday was not a coincidence, according to Chinese Communist Party-owned newspaper Global Times.
The beach assault exercises "built a concrete basis for winning possible future battles against Taiwan secessionists, following the latest US provocation by sending a military transport aircraft to the island of Taiwan," the state-run tabloid said on Tuesday.
It quoted military commentator Song Zhongping as saying the PLA was "enhancing its combat readiness against Taiwan secessionists and those behind them," in an apparent reference to the United States—which has led concerted calls for peace and stability in the Taiwan Strait since President Joe Biden took office.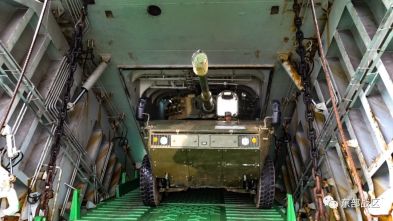 During Sunday's three-hour visit to Taipei by senators Tammy Duckworth (D-IL), Dan Sullivan (R-AK) and Chris Coons (D-DE), the delegation announced the Biden administration's intention to donate 750,000 U.S.-made vaccines to the island. Taiwan is experiencing its first serious coronavirus outbreak since the start of the pandemic.
China's foreign and defense ministries protested the whirlwind visit—done on the grounds of humanitarian assistance—but took particular issue with the senators' mode of transport: a U.S. Air Force C-17 Globemaster III.
Wu Qian, a spokesperson for China's defense ministry, called the trip a "political show" and "vicious political provocation."
The PLA will "strike head-on" anyone who tries to separate Taiwan from China, he added.
Newsweek has contacted the Chinese Embassy in Washington for comment.