China Flooding Leaves Train Passengers Trapped for Nearly 50 hours
Emergency supplies were delivered to more than 700 train passengers in central China on Wednesday after historic flooding left them stranded at a station for nearly 50 hours.
According to local government figures, at least 25 people are confirmed to have died and seven remain missing in Zhengzhou, a city with more than 10 million residents in the Henan province, as parts of the country continue to experience record amounts of rainfall since the weekend.
A statement by the China Railway Zhengzhou Group said train number K226/7 had been stranded just west of downtown Zhengzhou since 5 p.m. local time on Monday, about 30 minutes after it set off for Lanzhou in the northwestern Gansu province.
It was forced to stop as transportation networks throughout the city were paralyzed and floodwaters submerged roads and entered subway tunnels.
The rail operator said it received an urgent report about the train's passengers—around 735 people, according to local media—running low on food and water at 9 a.m. on Tuesday. It prepared two batches of emergency supplies, the first of which was delivered to the station 6 miles from the city center five hours later.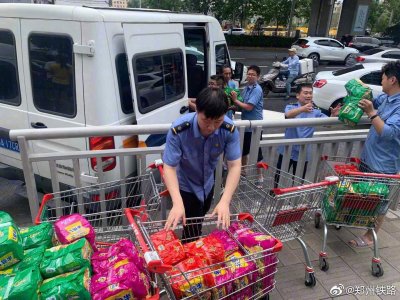 According to the notice posted to its official social media account, additional supplies were acquired from local businesses after stores opened early Wednesday. Images appeared to show local police collecting further donations from residents.
The second delivery, which included some 3,000 bottles of water and 1,000 food packages, arrived by 1 p.m., around 40 hours into the ordeal. Reports said the passengers were given milk, bread, sausages and instant noodles. They also have access to electricity to charge mobile devices and remain in touch with family members.
Pictures from the station on the east-west Longhai railway line show the train tracks spared from flooding. The hundreds of stranded passengers remain "calm and stable," the operator said.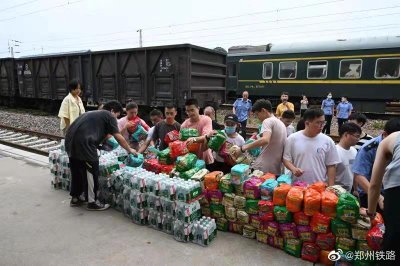 K226/7 was among at least two trains caught in the natural disaster. In a separate statement, the rail group said it assisted in the evacuation of more than 1,300 passengers on train K31, bound for Henan's Yanshi from the coastal Fuzhou city.
The train was forced to stop due to a nearby landslide, with passengers also sent supplies as they waited more than 40 hours before rescuers were able to relocate them.
In a statement on Wednesday, Zhengzhou's municipal government said the ongoing downpour was the most serious in its history. Henan's provincial capital received its average annual rainfall of just over 600 millimeters in the span of three days.
The heavy rains are forecast to last through Thursday, with parts of the province on red alert for more flooding until 8 p.m. local time on July 22.