China Fumes As Europe Gets Closer to Taiwan
China said it lodged diplomatic protests on Thursday after the European Parliament (EP) voted overwhelmingly in favor of deepening the European Union's ties with Taiwan.
No EU member state has formal relations with the island, but MEPs (members of European Parliament) have been vocal in their support for the East Asian democracy. Late on Wednesday they adopted a report that compels the bloc to forge closer economic and diplomatic relations with Taipei within its own "one China" policy, under which Brussels will not recognize Taiwan's statehood.
The People's Republic of China claims Taiwan is one of its provinces, despite having never governed it since the PRC's founding in 1949. The Chinese leadership has threaten to seize the island—if necessary by force.
A spokesperson for China's Mission to the EU responded shortly after the EP announced the outcomes of the previous evening's plenary session, in which 580 MEPs vote in favor of upgrading EU-Taiwan ties, while 26 voted against the report and 66 abstained.
"Despite China's repeated objections, the European Parliament adopted the relevant report, blatantly advocating for elevating so-called EU-Taiwan political relations," a statement said. "We express firm opposition to this and have lodged stern representations with the EU side."
The spokesperson called on Brussels to "correct its mistakes" and "create conditions for the sound and steady development of China-EU relations."
The report on EU-Taiwan Political Relations and Cooperation—adopted in full—was first introduced and passed by the EP's Committee on Foreign Affairs last month. The document condemned China's "military belligerence" against Taiwan and urged the bloc "to do more to address these tensions, to protect Taiwan's democracy and the island's status as an important EU partner," according to an EP statement announcing the passage.
The European Commission has also been asked to assess the possibility of an EU-Taiwan Bilateral Investment Agreement, a deal that would provide more indirect support for the island's long-term security via deeper economic integration with Europe.
Among the diplomatically symbolic gestures is a proposed name change for the European Economic and Trade Office in Taipei—the EU's mission in Taiwan's capital. It is to be renamed the more formal sounding "European Union Office in Taiwan" under the report.
Speaking virtually from Berlin as the floor debate took place in Strasbourg, German Greens MEP Reinhard Bütikofer said: "Our message to the people of Taiwan is clear: we will stand with you. Our message to Beijing is: reconsider your policy. Historical patience will be better for China than any other hypothetical alternative."
At least one European lawmaker claimed to have been intimidated by Chinese diplomats in the run-up to Wednesday's vote in France. Swedish Social Democrat Evin Incir read aloud the contents of a letter she received from Beijing's representatives in Stockholm:
"A few months ago, I received a letter of threat by the Chinese Embassy in Sweden, stating: 'We express strong discontent and firm opposition to your support to the so-called EU-Taiwan Political Relations and Cooperation report.
"'We hope that you withdraw your support immediately and not pursue this course of action, otherwise you shall be held responsible for all consequences.'"
Incir said she would vote for the report "in defense of freedom and democracy."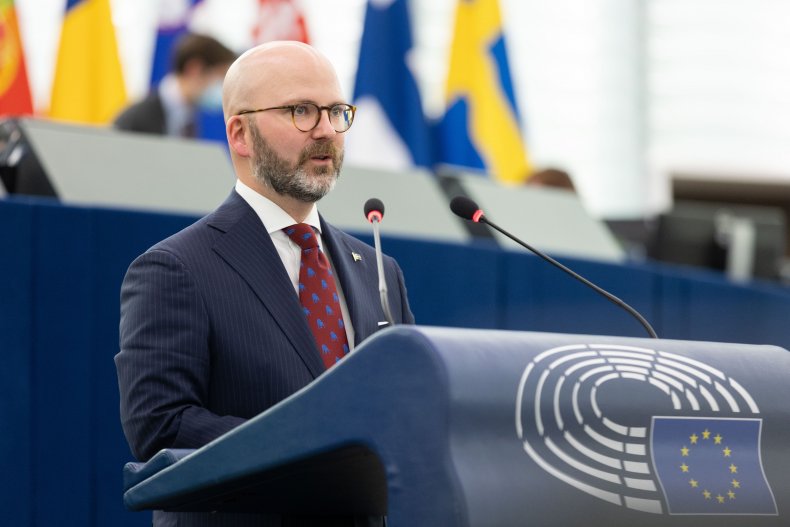 Swedish Democrat Charlie Weimers, the report's rapporteur, said in a statement on the EP's website: "The European Parliament's first report on EU-Taiwan relations demonstrates that the EU is ready to upgrade its relationship with our key partner Taiwan. The Commission must now intensify EU-Taiwan relations and pursue a comprehensive enhanced partnership with Taiwan.
"Work on an impact assessment, a public consultation and a scoping exercise on a Bilateral Investment Agreement (BIA) with the Taiwanese authorities in preparation for negotiations to deepen our economic ties must begin before the end of this year."
On Tuesday, EU foreign policy chief Josep Borrell offered his strongest remarks on the unfolding situation in the Taiwan Strait.
In a statement delivered by the EC's Executive Vice President Margrethe Vestager, Borrell wrote: "China has stepped up its pressure on Taiwan and its military presence in the strait. We have seen repeated incursions of Chinese planes across the median line and in Taiwan's air defense identification zone. These displays of force may have a direct impact on European security and prosperity."
Taiwan's Foreign Ministry spokesperson Joanne Ou told Newsweek on Thursday that the EP's passage of Weimers' report marked a "new milestone" in relations with the European bloc.
Taiwan would build on its existing foundation with the EU to become an "indispensable economic, security and values partner," she said.