China Says It's 'Furious and Sad' Over Anti-Asian Hate Crime Spike in U.S.
China has condemned the spike in anti-Asian hate crime in the United States, appealing to Washington to address the issue on the eve of the first face-to-face talks between Beijing and Washington since President Joe Biden took office.
Asked about a Stop AAPI Hate report that noted some 3,795 hate-related incidents targeting Asian-Americans and Pacific Islanders between March 2020 to the end of last month, Chinese Foreign Ministry spokesperson Zhao Lijian told reporters Thursday that "discrimination against Asian Americans, including against the Chinese, has been on the rise in the U.S. over the past period of time," and said that "the number of violent hate crimes has also been increasing."
"Defenseless elders of Asian ethnicity have been brutally attacked, their lives put in grave danger," Zhao said. "Such despicable actions, born out of senseless discrimination, make us furious and sad."
He then referenced a troubled history of ethnic strife in the U.S., whose system has been plagued by violence and discrimination toward various minority groups, especially Black people, "for such a long time without being attended to."
"The 'Black Lives Matter' protests, ignited by African American George Floyd's death after a white police officer knelt on his neck, have engulfed 50 states in the U.S. and shocked the whole international community," Zhao said. "Such an atrocity was also denounced by the U.N. Human Rights Council. We hope that the U.S. side will lend an ear to the cries of its own people and the international community."
His remarks come two days after a white man gunned down eight people, six of them Asian-American women, across three spas in Atlanta, Georgia. While local authorities have yet to officially attribute the killings to racism, a number of celebrities, lawmakers and officials have since issued remarks linking the massacre to a larger wave of anti-Asian hate crimes.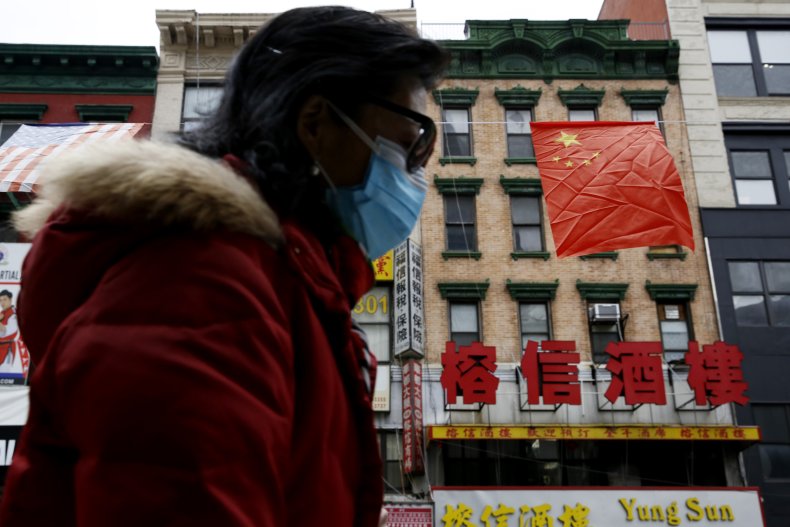 A study published earlier this month by California State University's Center for the Study of Hate and Extremism showed a nearly 150% increase in anti-Asian hate crimes across 16 of the country's largest cities throughout 2020. The increase came despite a 7% drop overall in hate crimes in these same areas over the same period.
The report's authors noted that the initial surge in hate crimes, which began in March, coincided with the spread of COVID-19, with an increase in cases, expanded media coverage of the pandemic, and lockdowns across the U.S.
The novel coronavirus was first detected in the Chinese city of Wuhan late last year, before it spread across the globe.
In his comments Thursday, Zhao blamed the previous administration of former President Donald Trump, who frequently referred to the disease as "the Chinese virus" and by other derogatory terms, as well as others in the U.S. pushing political anti-China narratives.
"I must point out that some politicians in the last U.S. administration and some anti-China forces inside the U.S., holding onto their zero-sum game mindset and ideological prejudice, have been fabricating and spreading lies and disinformation about China," Zhao said, "fanning racism and hatred, condoning discriminatory behaviors against Chinese nationals in the U.S. including Chinese students, and even spying, harassing, cross-examining and arresting them for no cause at all."
He urged the current U.S. leadership to take remedial action, and to protect its Chinese citizens.
"The Chinese side is deeply concerned over this," Zhao said. "The U.S. side should take concrete steps to address its own problems of racism and discrimination, and ensure the safety and legitimate rights and interests of Chinese citizens in the U.S."
Days before the slayings in Atlanta, Biden dedicated part of his first presidential speech to condemning anti-Asian hate crimes on the anniversary of COVID-19 lockdowns in the country.
"Vicious hate crimes against Asian Americans, who have been attacked, harassed, blamed, and scapegoated," Biden said. "At this very moment, so many of them—our fellow Americans —they're on the frontlines of this pandemic, trying to save lives, and still, still, they are forced to live in fear for their lives just walking down streets in America. It's wrong, it's un-American, and it must stop."
Two of Biden's most senior officials, Secretary of State Antony Blinken and White House national security adviser Jake Sullivan, arrived in Anchorage, Alaska on Thursday for their debut meeting with two top Chinese officials: Yang Jiechi, Chinese Communist Party central foreign affairs commission director, and Foreign Minister Wang Yi.
Blinken and Sullivan previously served under former President Barack Obama, but ties between Washington and Beijing have significantly deteriorated in the years since.
The meeting is expected to touch upon some major areas of contention, one of them being human rights.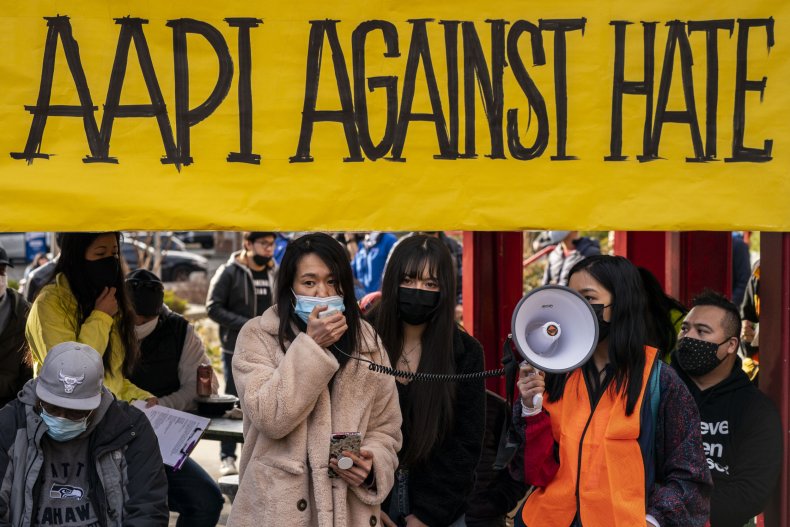 "We are clear-eyed about Beijing's consistent failure to uphold its commitments and we spoke about how Beijing's aggressive and authoritarian behavior are challenging the stability, security, and prosperity of the Indo-Pacific region," Blinken told a press conference Thursday. "Beijing's actions make forging a common approach among our allies all the more important at a time when we're seeing a rollback of democracy and human rights around the world."
Senior administration officials have previously identified reported abuses in Hong Kong and Xinjiang, where the U.S. has accused China of committing a "genocide" by detaining scores of Uighur Muslims in vocational education and training centers considered internment camps by Washington.
Zhao defended China's policies in Xinjiang on Thursday.
"The so-called allegations of 'forced labor,' 'forced sterilization' and 'human rights abuses' in Xinjiang are monstrous lies deliberately fabricated and spread by a few 'academics' and institutions with ulterior motives," he said. "They defy all senses of justice and morality and have triggered strong indignation among the Chinese people. Anyone willing to respect and get to know China, anyone free of malicious intentions or bias against Xinjiang, should stay vigilant and reject such preposterous lies."
As the U.S. and European Union contemplate taking action against China over these alleged abuses, Zhao argued that issues pertaining to Xinjiang are "purely China's domestic affairs."