China to Spend $24m Moving Colossal 1,200-Ton God of War Statue After Complaints
China is reportedly forking out $24 million to move a colossal statue of a venerated god of war, following complaints that it is an eyesore.
The warrior god Guan Yu was commemorated as a 190-foot tall monument, in Jingzhou, Hubei Province, in 2016, but work is underway to remove the statue piece by piece.
Currently the bronze effigy, weighing around 1,200 tons, is headless, as the relocation process began earlier this month. It's being transferred to a new site, Dianjiangtai, some five miles away, where Guan Yu is said to have drilled his troops.
The project reportedly cost 170 million yuan ($26.3m), to construct. Some 155 million yuan is being spent to take it down, after the state-owned Jingzhou Tourism Investment and Development Group was ordered to remove it last year.
The Ministry of Housing and Urban-Rural Development said it "ruined the character and culture of Jingzhou as a historic city."
They added it also "violated urban planning rules," thought to limit buildings in the area to 78 feet.
The South China Morning Post quoted Qin Jun, deputy head of the Jingzhou Municipal Bureau of Natural Resources and Planning, who explained they weren't aware that the limit applied to statues.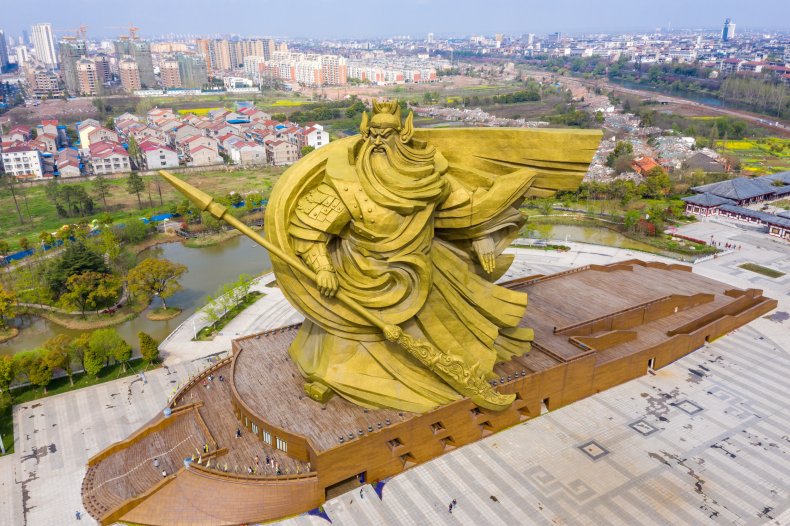 "We thought there should be a limit on the height of buildings, but there was no specific rule on statues," he said.
A statement on the Central Commission for Discipline Inspection and State Supervision (CCDI) website released earlier this month, translated from Mandarin, said lessons learned from the relocation have been "profound."
It read: "The giant Guan Gong statue in Jingzhou City, Hubei Province, which was criticized by the Ministry of Housing and Urban-Rural Development, began to be demolished and moved recently.
"It violates the relevant provisions of the 'Jingzhou Historic and Cultural City Protection Plan.' It is 'unauthorized for planning' and an 'illegal construction.'"
The statue is thought to be one of the biggest bronze monuments in the world, and initially there was hope for it to be included in the Guinness Book of World Records, to draw in a bigger crowd.
"We had an impulse and tendency to make Guinness World Record back then. So it became bigger during the designing process," Zhang Hong, deputy head of the Jingzhou Municipal Bureau of Culture and Tourism, was quoted by SCMP saying.
But despite its colossal stature, the statue—which is built above a museum and shrine to Guan Yu—has only brought in 13 million yuan across four years.
Guan Yu, who died c.220AD, was a famed warrior and Chinese military general during the end of the Han dynasty. Guan Yu's exploits were celebrated in a 14th-century novel, Romance of the Three Kingdoms, which led to him being deified in the Sui Dynasty.