Man Eats Two Big Macs Every Day Since 1972, Devouring Over 32,300 Burgers
A man who has eaten at least two Big Macs a day for nearly half a century has kept every receipt—and burger box.
Donald Gorske is the Guinness World Record holder for the most Big Macs eaten in a lifetime, after chomping down on 32,340 sandwiches.
Gorske, from Fond du Lac, Wisconsin, began his love affair with the fast-food chain in 1972, after getting his first car.
He headed straight to the golden arches where he bought three of McDonald's signature burgers. In the beginning he would eat up to nine sandwiches a day.
Speaking to Guinness about that very first bite, he said: "I drove straight to McDonald's, got my first three Big Macs, then got in the car and ate them. In that moment I said 'I'm going to probably eat these for the rest of my life.' I threw the cartons in the back of my seat, and started counting them from day one."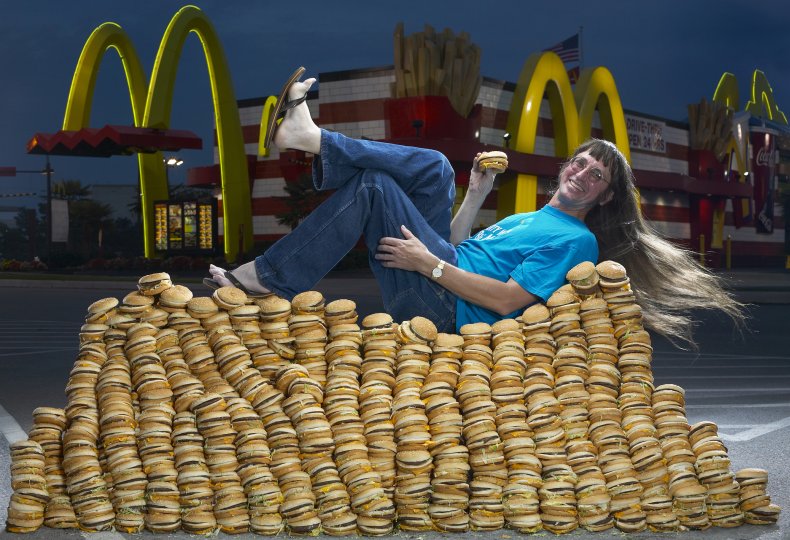 Gorkse has meticulously filed away every burger receipt since 1972 along with the burger packaging, which he flattens down and stores in boxes by the year. And he even marks down how many he's eaten on a calendar, just to ensure he doesn't miss any.
Over the years he's built up quite the collection, charting how much McDonald's branding has changed over half a century while fellow enthusiasts have even sent him collectibles.
He raved: "I love hamburgers like no other food. I am closing in on 50 years of eating them next year, after eating a Big Mac every single day. This is a McDonald's Big Mac—it's the best sandwich in the world! When I like something, I stick with it all the time."
After his initial bonanza of nearly ten Big Macs a day, Gorske now eats two—working out at 14 a week. The sandwiches are all he usually eats on any given day. He skips the fries but washes down his burgers with Coca-Cola.
The grandfather reckons that, and walking six miles round the block on a regular basis, is how he's managed to stay in shape all these years despite wolfing down thousands of 550-calorie burgers.
His wife, Mary Gorske, isn't as big a fan of McDonald's as her husband is, although she admitted she'd bring him burgers while they were dating.
"Don did not tell me about his Big Mac obsession when we first met, I'm not sure It was quite an obsession then, he ate Big Macs every day. Sometimes I would even bring him a Big Mac, I just didn't realize it would go on forever," she said.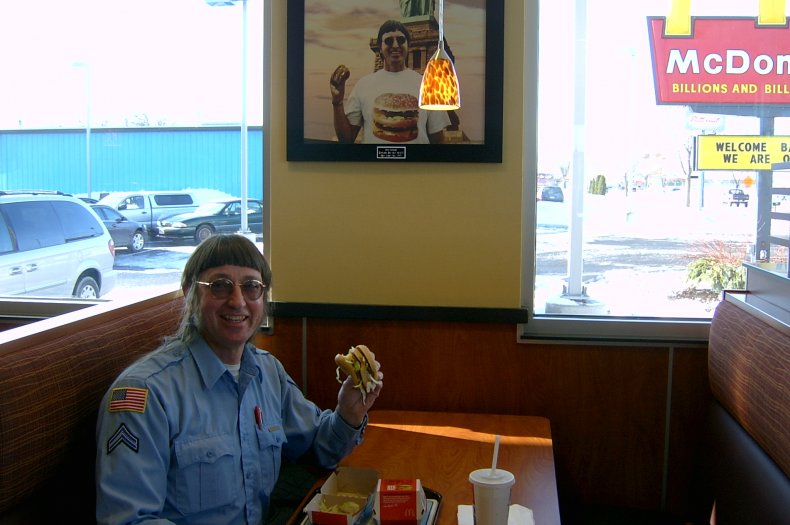 But eating McDonald's now seems to be a family tradition, as Gorske proudly pointed out framed photos capturing the moment his two granddaughters had their first bite of a Big Mac.
Gorske joked he'll keep eating them forever, although Mary has drawn the line at putting the burger in a blender in his old age.
The fast-food fan plans on updating his record title in the future, after initially clinching the accolade in 1999. He topped it again in 2016 after eating 28,788 sandwiches.