China Says Hong Kong Protests Are 'Somehow the Work of the U.S.'
China has accused the United States of encouraging unrest in Hong Kong as the semi-autonomous city continues to experience mass protests.
Demonstrations initially against a proposed bill that could see Hong Kongers extradited to other parts of China, including the mainland, have since expanded rapidly, with some instances of violence that has been blamed both on rioters and security forces. While Beijing has so far only offered political support for the special administrative region's government, Chinese Defense Ministry Wu Qian spokesperson warned last week that the military could legally mobilize to "maintain social order," if needed.
Secretary of State Mike Pompeo declined to offer what the U.S. response would be to such a scenario when asked Monday at the Economic Club of Washington, D.C., but said that "protest is appropriate" in both Hong Kong and Washington. He called on China to "do the right thing with respect to respecting the agreements that are in place with respect to Hong Kong."
Back in Beijing, Chinese Foreign Ministry spokesperson Hua Chunying issued a blistering response to the former U.S. intelligence director, who "obviously failed to put himself in a right position." She continued: "I'm afraid he still regards himself as the CIA chief. He said the recent violent incidents in Hong Kong are appropriate because, as you all know, they are somehow the work of the U.S."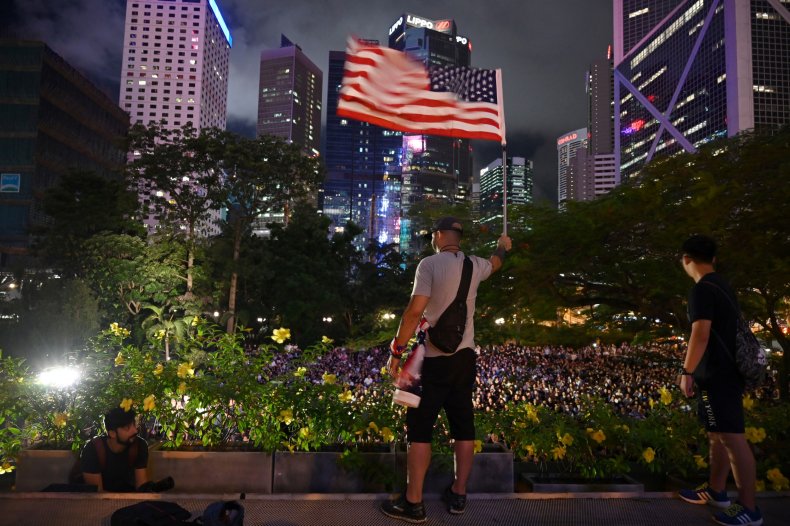 At a press conference, Hua pointed to multiple critical statements and comments issued by the U.S. Consulate General Hong Kong and Macau in regards to the proposed "Fugitive Ordinance Law" dating back at least to February, just before as popular frustration over the bill began to gain momentum. Hua said these remarks, along with criticisms of China's overall "one country, two systems" approach to Hong Kong's status, "interfered in Hong Kong affairs."
She also condemned subsequent meetings held by Pompeo, Vice President Mike Pence and national security adviser John Bolton with vocal supporters of the Hong Kong protests, such as media entrepreneur Jimmy Lai Chee-Ying. Last month, Democratic House Speaker Nancy Pelosi called the protests "a beautiful sight to behold" and backed a bill that would require President Donald Trump to ensure China reaffirm its commitment to Hong Kong's semi-autonomy in a move that further enraged Beijing.
"We saw some American faces among the violent demonstrators in Hong Kong. We even saw the national flag of the U.S. on some occasions. We all have this question: what role has the U.S. played in Hong Kong recently? The U.S. owes the world an explanation," Hua told reporters Tuesday. "The U.S. has to be clear that we are talking about Hong Kong. It is China's Hong Kong."
She warned that China "will never allow any foreign forces to have a hand in Hong Kong affairs, neither will we allow them to mess up Hong Kong." She reiterated that Beijing "firmly supports" Hong Kong's administration in cracking down on "violent criminals to uphold security and stability" and cautioned that "those who play fire will only get themselves burned."
"There have been so many lessons in history," Hua added. "We advise the U.S. to immediately stop playing the dangerous game of pulling chestnut out of fire."
Hong Kong Chief Executive Carrie Lam put the proposed extradition bill on hold last month, but many demonstrators have called on her to totally scrap it and even to step down altogether. At a press conference Monday, Beijing's Hong Kong and Macau Affairs Office "expressed support, respect and understanding" for Lam's decision and declared "strong support" for her government as a whole.