China responded to reports that Iran busted an alleged United States spy ring by citing Secretary of State Mike Pompeo, the former CIA director who admitted a few months ago to misdeeds during his time in intelligence.
During his April lecture at Texas A&M University, Pompeo shared a personal anecdote as "a bit of an aside" how he came to defy his West Point honor code stating that "a cadet will not lie, cheat, steal, or tolerate those who do." He admitted: "I was the CIA director. We lied, we cheated, we stole. It was like we had entire training courses...it reminds you of the glory of the American experiment."
The Iranian Intelligence Ministry announced Monday that it had captured 17 individuals suspected of spying for the U.S. last month. That same day, Pompeo accused Iran of having "a long history of lying" in an interview with Fox News. He pointed to Iranian claims about the U.S. regarding the downing of drones and seizure of vessels in the Persian Gulf.
When Chinese Foreign Ministry spokesperson Hua Chunying was asked at a press briefing Tuesday about the competing claims regarding Washington and Tehran's competing claims over the U.S. alleged intelligence ring, she answered: "I'm not aware of the situation you mentioned about Iran, but I remember it clearly that Mr. Pompeo said in public in a speech at Texas University that 'we lie, cheat and steal, and this is the glory of experiment of America.' I guess you all remember that?"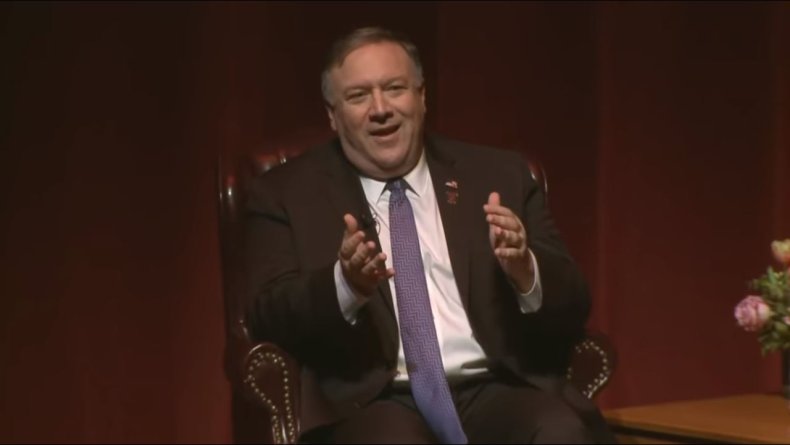 The Iranian Intelligence Ministry first announced in June that it had dealt a "heavy blow" to U.S. cyber-espionage networks as tensions between the two longtime rivals boiled over in the Persian Gulf. The latest announcement regarding Iranian counterintelligence was accompanied by images purported to be of several of the individuals, some with family members, that appeared to have been taken from social media.
"The detected spies were employed in sensitive and vital private sector centers in the economic, nuclear, infrastructure, military and cyber areas and operated as contractors or advisers in these sectors, where they collected classified information," the ministry said in a statement, noting that some of the individuals had been recruited as they attempted to apply for U.S. visas.
Iran's semi-official Fars News Agency reported that the ministry had further revealed that "rulings for these spies have been issued and a number of them will be executed as corruptors on Earth." The outlet also cited an unnamed intelligence official who discussed details of previous CIA operations foiled by the Islamic Republic, though President Donald Trump has denied the entire affair.
"The Report of Iran capturing CIA spies is totally false. Zero truth," Trump tweeted shortly after the news broke. "Just more lies and propaganda (like their shot down drone) put out by a Religious Regime that is Badly Failing and has no idea what to do. Their Economy is dead, and will get much worse. Iran is a total mess!"
Later that day, Trump repeated the claims during a joint press conference with Pakistani Prime Minister Imran Khan, saying "that's totally a false story. That's another lie. They put out propaganda."
The CIA has played a central role in the U.S. and Iran's troubled history as the agency worked alongside the United Kingdom to orchestrate a 1953 coup to reinstall a West-backed monarchy challenged by a popular, democratically-elected prime minister looking to nationalize the country's oil assets, among other reforms. In 1979, the Islamic Revolution overthrew the centuries-long shah dynasty and brought to power a theocratic leadership deeply resentful of the West's intervention.
Hostilities only worsened as the 21st century approached, with the U.S. and its top regional ally, Israel, attempting to thwart Iran's nuclear ambitions, which the country has always maintained were strictly peaceful. One disaffected CIA operative, Jeffrey Sterling, was imprisoned in the U.S. for disclosing to journalist James Risen a botched attempt to damage Iran's nuclear program by providing flawed blueprints — a move that reportedly may have inadvertently helped the Islamic Republic go nuclear.
A 2015 nuclear deal briefly brought the U.S. and Iran together, but Trump's decision to abandon it last year and impose sanctions on Tehran has once again seen the U.S. and Iran at major odds, raising concerns that a conflict could break out as they exchanged threats. China was among the parties to the agreement and, like fellow signatories the European Union, France, Germany, Russia and the United Kingdom, still supported it.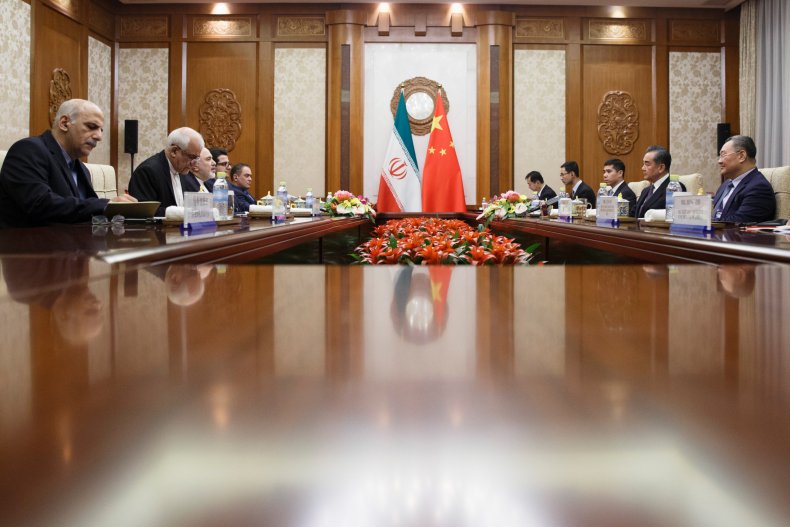 With Europe struggling to normalize trade ties with Iran under the threat of U.S. sanctions, however, Tehran has begun enriching uranium beyond restricted levels, putting more strain on the fragile accord. China and Russia have called on Europe to do more and have largely blamed the U.S. for the current spike in tensions. The Persian Gulf has also seen unclaimed attacks on oil tankers, as well as Iranian and U.K. forces capturing tankers belonging to one another's countries after trading accusations that they broke the law.
Further straining U.S.-China ties, already caught up in a multibillion-dollar trade war, Pompeo announced Monday new sanctions against Chinese company Zhuhai Zhenrong for importing oil from Iran, defying the Trump administration's unilateral sanctions.
"China firmly opposes and strongly condemns U.S. sanctions on Zhuhai Zhenrong and its chief executive," Hua told reporters Tuesday. "China has stressed many times that the normal energy cooperation between Iran and the international community, including China, under the framework of international law is legal and legitimate, thus should be respected and protected."
"In disregard of the legal and legitimate rights and interests of all parties, the US has been wantonly wielding the big stick of sanction, which is unpopular and contrary to the trend of the times," she added. "We strongly urge the U.S. to immediately correct its wrongdoing. China will resolutely safeguard the legal rights and interests of its businesses and reserve the right to take further steps."