U.K. Demands Iran Release Seized Oil Tanker, But Iran Also Wants Its Ship Back from U.K.
The United Kingdom has called on Iran to release a U.K.-flagged oil tanker seized in the Strait of Hormuz just weeks after the U.K. captured an Iranian vessel carrying oil through the Strait of Gibraltar.
Following a phone call with his Iranian counterpart Mohammad Javad Zarif, U.K. Foreign Minister Jeremy Hunt said Saturday on Twitter that he "expressed extreme disappointment" that Iran has detained the U.K.-flagged, Swedish-owned Steno Impero a week after Tehran's top diplomat "assured" him that the country wanted to "deescalate" rising tensions in the Persian Gulf. Instead, Hunt said Iran has "behaved in the opposite way."
Hunt tweeted that the process has to be "about actions not words if we are to find a way through," and that "British shipping must & will be protected."
Hunt confirmed that a Cabinet Office Briefing Room (COBR) meeting where he "Reaffirmed UK desire to de-escalate but confirmed Stena Impero was seized in OMANI waters in clear contravention of international law & discussed how [to] secure safety of UK/int[ernational] shipping in Straits of Hormuz." He said that Parliament will be given an update on Monday.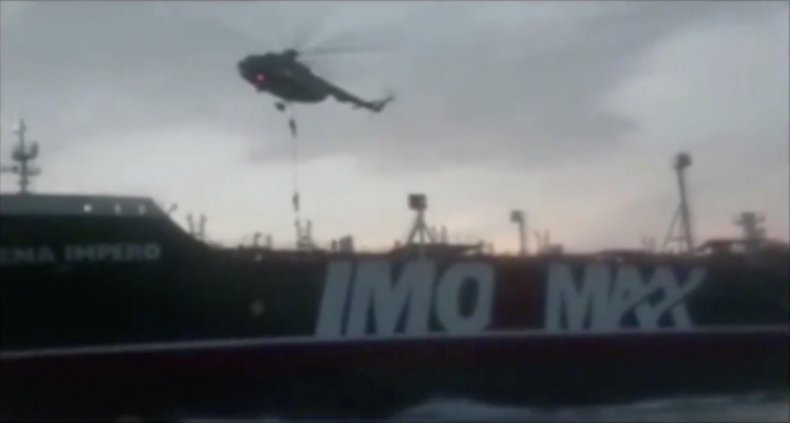 Zarif, who traveled from New York to Venezuela Friday for a summit of the Non-Aligned Movement, also expressed his views of the situation on Twitter. In his post, he referenced the U.K.'s seizure of Panamanian-flagged, Iranian-owned supertanker Grace 1, which was accused of attempting to transport oil through U.K.-controlled Gibraltar to Syria in an alleged violation of European Union sanctions.
Spain—which is also an EU member, but does not recognize the U.K.'s control over Gibraltar—revealed shortly after that the U.K. operation was conducted at the request of the U.S., which has imposed unilateral sanctions on Iran since leaving a 2015 nuclear deal still supported by the U.K., along with China, the EU, France, Germany and Russia.
"Unlike the piracy in the Strait of Gibraltar, our action in the Persian Gulf is to uphold int'l maritime rules. As I said in NY, it is IRAN that guarantees the security of the Persian Gulf & the Strait of Hormuz. UK must cease being an accessory to #EconomicTerrorism of the US," Zarif tweeted Saturday.
Iranian supreme leader Ayatollah Ali Khamenei also accused the U.K. of "piracy" over what occurred in Gibraltar. He and other senior Iranian officials have threatened to retaliate, but denied an alleged previous incident last week in which the U.S. claimed Iran's Revolutionary Guards attempted to take the British Heritage before being turned back by the U.K.'s Duke-class frigate HMS Montrose.
As the U.K. and Iran's feud played out on social media Friday, Iran's Revolutionary Guards released new footage of the raid on the Stena Impero. In a statement, they claimed that vessel turned off its positioning device, entered through the wrong outlet and ignored repeated naval warnings.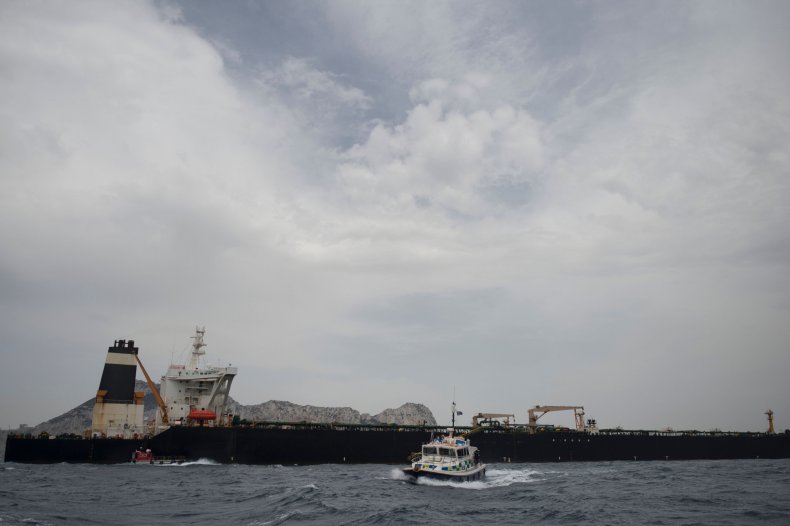 The seizure is only the latest instance of unrest to occur in the Persian Gulf region at a time when Tehran was enriching uranium at levels beyond those outlined in the 2015 deal in response to Europe's failure to normalize trade ties disrupted by the Trump administration's sanctions. Longtime foes the U.S. and Iran have been exchanging threat and Washington has accused Tehran of being behind attacks in May and last month against other commercial vessels delivering oil in the nearby Gulf of Oman.
Iran has denied these allegations but did announce the seizure of another, smaller tanker, the Panamanian-flagged, UAE-based MT Riah, which the Revolutionary Guards accused of smuggling fuel. The elite Iranian force also shot down a U.S. Navy Global Hawk spy drone last month, but dismissed allegations that it lost an unmanned aircraft system of its own to Wasp-class amphibious assault ship USS Boxer as President Donald Trump claimed on Thursday.
Responding to Iran's detainment of the Steno Impero and another vessel, the Liberian-flagged, U.K.-owned Mesdar that was later released, Trump told reporters Friday that the U.S. had a "very close alliance with the U.K.," noting that "we have no written agreement, but we have an agreement."
The president also referenced, however, the U.S.' declining dependence on the world's most important oil chokepoint in the Strait of Hormuz, saying that "we don't have very many tankers going in" and noting that the Steno Impero is "not an American ship; it's UK."