China: Hong Kong's Last British Governor Says It's Time to Stop Bowing to Beijing
Chris Patten was the U.K.'s last Hong Kong governor before the territory was handed over to China in 1997. He was disliked by the Chinese, who described him as a "two-headed snake" and a "sinner for a thousand generations" for criticizing China's lack of democracy.
In an interview with the Guardian 20 years after the handover, Patten admitted that he should have done more to ensure a greater transition of democracy in Hong Kong. He told the newspaper that he was concerned Chinese leader Xi Jinping would erode Hong Kong's chances at democracy.
"I think Xi Jinping's game plan is that southern China … shouldn't start to look like Hong Kong but that Hong Kong should be just the same as southern China," he said.
He added that: "On the whole, we [the world has] continued to operate under the delusion that unless you bow low enough you will never do any business in China.
READ more: Who Is Joshua Wong? Newsweek Interviews the Boy Changing Hong Kong
Hong Kong operates under a one country, two systems rule, which means it is officially part of China but it is permitted to remain capitalist rather than Communist.
But there has been a growing movement for independ, and Joshua Wong became a global symbol of the fight for democracy in Hong Kong when he joined forces with Occupy Central's Benny Tai to demand China reduce her influence over Hong Kong's elections.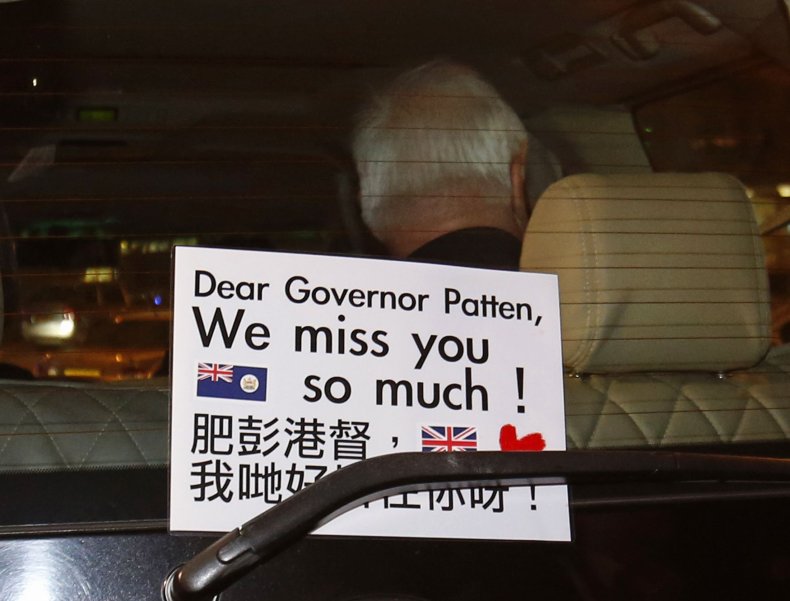 "Those kids, they are not right about everything. But they have been braver than I have ever had to be. They've acted with extraordinary dignity on the whole," Chris Patten told the Guardian. "I think we have got a big responsibility to behave more honorably to Joshua Wong and his generation than we behaved to his parents' generation."
Patten told the Guardian that the authoritarian Chinese government will not tolerate the calls for independence in Hong Kong. Police have used tear gas and force to break up demonstrations by Joshua Wong and other pro-democracy activists. But Patten regrets not doing more to promote democracy in Hong Kong. "We introduced a system of greater, more legitimate accountability. But that we could have done more, I have got no doubt at all."