Hong Kong's Pro-Democracy Activists Remain Defiant Ahead of Election Under China's Influence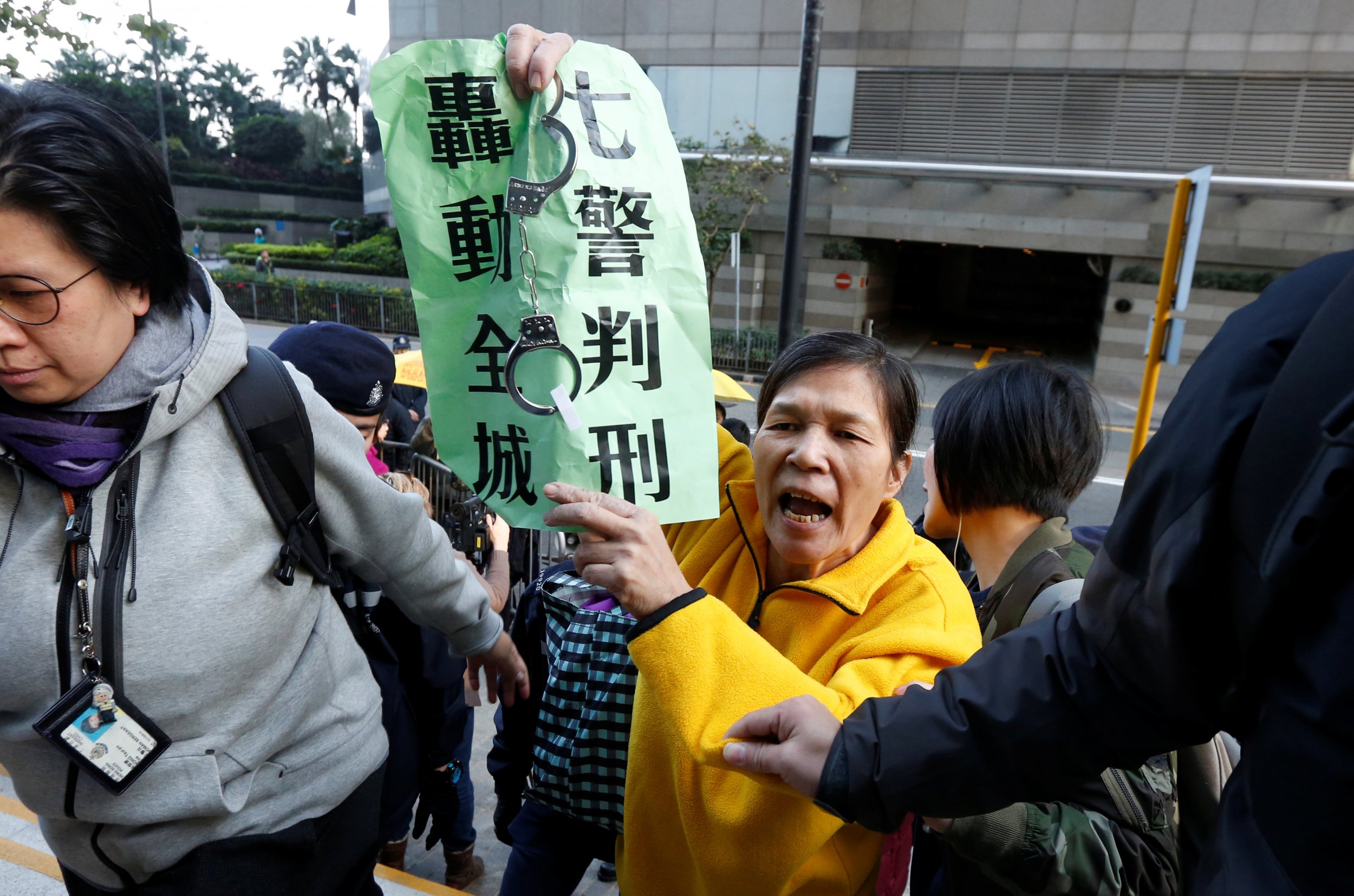 On Sunday, Hong Kong will elect its new chief executive in the first election since the 2014 pro-democracy protests. Yet there's little mystery as to who will succeed CY Leung, the man who has held the role since 2012.
Fifty-nine-year-old Carrie Lam is Beijing's top choice for the job. She vowed to tread softly, and avoid policies that would incur anti-China protests . Her running mates are former financial secretary John Tsang, and 71-year-old Woo Kwok-hing. All three are Beijing loyalists.
The former chief secretary of the Hong Kong administration looks likely to secure the majority of votes from the 1,200-strong election committee, who are the only people among 5 million Hong Kong citizens who cast a vote. Yet she is the most unpopular candidate among citizens, and has been nicknamed "CY Leung 2.0 " as it's thought she will continue his divisive rule.
"The old adage is that the Communist Party doesn't mind elections, as long as they win," says professor Kerry Brown, director of the Lau China Institute at King's College London. "Carrie Lam will win, and John Tsang, the other candidate supported by Beijing, will get a good number of votes. It'll all be very controlled, and nobody bothers to pretend the election will be a surprise."
Steve Tsang, director of the China Institute at SOAS says that Beijing is more involved in Hong Kong's affairs than it used to be and that it's unlikely to ever be as independent as Taiwan. "Taiwan is a full democracy, and it's protected by 90 miles of water from the Chinese mainland. Hong Kong does not have this."
"What we know is that John Tsang and Carrie Lam are Beijing's choices… Beijing's goal is to make sure the people who rule are the people who they can influence," Tsang adds.
Although Hong Kong is allowed to continue its capitalist system of government while technically being part of China under the "one country, two systems" principle, China's say over the elections is final. In the past three years some Hong Kongers have questioned the system and want to make Hong Kong legislatively autonomous.
There have been numerous protests in Hong Kong over what some activists see as growing Chinese influence, in areas from school curriculums to elections. The Umbrella and Occupy Movement protests of 2014 were significant in size, but changed little about Hong Kong's politics.
One legacy of the protests was the conviction of seven policemen in February for beating a handcuffed Occupy protester in 2014. Yet, even after sentencing, thousands of police took part in a rally of support for the officers charged with assault. Roughly 1,000 people were arrested during the protests and Human Rights Watch believes these were mostly pro-democracy activists accused of crimes including unlawful assembly, obstructing police, assaulting officers, and contempt of court. Many activists have complained of harassment, including Occupy founder Benny Tai, and Joshua Wong, a prominent figure among student protesters and now founder of pro-democracy party Demosisto.
Read more: No chance of Hong Kong independence, say China
Activists point to their experiences as a sign that Hong Kong's government is using similar tactics to quash dissent as Beijing does on the mainland. Since coming to power in 2012, Xi Jinping has cracked down on dissent across China and tightened the government's grip on Hong Kong's media. The International Federation of Journalists (IFJ) said in 2017 report on Hong Kong's media that editorial independence in the city was a "thing of the past." Referring to the changes over 2016, the report said: "Not only did [Hong Kong's media] end up as the Mainland's official mouthpiece, but it also took the initiative to patch together lies for the [Chinese] authorities."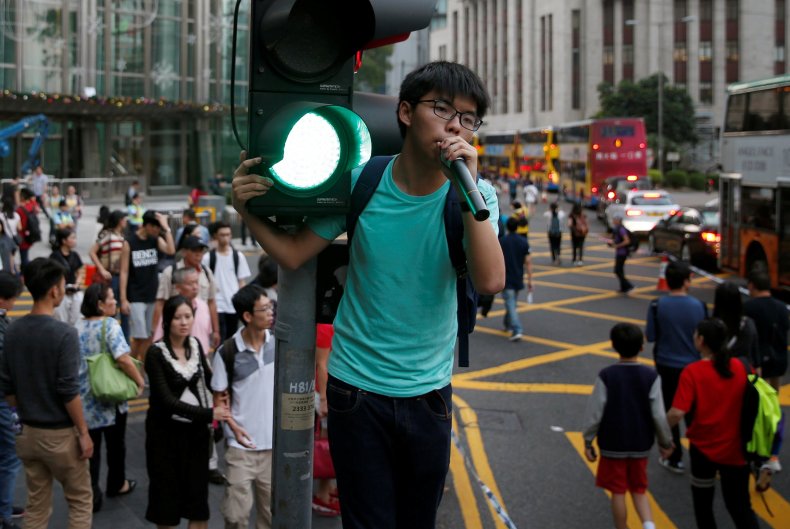 In November 2016, Zhang Dejiang, chairman of the National People's Congress Standing Committee (NPCSC) announced a new interpretation of Hong Kong's constitution that gave Beijing greater influence. At the same time, two pro-democracy politicians were banned from holding office. Yau Wai-ching and Sixtus "Baggio" Leung , members of Hong Kong's Youngspiration pro-democracy party, were removed from the council after making a pro-democracy gesture at the swearing-in ceremony at Hong Kong's legislative council— unfurling a flag that said "Hong Kong is Not China."
China director at Human Rights Watch, Sophie Richardson, said at the time that she thought Beijing's intervention in the reinterpretation of the constitution could cause long-term damage to Hong Kong's judicial independence. " A highly politicized 'interpretation' by Chinese authorities would deepen fears that Hong Kong's promised autonomy is under attack."
Many campaigners agree, suggesting that China's influence reaches into many aspects of their lives. In February Leung claimed that HSBC froze his bank account and that the Bank of China closed his account and returned the savings. (HSBC has not yet responded to a request for comment.) This echoed the experience of Demosisto founders Wong and Agnes Chow: they claimed in April 2016 that HSBC would not open an account for their party. Now the subject of a new documentary, Joshua , about activism in Hong Kong, Wong tells Newsweek that the group still faces challenges in getting their message out. "We are being surprised in numerous ways. We're trying to create a momentum in Hong Kong to keep people's eyes on the democracy movement."
Derek Lam, one of the activists involved in Demosisto, tells Newsweek that once you become known as an activist, it's difficult to find a job. "McDonald's wouldn't hire me," he said. "It's not easy to be an activist facing the largest authoritarian regime in the world—China. There's pressure on ourselves, pressure from our families."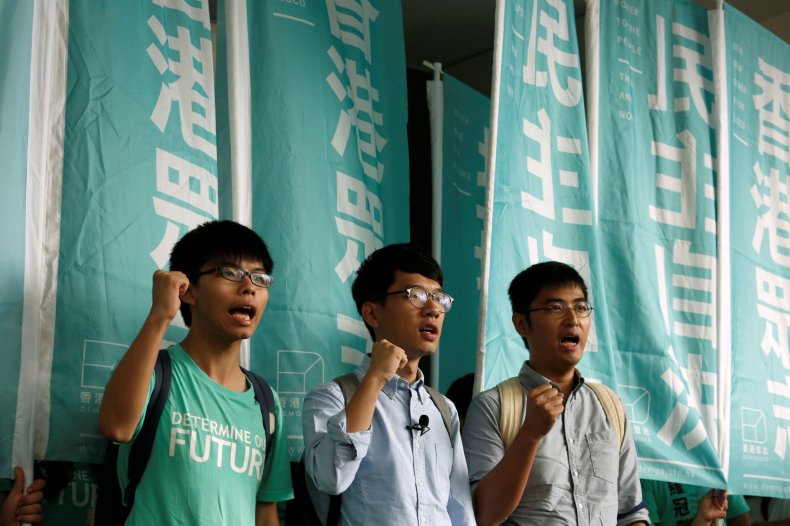 Despite the challenges, pro-democracy groups are still planning to protest the election. Civil rights campaigner Au Nok Kin organizes an annual march protesting Beijing's influence and said that the Hong Kong Civil Human Rights Front is planning action on polling day. He told The Straits Times that they planned to mobilize 40 groups to prevent members of the election committee from entering the Hong Kong Convention and Exhibition center to vote.
Nathan Law, a Demosisto politician and current chairman, tells Newsweek that the group also plans to continue campaigning. "It's difficult to ensure our personal safety, but if we all keep silent it will be more dangerous in the future."