China Hits Back at U.S. Human Rights Bill, Brings Up America's 'History of Blood and Tears of Native Indians'
Beijing has back at the House of Representatives' passage of a bill criticizing China's treatment of its Uighur ethnic minority, recalling the United States' own history of systematic purges.
Chinese Foreign Ministry spokesperson Hua Chinying said her government stood "strongly indignant at and firmly opposed to" the Uighur Human Rights Policy Act of 2019. The proposed law accuses Beijing of "gross violations of universally recognized human rights, including the mass internment of over 1,000,000 Uighurs"—a predominantly Muslim group mostly located in the northwestern Xinjiang province.
China has repeatedly denied U.S. charges of wrongdoing in its Uighur policy, and Hua said these policies were "not about human rights, ethnicity or religion, but about fighting violence, terrorism and separatism." She then turned on the lawmakers passing the bill, accusing them of "ignorance," "brazenness" and "hypocrisy" as she brought up their own experience with ethnic cleansing.
"The two-century long American history is tainted with the blood and tears of native Indians, who were originally master of the continent," Hua told reporters. "However, starting from the 19th century, the U.S. Army occupied millions of square kilometers of land and grabbed countless natural resources by expelling and slaughtering native Indians through the Westward Expansion."
"Apart from that, the U.S. also conducts forced assimilation of Native Americans, killing, expelling and persecuting them and denying them their due civil rights," she added. "Today, they only account for 2.09 percent of the total U.S. population. They are facing numerous difficulties, including backward infrastructure in reservations, shortage of water and electricity, lack of Internet access, unemployment, poverty, diseases and poor living conditions. In front of all these shocking facts, can the U.S. politicians feign ignorance? Where is their conscience?"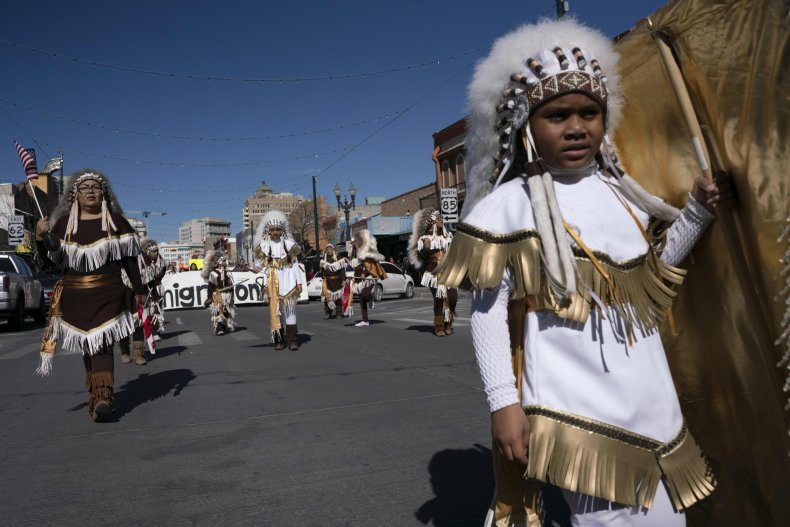 While estimates of the indigenous population in the Americas prior to the arrival of explorer Christopher Columbus in 1492 vary wildly, a study published earlier this year by University College London determined that the disease, war, famine and other products wrought by European colonization through the following century killed an estimated 56 million natives across the Americas—or roughly 10 percent of the global population. The genocide only worsened in the centuries to follow.
The establishment of the U.S. in 1776 and the militant expansionism that followed encouraged and later sponsored policies seeking the forced assimilation, migration or extermination of Native Americans. From as many as 15 million natives living in North America in the pre-Columbus era, only about 250,000 remained by the end of the so-called Indian Wars of the 19th century, according to the Library of Congress.
The 2.09 percent figure cited Wednesday by Hua includes American Indian and Alaska Native population numbers (alone or in combination), who comprise 6,795,785 out of 325,719,178 people living in the U.S., according to the latest Census published in 2017. As for American Indian and Alaska Native population numbers (alone), they were 4,104,295, or 1.26 percent of the population.
Today, Indian reservations managed by local tribes under the federal government's U.S. Bureau of Indian Affairs account for about 2.79 percent of the country's territory. These communities have been deeply affected by alcoholism, opioid addiction, poverty and other negative social factors at disproportionate rates.
Earlier this year, China published a report on the human rights records in the U.S., specifically mentioning issues of voter disenfranchisement and domestic violence targeting Native Americans. The report came in response to Washington's own annual account of alleged abuses committed by governments worldwide, including Beijing.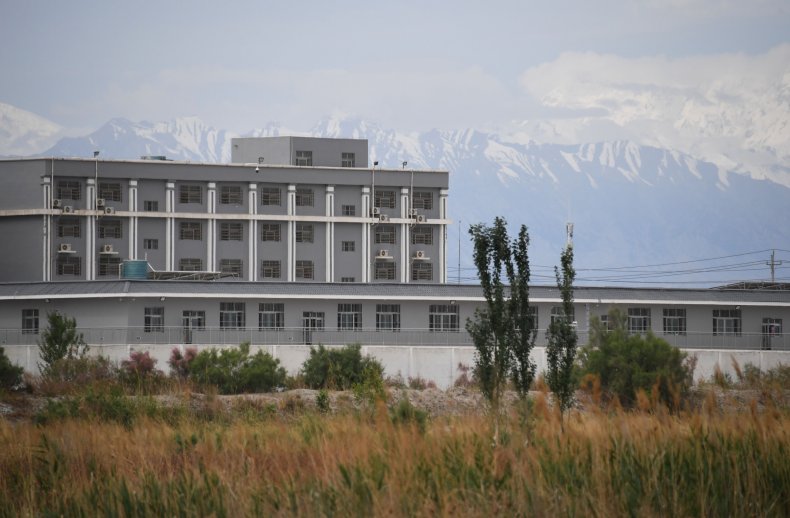 Tensions between the various ethnic groups in China have existed for as long as records go back, but the country's overwhelming Han majority has long enjoyed favorable status. Since the Chinese Communist Party's founding of the People's Republic in 1949, the country has espoused state atheism, discouraging and sometimes outright banning certain religious practices.
Both of these elements have helped to fuel the country's current campaign to suppress the identity of the Uighurs, who comprise around .8 percent of a country with the world's largest population. Though the Chinese government denies pursuing any sort of discrimination, the campaign has reportedly accelerated in recent years, especially following violent riots that erupted Xinjiang's capital in July 2009.
The U.S. and a number of Western nations have accused China of detaining Uighurs and sending them to stay indefinitely in sprawling, so-called "reeducation centers" that have been likened by critics to concentration camps. In July, the U.S. and 21 other countries—all of whom, with the exception of Japan, were located in the West—signed a letter calling on the United Nations' Human Rights Council to condemn China over its practices in Xinjiang.
Days later, a rival letter signed by 37 countries—a number of which were majority-Muslim states—was issued to the council in defense of China. Washington and Beijing were the world's top two economic and diplomatic powers and competition has increasingly strained their ties as they fought for legitimacy among the international community.