China has defended its status at the World Trade Organization, arguing that the United States' attempts to influence the international body showed it was a poor model for how a superpower should act.
On Monday, Chinese Foreign Ministry spokesperson Hua Chunying criticized a recent appeal to the WTO by President Donald Trump's administration, which accused countries such as China of maintaining using their designation as a "developing country" in order "to enjoy the benefits that come with that status and seek weaker commitments than those made by other WTO Members." Addressing reporters, Hua argued that "the shared will of all members should be respected," not just that of Washington, which she claimed was trying to impose its will on others, unlike Beijing.
"As the biggest developing country that claims its status of a developing country, China does not intend to shy away from its due international responsibilities. It is, in fact, upholding the basic rights of developing countries, which in itself is an act that champions international fairness and justice," Hua said, pledging her country would "continue to make contributions proportionate to its capability and development level" as well as "help other developing members to achieve common development, uphold the multilateral trading system and work to steer the WTO reform in the right direction."
"When you hear the words and deeds of the U.S. on the status of developing countries in the WTO, I believe you feel just the same as I do," she added. "They further reveal how capricious, arrogant and selfish the country is. Such are not worthy behaviors of the 'world's biggest power.' There is a catchphrase that got popular just recently in China, 'Don't do things like the U.S. does.' I hope some people of the U.S. side can deeply reflect on it."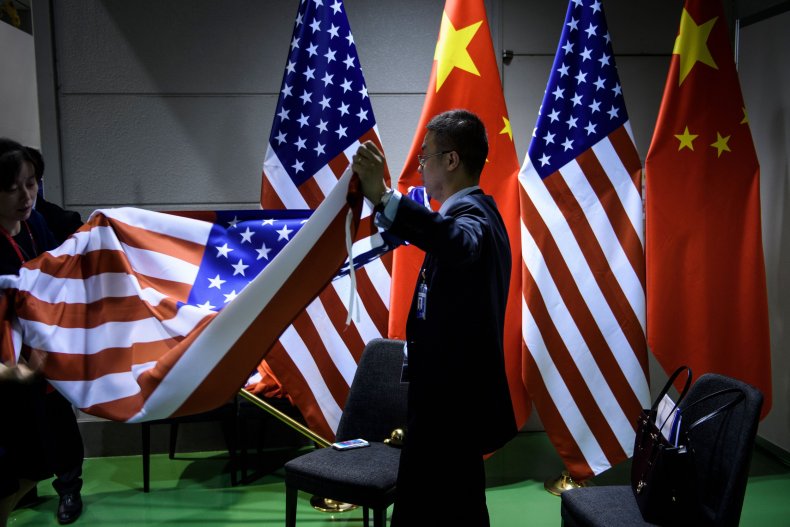 Nations claiming "developing-country status" at the WTO enjoy certain privileges such as "longer transition periods before they are required to fully implement the agreement and receiving "technical assistance," according to the body's official website. Trump's memorandum, published Friday, argued that "When the wealthiest economies claim developing-country status, they harm not only other developed economies but also economies that truly require special and differential treatment" and that "China most dramatically illustrates the point."
"Since joining the WTO in 2001, China has continued to insist that it is a developing country and thus has the right to avail itself of flexibilities under any new WTO rules," the memorandum read. "The United States has never accepted China's claim to developing-country status, and virtually every current economic indicator belies China's claim."
China has the world's second-largest economy with a GDP of $13.6 trillion, second only to the U.S. figure of $20.5 trillion, according to the most recent figures published by the World Bank. China's GDP per capita, however, was only about $18,200 compared to the U.S.' $62,600 when measured with purchasing power parity (PPP).
Other countries with developing-country status and mentioned in Friday's White House memorandum included Brunei, Hong Kong, Kuwait, Macao, Qatar, Singapore, and the United Arab Emirates⁠—all of which have a higher GDP per capita than the U.S. with PPP. Also referenced by the White House was the inclusion in this category of Mexico, South Korea and Turkey, which were members of both the G20 and the Organization for Economic Cooperation and Development.
As a result of the memorandum, the U.S. Trade Representative Robert E. Lighthizer must report to Trump within 60 days on progress made on changing the WTO's definition of developing countries. If "substantial progress has not been made toward achieving" this within 90 days, the White House threatened to unilaterally decide on which countries the U.S. would consider developed and developing.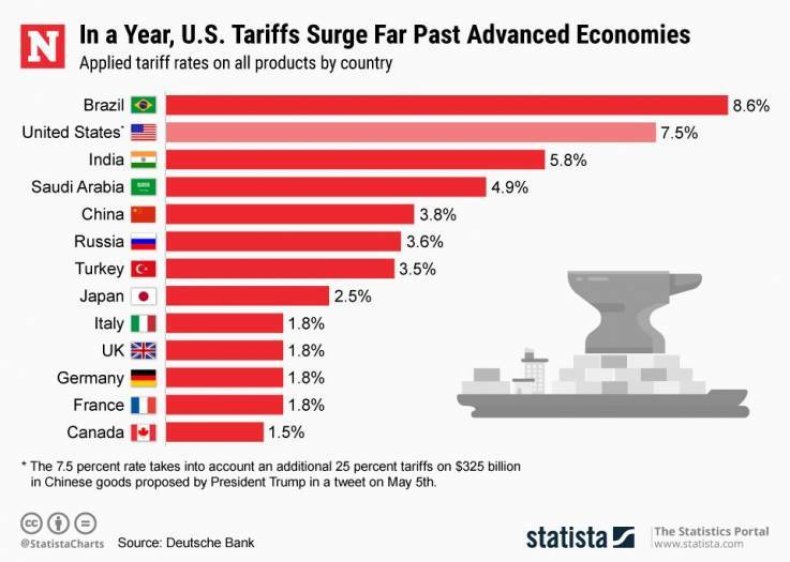 The latest spat between the U.S. and China comes amid a protracted trade war between the world's top two economies has seen the U.S. impose tariffs as high as 25 percent on $250 billion worth of Chinese goods and China respond with tit-for-tat measures as both threaten to escalate. Trump has long accused China of unfair and manipulative trade practices that ultimately weakened the U.S. economy and, in a tweet Monday criticizing the past practices of the Federal Reserve, he claimed that "for China, until now, the U.S. has been 'easy pickens.'"
Still, Trump has so far failed to secure a deal with Chinese counterpart Xi Jinping despite successive rounds of talks. Officials from Beijing and Washington were set to meet for the dozenth time Tuesday in Shanghai and Hua told journalists at Monday's press conference she hoped "the U.S. will honor its commitments by taking real actions, which will create favorable conditions for achieving progress in the economic and trade cooperation and consultation."
The U.S. and China are also feuding over an array of opposing positions on matters such as the contested waters of the South China Sea, the 2015 Iran nuclear deal and Washington's allegations that Beijing has detained up to two million of China's Muslim Uighur ethnic minority in facilities the Trump administration has likened to concentration camps. The U.S. was among at least 22 nations—all of whom, with the exception of Japan, were located in the West—to sign a letter criticizing these alleged abuses in Xinjiang province in a letter earlier this month to the United Nations' Human Rights Council.
Days later, however, up to 37 countries—a number of which were majority-Muslim states—have signed a separate letter defending China at the U.N. Human Rights Council. As of Friday, Chinese state-run media reported that this number had increased by 13 for a total of 50, a sign Hua said Monday "fully shows that the international community has a fair opinion on Xinjiang," arguing that "the attempts of some Western countries to smear Xinjiang and pressure China under the pretext of human rights will not succeed."