China's Rapidly Modernizing Military Has U.S. Senior Officials Concerned: Report
The U.S. Defense Intelligence Agency (DIA) has published a new report warning that China's rapidly modernizing military poses a potent threat to security in Asia.
The 140-page report, published Tuesday, is titled "China Military Power: Modernizing a Force to Fight and Win." It notes that ongoing tension over the status of Taiwan is a key factor in China's huge investment in its military forces in recent years.
Related: China warns it won't allow U.S. interference in Taiwan as military leaders meet to defuse tensions
"Beijing's longstanding interest to eventually compel Taiwan's reunification with the mainland and deter any attempt by Taiwan to declare independence has served as the primary driver for China's military modernization," DIA Director Robert Ashley wrote.
"China is building a robust, lethal force with capabilities spanning the air, maritime, space and information domains which will enable China to impose its will in the region. As it continues to grow in strength and confidence, our nation's leaders will face a China insistent on having a greater voice in global interactions, which at times may be antithetical to U.S. interests."
The report suggested China's fear that foreign forces might attempt to interfere in an operation to take Taiwan has driven the development of "a range of systems to deter and deny foreign regional force projection," such as American carrier strike groups.
The report claims China has tripled its military spending since 2002, hitting around $200 billion last year. This is still significantly lower than the U.S. military budget of $700 billion, but the DIA noted Beijing has committed less to research and development funding because it has bought or stolen the best technology developed in other nations.
"China shifted funds and efforts to acquiring technology by any means available," the report read. "Domestic laws forced foreign partners of Chinese-based joint ventures to release their technology in exchange for entry into China's lucrative market, and China has used other means to secure needed technology and expertise," including intellectual property theft.
Ashley listed China's most potent weapons, some of which are the most advanced in the world in their field. Chinese submarines, "major surface combat ships" and anti-ship and anti-air missiles all pose a threat to adversaries, he explained.
Beijing's anti-ship missile—"the world's first road-mobile, anti-ship ballistic missile," according to the DIA report—is of particular concern to U.S. forces, given the importance of American aircraft carriers in projecting power in East Asia.
"China's leaders hope that possessing these military capabilities will deter pro-independence moves by Taiwan or, should deterrence fail, will permit a range of tailored military options against Taiwan and potential third-party military intervention," the report explained.
Beijing believes Taiwan should be part of a unified China. Under its "one-China" policy, the ruling Communist Party has always said it wants to bring Taiwan under its control, whether by diplomacy or by force.
The U.S. has historically supported Taiwan's independence through weapons sales and military deployments, making it a dangerous flash point in Washington-Beijing relations.
At a meeting with U.S. Admiral John Richardson—the chief of naval operations—on Monday, senior Chinese General Li Zuocheng warned that China would not allow outside interference in its relationship with Taiwan.
"If someone tries to split Taiwan from China, the Chinese military will do whatever it takes to safeguard national reunification, national sovereignty and territorial integrity," Li said.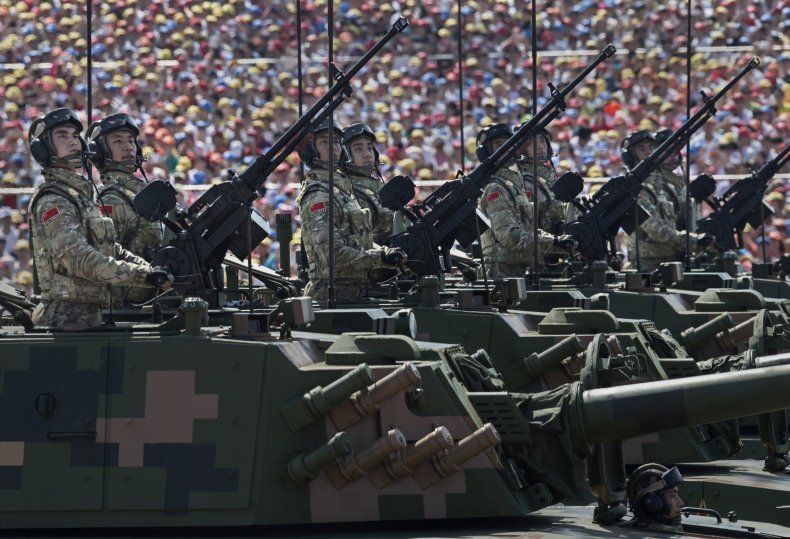 China's Rapidly Modernizing Military Has U.S. Senior Officials Concerned: Report | World