China: Mongol Shipwreck Reveals Golden Treasure From When Genghis Khan's Descendants Ruled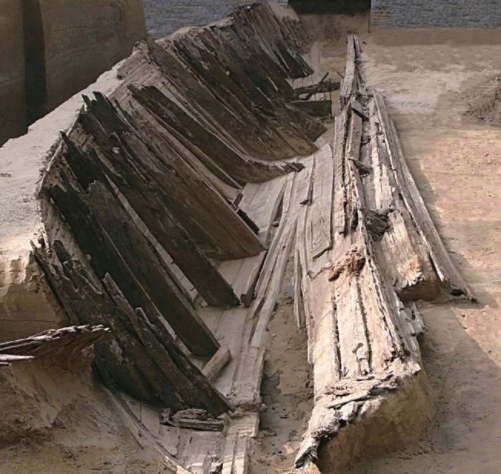 Archaeologists in China have uncovered the remains of a 700-year-old ship holding gold and bronze treasure from the time the Mongol descendants of Genghis Khan ruled the country.
The archaeological find has offered a fascinating insight into artwork from the period, from between 1271 and 1368, when the Yuan Dynasty ruled from the Mongol palace in Xanadu, Live Science reported. The 70-foot wreck was found to contain more than 100 artifacts including iron, bronze and gold, as well as other jade, porcelain and clay items.
Related: Shipwreck Discovered Off Oman Reveals Secrets of 500-Year-Old Navigation Device
Despite being under Mongolian authority, the period marked a renaissance for China in traditional artwork and craftsmanship. Among the artifacts recovered from the wreck were motifs popular in China at the time, including depictions of dragons and phoenixes.
The ship, which over the centuries had been preserved by mud and silt, would have been used for river journeys and appears to have sunk after an unknown object struck its hull.
"The deposits around the shipwreck and the cracking of its [hull] suggest the possibility that the ship sank after its hull was hit and the ship wrecked," experts from the Shandong Institute of Cultural Relics and Archaeology wrote in the journal Chinese Cultural Relics.
It is unclear what happened to the crew of the barge, but no human remains have been recovered from close to the archaeological site.
Excavations have shown the ship's hull was sectioned into 12 separate cabins by 12 bulkheads. The vessel also held a Buddhist shrine containing an incense burner, and stone carvings of deities as well as a captain's cabin. The ship's bridge doubled as a kitchen where iron pots and an iron stove were recovered.
Building workers stumbled upon the ship as they were excavating a modern-day construction site. Shortly after the boat sank, the silt immediately under the wreckage was washed away and the vessel sank a further half-dozen feet into the now-dried-up riverbed, where it remained over the centuries.
The site was excavated over a period of three months between October 2010 and January 2011 by the Shandong Provincial Institute of Cultural Relics and Archaeology and the Heze Municipal Commission for the Preservation of Ancient Monuments.