China, Pakistan Partner in Afghanistan Against Foe U.S. Denies Exists
China and Pakistan are looking to bolster their strategic partnership in Afghanistan, where the withdrawal of U.S. troops after two decades of warfare is set to bring along new opportunities and uncertainties, among them the question of a common foe that the United States says does not exist.
Chinese Foreign Minister Wang Yi and Pakistani Foreign Minister Mahmoud Shah Qureshi presided Thursday over the fourth trilateral dialogue between their countries and Afghanistan, a mutual neighbor where conflict has raged between a U.S. and NATO-backed government and the Taliban movement.
Chinese Foreign Ministry spokesperson Wang Wenbin described the forum a day earlier as "an important platform for the three parties to enhance mutual trust and promote cooperation."
This year's annual meeting, hosted by China, is the first since President Joe Biden announced earlier this year that U.S. troops would leave the country by September 11, the 20th anniversary of the 9/11 attacks that prompted the U.S. intervention against Al-Qaeda, then the Taliban's partner in Afghanistan. The exit is based upon a fragile peace deal between the U.S. and the Taliban, and is proceeding despite lingering violence that Beijing seeks to address, working with Islamabad and Kabul.
"At present, the unilateral withdrawal of U.S. and NATO troops at the critical stage of the peace and reconciliation process in Afghanistan has brought uncertainties to Afghanistan's domestic situation and regional security landscape," Wang said. "As neighbors, friends and partners sharing not just common mountains and rivers, but also weal and woe, China, Afghanistan and Pakistan aspire to maintain regional peace and stability."
Wang said the three countries were "expected to reach positive consensus and inject impetus into regional peace, stability and development."
Anxieties surround the precarious position of the Afghan government as it faces continued clashes with the Taliban and others forces as the U.S. military withdraws. But
it's not the Taliban that Pakistan sees as the greatest threat to the country.
Other ultraconservative forces, including another Taliban movement known as Tehrik-i-Taliban Pakistan (TTP), the Islamic Movement of Uzbekistan (IMU), and the East Turkestan Islamic Movement (ETIM), a Uighur group that seeks to establish a separatist caliphate and oust the Chinese Communist Party from Central Asia, are all of concern to Pakistan.
"These are the real threats of regional and international terrorism that exist in Afghanistan," Pakistani permanent representative to the United Nations Munir Akram told Newsweek. "So the major thing is we have to attack and to eliminate this new threat that is emerging."
While the senior Pakistani diplomat said his country has banded together with the U.S. as well as China and Russia to support the political process in Afghanistan, he hoped that the broader geopolitical rift straining ties between Washington and Beijing would not stymy multilateral efforts.
As relations between the world's top two powers continued to deteriorate last November under former President Donald Trump, then-Secretary of State Mike Pompeo announced in November—just two days after the U.S. election began and as votes were still being counted—that ETIM's designation as a "terrorist organization" under the Immigration and Nationality Act would be revoked.
The Biden administration has shown no interest in relisting the group and has, at the same time, carried on the Trump administration-era branding of China's internment of Uighurs in so-called vocational education and training centers in Xinjiang as a "genocide."
"There's some concern about the delisting of ETIM and, in parallel, the depiction of what is happening in Xinjiang genocide," Akram said. "We hope that these two moves are not connected. It would be a matter of concern that there is a strategic aspect to that, because it could be bad news."
However, some in the new U.S. administration have established just such a link between the decision on ETIM and a changing outlook on China.
A State Department spokesperson told Newsweek that "ETIM was removed from the list because, for more than a decade, there has been no credible evidence that ETIM continues to exist."
Rather, U.S. officials suspected a Chinese plot to exaggerate the group's influence to justify the policies being pursued toward Uighurs in Xinjiang and abroad.
"We assess that ETIM is now a broad label China uses to inaccurately paint a variety of Uighur actors, including non-violent activists and advocates for human rights, as terrorist threats," the spokesperson said. "China often labels individuals and groups as terrorists on the basis of their political and religious beliefs, even if they do not advocate violence."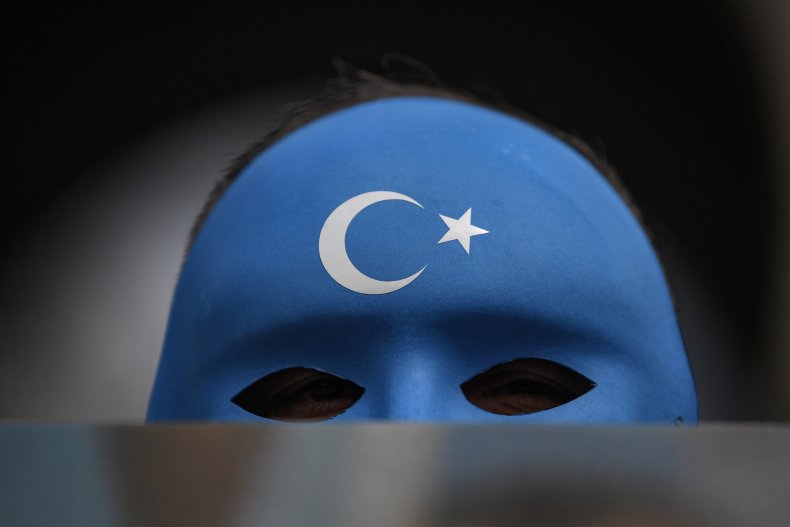 ETIM's history is deeply intertwined with that of Al-Qaeda, though the extent of their relationship remains a source of debate. Both were founded in the late 1980s and drew inspiration from the mujahideen war against a Soviet-backed communist government in Afghanistan, a campaign that received backing from both the U.S. and Pakistan at the time.
Pakistan would also be among the few countries to recognize the Taliban's new de facto Islamic Emirate established after the group rose to power amid Afghanistan's 1990s civil war. This recognition was ultimately rescinded after 9/11 and the U.S. "War on Terror" that continues in various forms across the globe to this day.
As conflict consumed Afghanistan, ETIM played a key role orchestrating unrest across the border in China's Xinjiang, including deadly riots and attacks that were met with an increasingly severe crackdown by Chinese authorities utilizing mass surveillance and internment.
The U.S. also pursued ETIM, targeting the group throughout the war in Afghanistan, including as recently as 2018, and some ethnic Uighurs allegedly associated with the group were interned at Guantanamo Bay Detention Center, though U.S. officials have reported little on its Afghanistan presence in recent years. But ETIM has emerged elsewhere, including Syria's Idlib, where instability has also given fertile ground for militant groups.
The U.S. often highlights the top threats today in both Syria and Afghanistan as being the Islamic State militant group (ISIS) and Al-Qaeda.
Akram, however, said that when it comes to Afghanistan, it is Al-Qaeda, not ETIM, that "is virtually non-existent," while ISIS' local branch, ISIS-K, is "also a relatively diminished threat," as even the Taliban had turned against them.
The divergence between the U.S. and Pakistani points of view on counterterrorism runs deep.
The State Department's latest counterterrorism report, published last year and referred to Newsweek by the spokesperson, credited Pakistan for helping to foster the U.S.-Taliban talks that ultimately resulted in a peace agreement. The report acknowledged that the country "took modest steps in 2019 to counter terror financing and to restrain some India-focused militant groups" following a deadly February 2019 strike by Pakistan-based Jaish-e-Mohammed against Indian security personnel in the India-administered side of disputed Kashmir.
"Thus far, however, Islamabad has yet to take decisive actions against Indian- and Afghanistan-focused militants who would undermine their operational capability," the report found.
Akram has denied that Pakistan enabled such groups, and argued it was India that has allowed and even sponsored attacks against Pakistan using Afghan soil. The has charge been routinely rejected by New Delhi, which has grown close to Washington as part of the Quadrilateral Security Dialogue alongside Australia and Japan, a gathering that has also elicited concerns from China as a potential rival coalition.
The State Department report references "terrorist groups targeting Pakistan" while operating from the Afghan-Pakistani border, but does not ascribe any foreign backing to such groups.
As for ETIM, the State Department cast criticism on Beijing, saying "China's CT efforts continue to focus primarily on 'extremists' whom Beijing ascribes to the so-called East Turkistan Islamic Movement, despite a lack of independent evidence that a group by that name is still active."
"The Chinese government has detained more than one million Uyghurs, ethnic Kazakhs, and other members of Muslim minority groups in internment camps in the Xinjiang Uyghur Autonomous Region, using counterterrorism as a pretext," the report said.
ETIM remains listed as a terrorist organization by China, the European Union, Kyrgyzstan, Kazakhstan, Malaysia, Pakistan, Russia, Turkey, United Arab Emirates, the United Kingdom and the United Nations.
As Washington doubled down on its rhetoric regarding Xinjiang, Chinese officials have mounted their own campaign to defend their country's policies.
In an article published last week, Chinese ambassador to Finland Chen Li noted that the "genocide" label was first brought to official U.S. usage by Pompeo "on the very last day of his term," claiming it was part of a last-minute slew of radical foreign policy decisions.
"It was based on reports fabricated by some extremist anti-China individuals who haven't been to Xinjiang for years and accounts of a few so-called witnesses who were proved to be trained 'actors' and 'actresses,'" Chen alleged.
"Some of them," Chen alleged "are associated with East Turkestan forces," and therefore "such accusations call into question the political purposes behind them."
The U.S. and its Western allies, especially Australia and the United Kingdom, have hosted a series of investigations and testimonials that China has sought to discredit regarding the situation in Xinjiang. One such event was launched Thursday in Westminster, London by a group called the Uyghur Tribunal, led by U.K. barrister Geoffrey Nice.
Chinese Foreign Ministry spokesperson Wang Wenbin assailed the exhibition and its organizers during a press conference that same day.
"This so-called 'tribunal' has nothing to do with the law," Wang said. "It attempts to run in the name of 'tribunal' to engage in anti-China political and public opinion manipulation. This is nothing but an insult to the law."
"The 'trial' in question staged by this group of people will carry no more weight than a show," he added. "Such behavior of trifling with the law will only make it easier for the world to see through the despicable lies and rumors relating to Xinjiang."
Asked by Newsweek last month about U.S. motivations, Xu Hairong, who serves as secretary for the Chinese Communist Party Urumqi Municipal Committee, took it a step further and suggested there was a clear "ulterior motive," and showed media clips displaying an alleged plot to incite unrest in Xinjiang as a result of its importance to China's oil and gas infrastructure and its proximity to Afghanistan.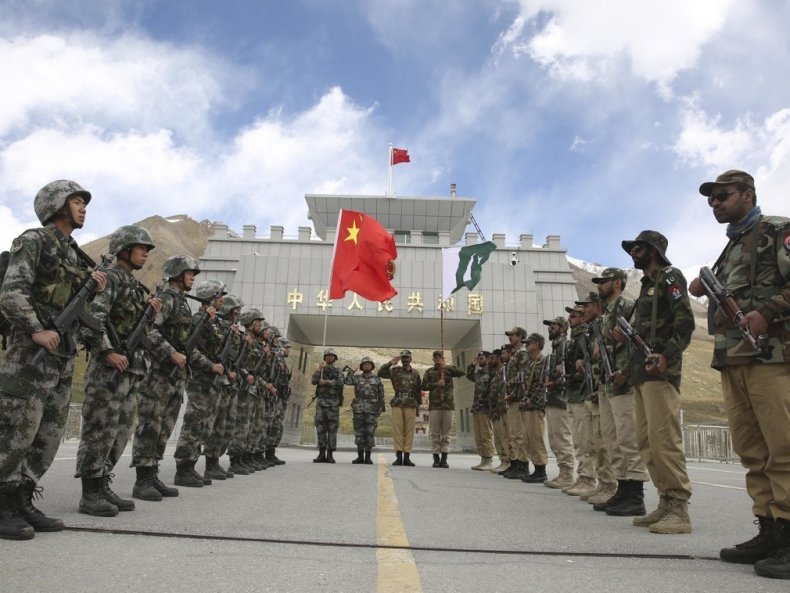 But as the debate over Xinjiang continues to play out, the U.S., China and Pakistan still see value in working together on what all three see as a very real conflict in Afghanistan. Joined by Russia, the three countries met in April for the first time under Biden as part of the quadrilateral "extended troika," which produced a 14-point joint statement expressing a commitment to striving for peace and stability in Afghanistan.
The State Department also sees mutual benefit in continuing this format.
"The United States, Russia, China, and Pakistan all share a common interest in combatting terrorism," the State Department spokesperson told Newsweek. "The extended Troika, consisting of these countries, has proven to be a productive grouping for coordinating international efforts to reach a just and durable political settlement in Afghanistan that also ensures terrorist groups and individuals do not use Afghan soil to threaten the security of any other country."
Beyond even these countries, the spokesperson said that the international community in general "sees that the people of Afghanistan urgently deserve peace and have shared security concerns as well." As such, the U.S. "is willing to work with a range of countries as long as they wish to play a constructive role in a secure and stable future for Afghanistan, including in the fight against terrorism."
Akram affirmed to Newsweek Pakistan's commitment to working with regional countries to combat militant groups. However, he emphasized that the threat had to be expanded to include the "conglomerate" involving elements of ISIS-K, TPP, ETIM and other like-minded factions or else their influence might only spread.
"If this threat is not addressed in the ungoverned spaces in Afghanistan," he warned, these forces could "pose a threat to other countries, Iran, Uzbekistan, Tajikistan, Kyrgyzstan, all the neighbors of Afghanistan, including China."