China State Media Slams West's 'Potent and Malicious Attack' on 'Beautiful Uyghur Autonomous Region'
The People's Daily newspaper, the mouthpiece of China's ruling Communist Party, wrote yesterday of a report that claims to uncover the "Western media's potent attack and malicious smear" against Xinjiang.
The "beautiful" Xinjiang Uyghur Autonomous Region has "long been portrayed as the darkest place in the world," according to the People's Daily. The report, produced by the paper itself, is entitled "Things to Know About All the Lies on Xinjiang: How Have They Come About?"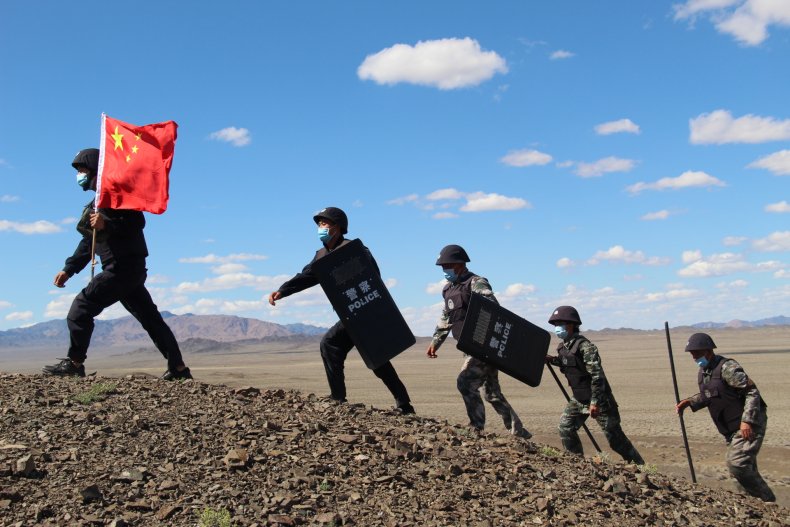 The paper claims the "lies" about Xinjiang come from anti-China forces in the United States through academic institutions and experts "with no moral scruples."
The People Daily's China Watch Institute put together the report with what it said are figures from the U.S. news website thegrayzone.com, the Australian Alert Service, and a series of press conferences held by the Xinjiang Uyghur Autonomous Region. All together, the newspaper claims, the report exposes "the real mastermind" behind the false representation of Xinjiang and makes transparent "the ins and outs of the lies" about the region.
Some of the "key findings" include that the U.S. and other Western countries supported separatist and terrorist activities as early as the last century in Xinjiang in an effort "to destabilize China and contain its development." Another is that "far-right fundamentalist Christian" Adrian Zenz and others have fabricated information, including what the report says are false claims that millions of Uyghurs in Xinjiang are being held under detention.
According to the People's Daily, the report unearthed that in order "to create fake news, the BBC even went so far as to pay for 'evidence.'" The report also describes the oft-cited Xinjiang Victims Database as an "ill-motivated and baseless project designed purely for political manipulation" that was "poorly put together by anti-China forces."
In April, Human Rights Watch appealed to the United Nations to investigate reports of mass detention of Uyghur Muslims, which it said is a crackdown on religious practices and other measures against minorities. The group said the detentions are crimes against humanity as defined by the treaty that established the International Criminal Court.
Foreign governments and researchers have reported that more than 1 million people have been confined to camps in Xinjiang amid accusations of forced labor and birth control.
The U.S. issued a ban in January on cotton made in Xinjiang. In March, the U.S., the U.K., Canada and the European Union also imposed sanctions against senior Chinese officials it said were responsible for human rights abuses against Uyghur and other minorities.
The Chinese government has denied any human rights abuses in the Xinjiang region.