At least 14 million people in China are living under total lockdown, as the country persists with a strict "zero-tolerance" COVID policy ahead of the Lunar New Year holidays and the Beijing 2022 Winter Olympics.
Public health officials are taking no chances amid a rise in infections across the country, bringing China's seven-day average cases above 200 for the first time since March 2020. Two cities are now experiencing a form of full lockdown not seen since the early days of the pandemic, when the former epicenter, Wuhan, in the central Hubei province, was shut down for 76 days.
On Monday, the 1.1 million residents of the city of Yuzhou, in central Henan, were told to remain in their homes following the discovery of three asymptomatic coronavirus cases. Public transport, schools and all nonessential businesses have been shut.
A second round of citywide testing is underway to identify the source of the outbreak. By Wednesday, local officials had found 32 additional cases, with 23 being asymptomatic, which China has classified separately for two years.
Citywide testing is also happening in Henan's provincial capital, Zhengzhou, about 50 miles north of Yuzhou and home to about 10.3 million people. Also on Wednesday, the local health authority reported six new COVID cases and 10 more without symptoms. A province-wide lockdown could be on the horizon if cases numbers continue to climb.
China's National Health Commission said 41 confirmed cases—and 71 asymptomatic cases—were found across the country on Tuesday, 35 of which were in Xi'an, capital of Shaanxi in northwestern China, where 13 million people have been experiencing the strictest of public health measures for two weeks.
Residents—confined to their homes over the Christmas and New Year period—continue to live under the watertight restrictions, which are testing the limits of the local government's capacity under the zero-tolerance policy. Police have handed out fines, while social media videos showed citizens being physically restrained after defying lockdown rules to purchase bread. In some of Xi'an's more populated districts, residents complained of critical food shortages as supplies failed to reach them for days.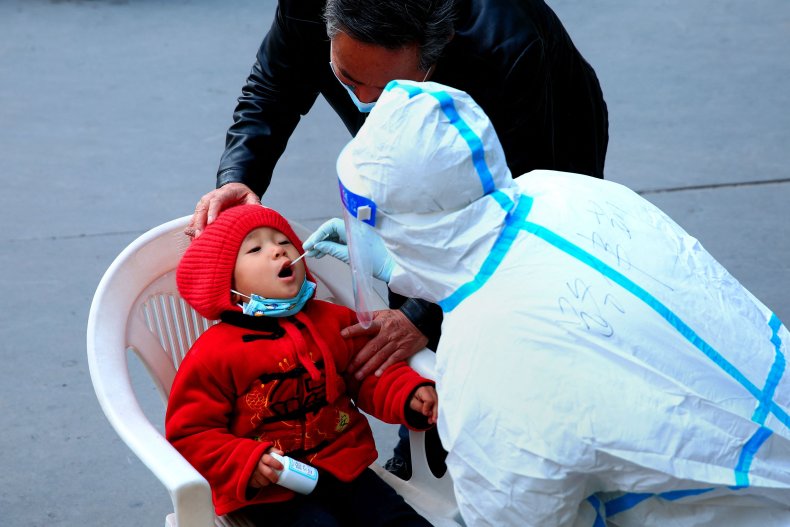 The city's cluster of cases is the most severe since early 2020, reaching more than 1,600 infections since December 9, even though cases of the Delta variant are declining. The lockdown is indefinite, with officials only planning to ease restrictions after community transmission ends.
The current public health situation poses the biggest test for Beijing's zero-COVID strategy ahead of the holiday period. That begins in earnest with Chinese New Year's Eve on January 31, ahead of which hundreds of millions of people are expected to travel home by train, plane, bus and car.
On February 4, Beijing 2022 will open without foreign spectators and possibly no local fans either. The Winter Games are a major soft power event for China in a year when its leader, Xi Jinping, is expected to promote the Chinese Communist Party's achievements before securing an unprecedented third term.
China's recent spike in cases hasn't been accompanied by a rise in COVID mortality figures. The country has reported 102,932 confirmed cases to date and 4,636 deaths.
According to Our World in Data, China has fully vaccinated 84 percent of its population.