China Plans Military Response for Pelosi's Visit to Taiwan
China will reportedly conduct "targeted" military actions in response to U.S. House Speaker Nancy Pelosi's Taiwan visit, which has been sharply condemned by Chinese officials.
China's plans for a military response, as well as its placing of the Chinese military on high alert, was reported by Reuters, which cited the country's defense ministry. It was not immediately clear what the operations would entail.
Any statements or announcements on the plans did not appear to be publicly available on the website of China's defense ministry by Tuesday afternoon. When Newsweek reached out to the ministry for comment using an email address listed on its website, the message would not be delivered. China's foreign ministry and the U.S. Defense Department were also contacted for comment.
Pelosi, a California Democrat, arrived in Taiwan's capital of Taipei on Tuesday during her ongoing tour of Asia. News reports began circulating in July that Pelosi would travel to Taiwan in what would be the highest-level visit by an American official to the island in 25 years, but she did not officially confirm the stop until she arrived.
"Our Congressional delegation's visit to Taiwan honors America's unwavering commitment to supporting Taiwan's vibrant Democracy," she said in a statement.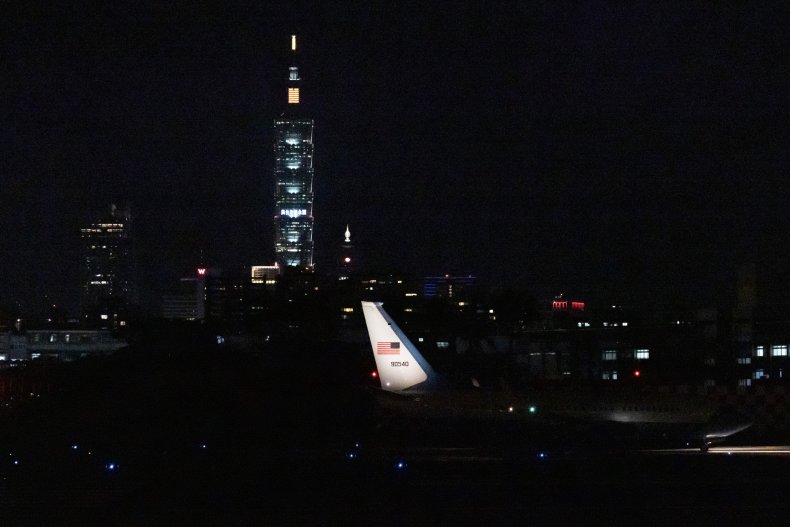 In recent weeks, Chinese officials repeatedly condemned the prospect of such a visit and warned that following through with the trip would result in "consequences."
"The U.S. must not arrange for Speaker Pelosi to visit the Taiwan region and must stop official interactions with Taiwan," Chinese foreign ministry spokesperson Zhao Lijian said last month. "Should the U.S. side insist on doing otherwise, China will take strong and resolute measures to safeguard its sovereignty and territorial integrity. The U.S. must assume full responsibility for any ensuing consequences."
News that Pelosi had officially landed in Taipei on Tuesday was again met with outrage from China.
Hua Chunying, a spokesperson for China's foreign ministry and the assistant minister of foreign affairs, tweeted that "China will definitely take all necessary measures to resolutely safeguard its sovereignty and territorial integrity in response to the U.S. Speaker's visit."
"All the consequences arising therefrom must be borne by the U.S. side and the 'Taiwan independence' separatist forces," she added.
Taiwan, officially called the Republic of China (ROC), has been governed independently from mainland China since 1949, but Chinese officials have maintained that they view Taiwan as an "inalienable" part of China.
In addition to the Chinese defense ministry's announcement of "targeted" military operations, the Eastern Theater Command of China's People's Liberation Army also said that it would be conducting joint military operations near Taiwan beginning Tuesday, Reuters reported.
When contacted for comment, the Taipei Economic and Cultural Office, a de facto embassy in New York City, referred Newsweek to a press release from Taiwan's Ministry of National Defense. The release noted another announcement from state media on Tuesday that China would conduct live-fire drills and other military and training activities in six areas around the island from August 4 to August 7.
This emphasizes China's "mentality of using force to resolve differences and undermine regional peace and stability," the release said, according to an English translation.
"The Ministry of National Defense has closely monitored and strengthened its alerts, and will respond appropriately in time. The national army will definitely stick to its posts and protect national security. Please feel at ease and support the national army with one heart," it continued.
"The Ministry of National Defense stated that the CCP's [Chinese Communist Party's] announcement of using the sea and airspace around Taiwan's main island as a live-fire area is an attempt to threaten our important ports and urban areas, and unilaterally undermine regional peace and stability. This move will not help China's international image and hurt people on both sides of the strait."
Updated 08/03/22, 11:30 a.m. ET: This story was updated with a press release from Taiwan's Ministry of National Defense.