China Rejects Pressure to Break With Putin, Stays Loyal to Relationship
China doubled down on its relationship with Russia, rejecting pressure from world leaders to break from Moscow amid the widely condemned invasion of Ukraine, which began in late February.
Chinese Foreign Ministry spokesperson Wang Wenbin said during a press briefing on Tuesday that its relationship with Russia can "withstand the new test of changing international situation," according to a report from Chinese state-run media outlet CGTN.
"Cooperation between China and Russia has strong endogenous power and independent value. It is not aimed at third parties and will not be influenced by the outside world," Wang said.
He added that the two nations plan to promote "genuine multilateralism" and "oppose international hegemony."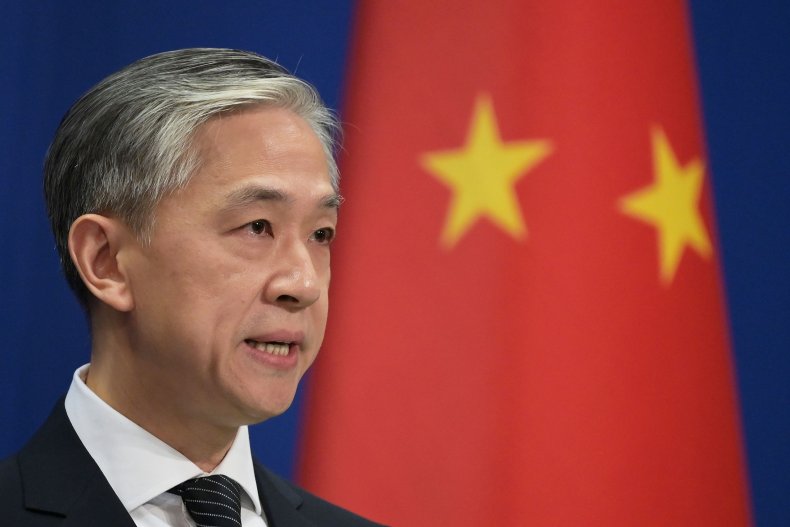 His remarks come less than two weeks after the relationship between the two nations prompted several countries, including the United States, to call on China to urge Russia to end the war.
After a meeting on May 14, the G7—a group of seven wealthy democracies that includes the U.S.—encouraged China to "resolutely urge Russia to stop its military aggression against Ukraine."
"We call on China not to assist Russia in its war of aggression against Ukraine, not to undermine sanctions imposed on Russia for its attack against the sovereignty and territorial integrity of Ukraine, not to justify Russian action in Ukraine, and to desist from engaging in information manipulation, disinformation and other means to legitimise Russia's war of aggression against Ukraine," the G7 wrote in a statement without going into detail about what consequences could follow further China involvement in the conflict.
Despite these efforts, China and Russia have only sought to strengthen their ties since the invasion began. Russian Foreign Minister Sergei Lavrov said on Monday that Moscow is now seeking to further develop their ties with China.
"Now that the West has taken a 'dictator's position', our economic ties with China will grow even faster," Lavrov said, according to Reuters.
China has previously backed Russia's reasoning for the invasion, accusing the North Atlantic Treaty Organization (NATO) of using a "confrontational approach" and trying to "destabilize Asia and the whole world" after NATO Secretary-General Jens Stoltenberg expressed dismay at China declining to condemn Russia's actions.
China has also accused the United States of being the "lead instigator" of the conflict between Russia and Ukraine, pointing to the U.S.-backed expansion of NATO.
Despite its support, China has not given Russia weapons to help in the conflict, even though Russia asked for military aid and economic assistance, U.S. national security officials said.