China Has Not Given Russia Military Aid Despite Request: U.S. Official
China has not yet honored a Russian request for military aid, the Biden administration said Friday.
National security adviser Jake Sullivan told reporters that no response to the request has been observed since it was made earlier in March. Russia had asked its ally China to provide it with an unspecified amount of military aid, as well as economic assistance.
China is seemingly playing both sides in regard to Russia's invasion of Ukraine. While coming out in favor of a cease-fire, China was recently the sole supporting vote regarding a Russian draft resolution at the United Nations Security Council. The resolution would have recognized the ongoing humanitarian crisis in Ukraine while absolving Russia as the cause of it.
When news of Russia's aid request to China first came out, Sullivan said the U.S. would be monitoring the situation.
"We also are watching closely to see the extent to which China actually does provide any form of support, material support or economic support, to Russia. It is a concern of ours," he said during a CNN appearance March 13. "And we have communicated to Beijing that we will not stand by and allow any country to compensate Russia for its losses from the economic sanctions."
Sullivan said the U.S. will continue to monitor the situation as closely as possible. He also said the U.S. and NATO are in the process of contingency planning for any attack on NATO territory by Russian forces.
Newsweek reached out to the National Security Council for further comment but did not receive a response before publication.
Explaining his decision to side with Russia over the Security Council resolution, U.N. Ambassador Zhang Jun said he voted for the measure in order to formally recognize the humanitarian crisis. However, he acknowledged that ongoing political differences are making his country's official stance on the war murky. Despite this, he did not refer to the conflict as an invasion, falling in line with the Chinese government's stance.
"It is the shared wish of the international community for an immediate cease-fire, which is also China's strong expectation," explained Zhang. "It is regrettable that the Security Council was unable to reach the broadest possible agreement in the end."
Still, catering to Russia could end up hurting China. A whistleblower in Russia's Federal Security Service alleged that Vladimir Putin's invasion of Ukraine had inadvertently foiled Beijing's plans to invade Taiwan.
However, the head of Taiwan's primary intelligence service dismissed the report as impossible and unlikely. Instead, his agency said the purported Federal Security Service leaks could be Kremlin psychological operations.
"That's Russian cognitive warfare," said Chen Ming-tong, director-general of the Taiwanese National Security Bureau.
Update at 03/25/22, 12:00 p.m. ET: This story has been updated with additional information and background.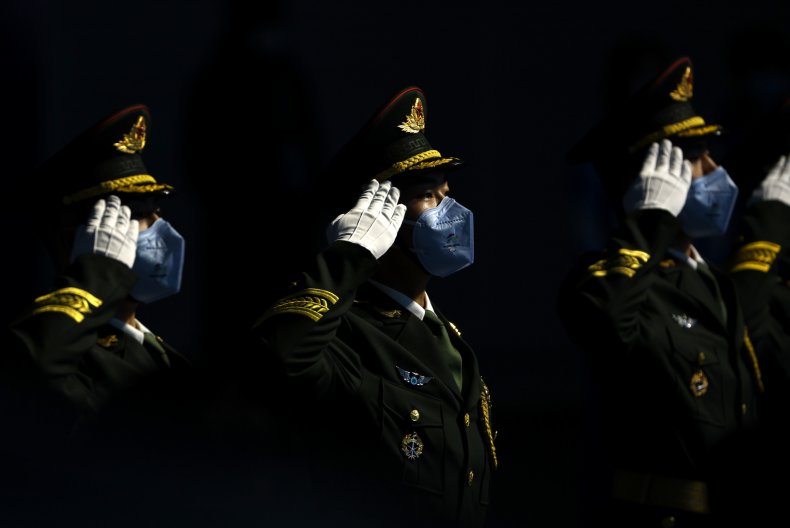 Former Vice President Mike Pence said that North Korea's missile tests stopped during the Trump-Pence administration and blamed President Joe Biden's "message of capitulation" to Iran for a North Korean launch Thursday.
Appearing on Fox News Friday, Pence said the previous administration stood up to North Korean leader Kim Jong Un and brought "maximum pressure" on the country. When Kim realized there would be no concessions from the administration, "he came to the table for those historic summits," according to Pence, which led to no launching of intercontinental ballistic missiles (ICBM) or nuclear testing in over four years.
On Thursday, North Korea tested its first ICBM since 2017. The missile was believed to be a Hwasong-17, which could travel far enough to strike anywhere in the United States. During the test, it flew for more than an hour, reaching an altitude of 3,728 miles and a distance of 671 miles before landing in the Sea of Japan.
"The new strategic weapon of the DPRK will clearly show the might of our strategic force to the whole world once again," Kim reportedly told state newspaper Rodong Sinmun, according to NK News.
The White House said the missile launch was a "brazen violation" of multiple U.N. Security Council resolutions that banned North Korea from conducting these types of tests. The Biden administration also said the Democratic People's Republic of Korea, or DPRK, needs to be held accountable but should come to the table for serious negotiations, as "the door has not closed on diplomacy."
"The fact that for the first time in more than four years Kim Jong Un fired an intercontinental ballistic missile that went into space and landed in the Sea of Japan is a great concern," Pence said in the Fox interview.
He emphasized that these types of nuclear tests had stopped under the Trump-Pence administration because of its dealings with the North Korean leader. The fact that the Biden administration was "literally begging" Iran to reenter the 2015 nuclear agreement sent a message of capitulation to North Korea, the vice president said.
"Again, I've said many times, you know, peace comes through strength but weakness arouses evil," Pence told Fox News.
Former President Donald Trump held two summits with the North Korean leader. He was unable to reach a denuclearization deal with the country, although the testing of ballistic missiles stopped.
Meanwhile, North Korea has launched 12 missile tests this year alone, according to the Associated Press. The country conducted two missile launches in February and this month, which were believed to be testing parts of the ICBM system that was used on Thursday.
Kim released a dramatic, Hollywood-style video for Thursday's launch. The footage showed him in a leather jacket and sunglasses accompanied by two military officials. The video had dramatic music and slow-motion clips featuring Kim and the missile, leading up to the launch.
Update 03/25/22, 11:31 a.m. ET: This story has been updated with additional information and background.
Update 03/25/22, 11:22 a.m. ET: This story has been updated with additional information and background.