China has rejected U.S. requests to cut Iranian oil imports, damaging Washington's efforts to isolate Tehran.
While the U.S. failed to persuade Beijing to stop importing Iranian oil, the Chinese government did say it would not increase the imports, according to Bloomberg, which cited two anonymous officials "familiar with the negotiations."
China imports more Iranian oil than any other country. Last month, it purchased 35 percent of Iranian exports
Since President Donald Trump announced in May that the U.S. would be withdrawing from the Iran nuclear deal and restoring sanctions on the country, Washington officials have attempted to convince foreign governments to stop importing Iranian oil.
Washington has also threatened to punish companies that do not stop importing Iranian oil by November 4, when sanctions on the country's oil, gas and shipping industries are set to be imposed.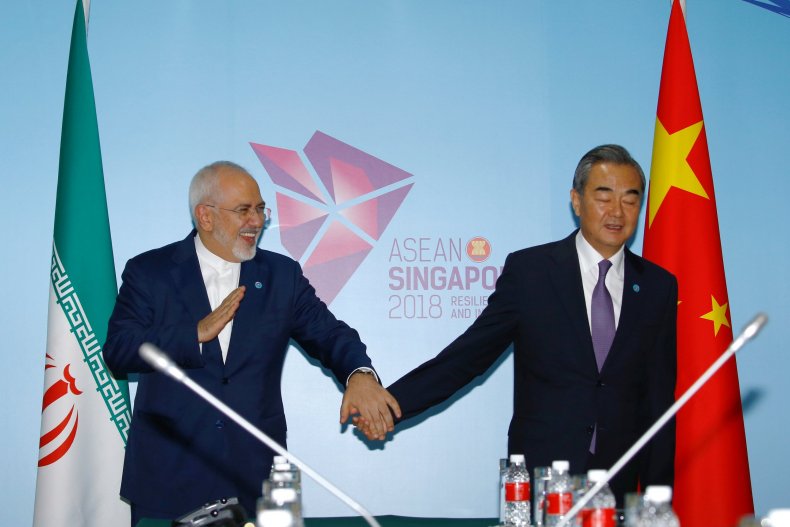 Ahead of the November 4 deadline, India, the second-largest purchaser of Iranian oil, increased its imports from the country by 30 percent last month.
"Tehran had offered almost free shipping and an extended credit period for oil sales to India," Reuters reported. "Iran was hoping to sell more than 500,000 [barrels per day] of oil to India in [fiscal year] 2018/2019," the outlet wrote, citing a February statement by Iranian Oil Minister Bijan Zanganeh.
But the Indian government told refiners in June that it would be drastically reducing its imports from Iran before Washington's November deadline.
China's rejection of the U.S. request comes as Washington tries to navigate the tensions Trump has stoked across the world.
His decision to withdraw from the 2015 Iran nuclear deal, formally known as the Joint Comprehensive Plan of Action (JCPOA), has led to months of rising tensions between Washington and Tehran.
At the end of last month, the countries engaged in a war of words that featured threats from high-ranking government officials, including the president himself in an all-caps tweet.
The strain between China and the U.S. derive from a similar attack by Trump, who levied a global tariff on steel and aluminum imports in March.
China, the biggest global steel exporter, responded less than a month later by levying import duties on $3 billion of U.S. goods. The countries have since traded tariffs, and threats of further import taxes, that are likely to impact American farmers among other groups.
On Friday, as the trade war escalated, China said it would impose tariffs on $60 billion of American goods if the Trump administration followed through with its plans to tax an additional $200 billion of Chinese products.